Moto 360 Smartwatch Prototype Makes First Appearance
With Google's annual developer conference quickly approaching the teams are all busy preparing to share details about what's new from Google, Android, YouTube, Chrome, Google+ and even the newly revealed Android Wear operating system for wearables and smartwatch devices.
Back in March Google announced Android Wear with plenty of excitement around it, but they've been silent since. However, both LG and Motorola announced they'd have the first Android Wear-powered smartwatches available later this summer.
Read: 10 Moto 360 Smartwatch App Concepts You Need to See
The LG G Watch has leaked more than a few times, and will likely be one of the stars of the Android Wear show at Google I/O, but today we're getting our first potential look at the Moto 360. Thanks to a new post on the Android Developer Blog we're finally seeing what the Moto 360 could look like, even if this is only a prototype.
Above is an image provided by a few Googlers that are busy designing key features and software for upcoming wearable devices like a smartwatch. Luckily they're testing out both the LG G Watch and Moto 360 together here, and prospective buyers are finally seeing just how big these smartwatch options will really be.
Not only are we getting our first look at the Moto 360 above, but it's actually got the display turned on. Everything thus far released by Motorola has been concept renders with pretty watch faces, or simply of the device turned off. This is a real device, working, with the display turned on.
Clearly the first thing most users will notice is the sheer size, and many are calling it "massive" or ginormous. Yes, the Moto 360 is large. But those wanting updates, notifications, Google Now reminders and Search, and everything else that Android Wear promise and still get good battery life, this may be the compromise.
Above is a GIF released by the Googlers of both the LG G Watch and Moto 360 side-by-side, giving prospective buyers a better idea of how both could look and feel, not to mention the demensions.
That being said, I own more than a few timepieces of this size, or bigger. One in particular is my Nixon 51-30 Chrono in Matte Gunmetal. The 51 stands for mm, which is how wide the watch is. According to Motorola the Moto 360 comes in around 46mm, so while it's a rather large watch, millions of buyers wear something bigger that is far less advanced. Below is a shot of my Nixon 51-30mm.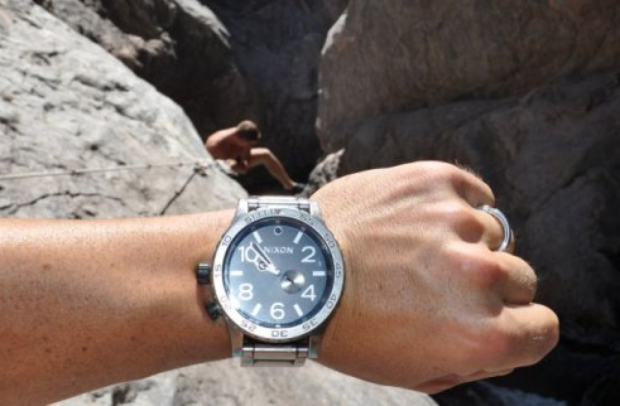 The Nixon 51-30 is just one example of many, and it's a watch that is not only bigger but will surely be heavier. I rock the gunmetal version myself, which has plenty of thickness and weight to it, but we'll have to wait until later this month to truly get a feel for what Motorola has planned from the Moto 360.
This is the first time we've seen the new Moto 360 out and in the wild, which is good considering many consumers have been patiently awaiting more details since it was announced. The LG G Watch and Android Wear leaked last week, but now we're getting a look at its competition.
Today's image isn't giving us additional details on Android Wear, features we can expect, or a big look at the software, but was more just our first live look at the Moto 360. However, the blog post by these Google developers should leave us all excited, as they announce at the end that we'll be seeing plenty about Android Wear and wearable computing at Google I/O on June 25-26th.

As an Amazon Associate I earn from qualifying purchases.