Moto 360 Sold Out Already
The Moto 360 was finally released this morning after months and months of waiting, and it's available today from at least three different outlets. All the news arrived late last night, but users looking for a Moto 360 this afternoon might be out of luck, already.
Since first being debuted back in March when Google unveiled Android Wear, their OS built from the ground up for wearable devices like a smartwatch, the Moto 360 has been the most anticipated device. We expected plenty of stock to be ready, but that doesn't appear to be the case.
Read: Moto 360 Hands-on
As we stated earlier today, you can get the Moto 360 from Motorola.com, Best Buy stores and online, as well as the Google Play Store. However, it looks like the device is already out of stock from all three, and Motorola.com is even back-ordered until September 19th.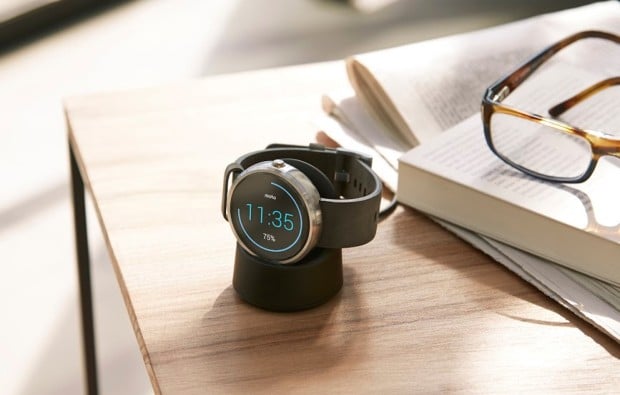 The Moto 360 has been the most anticipated smartwatch since being first announced in March. Consumers and tech enthusiasts have been eying it for the sleek round design, as well as all the other features. Some of those being a large 1.56-inch display, wireless charging, and being fully IP67 dust and water resistant.
For now the 360 is "available" from Best Buy, the Google Play Store, and Motorola.com, but they're all three showing out of stock already, and it's not even Noon. Best Buy had stock this morning, but quickly sold out online. We were told select Buy Buy stores would have the device in-stock starting today, but all locations we've looked up have a 3-5 day delivery delay.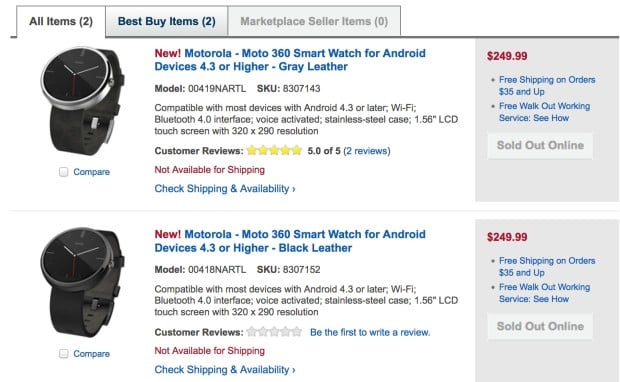 Looking at the image above shows Best Buy online is already out of stock, and after only a few minutes unofficially on the Google Play Store it's now listed as out of inventory as well. It's safe to say this launch isn't going very smooth, or Motorola is seeing huge success for their first Android Wear smartwatch.
Currently there's only two options available. An all black on black with a black aluminum design and black leather watch strap, as well as the silver option with a grey band. However, as we said above, they're both out of stock already.
Motorola also confirmed that in the near future the aluminum watch band variant will go on sale for $299, offering an even more premium looking and feeling smartwatch. It was designed to be a premium piece of jewelery first, and a smartwatch second, and so far that appears to be the case. Check it out in our hands-on video below.
Shown above in our hands-on is the sleek design, and the impressive set of features and quick-glance notifications available with Android Wear. The Moto 360 pairs to an Android 4.3 or above smartphone and instantly syncs to share notifications, emails, weather alerts, and will even let you answer incoming calls all with your voice. There's a lot it can do, and more is coming soon.
Google promised late last week that tons of updates and more features are coming soon, but sadly those will arrive while buyers are still waiting to get their hands on the new Moto 360. Unless inventory status changes severely over the next few hours, it looks like the first wave of Moto 360 stock is already gone.
From when we started writing this post, to now, the Moto 360 on Motorola.com went from being backordered to the 19th, to simply saying "backorder" with no date in sight. And the same goes for the Google Play Store.
Users may want to head down to their local Best Buy stores incase the online inventory system is a little overwhelmed, otherwise the wait could be a few weeks. We'll update once we learn more details regarding the Moto 360 release and stock supply.

As an Amazon Associate I earn from qualifying purchases.