Moto E Arrives: 5 Things You Need to Know
Two brand new phones from Motorola have arrived this week to the surprise of many, and they aim to offer something that most other phones on the market cannot. And that is a smartphone for a true wallet-friendly price.
Lately all the attention has been on the Moto X, and even the rumored Moto X+1 coming this summer, but this week in London Motorola took the wraps off of the brand new budget-friendly and extremely affordable Moto E they hope will take the smartphone market by storm.
Read: Moto G Review
The newest of the bunch is called the Moto E, and while the specs aren't anything top-tier this phone retails for $129, making it truly a smartphone for everyone. And secondly, Moto's most successful smartphone ever (according to them) the Moto G has been replaced by a new Moto G 4G LTE variant for a few more dollars.
Both phones are new and will be available inside the United States, but below are five important things you need to know about the Moto E.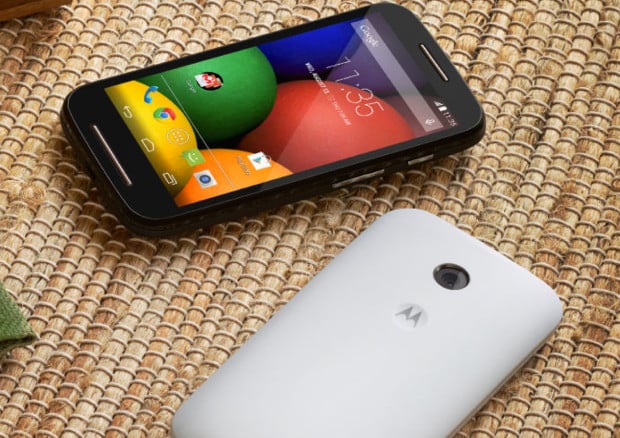 According to Motorola the all-new Moto E is "made to last" and "priced for all" coming in at an extremely impressive and highly affordable $129 USD. This is the outright price of the Moto E. No carrier contracts, no mail in rebates, the Moto E is outright $129.
Last year Motorola released an impressive budget smartphone with the Moto G, which offered nearly top end specs without 4G LTE for $200, and it was wildly successful. However, this year Motorola took things one step further and have revealed an all around decent smartphone for a low price, and are making it available to all.
Design
The Moto E is nearly a spitting image of the previous two devices from Motorola as of late. Offering nearly the same overall design cues as the Moto X and Moto G, only in a smaller package. The Moto E comes with removable replaceable backs in multiple different colors for customization, and even has front facing speakers. It's an odd smartphone that wil surprise many for the price.
The Moto E has a curved or rounded hand-friendly design that's easy to hold, and the snap-off backs are easy to replace with a new color for those looking to add a bit of style to that new smartphone.
As you can see from the video above the phone overall is very similar to other devices from Motorola as of late. The design has customized backs and a water "resistant" splash guard all in mind, and overall it's a well-made device. If it's anything like the Moto G it will be an excellent option for consumers.
Motorola is touting a tough scratch-resistant screen, splash guard, all day battery life, and the phone being built to last. All of these are good things, especially considering the price tag.
Specs
While specs and processors aren't extremely important to most buyers, especially the first-time smartphone owner the Moto E may be targeting, they're still worth talking about. Spending $129 many may be expecting a terrible smartphone or Chinese knockoff, but that isn't what you'll get from Motorola. This is still a quality phone on paper, especially for the price.
The Moto E features a 4.3-inch qHD 540 x 960 display, so not quite 720p, but still looks sharp and crisp given the size. It is powered by a 1.2 GHz dual-core Snapdragon processor with 1GB of RAM, and features 4GB of internal storage. There's a decent 5 megapixel camera on the rear, and thankfully Moto included a micro-SD slot so users can expand the 4GB of internal storage for apps, games, videos, and photos.
Under the hood and to hit that all-day battery life claim Motorola has a quite large 1,980 mAh battery, and the phone runs the latest Android 4.4.2 KitKat. Google designed its latest mobile OS with lower end phones like the Moto E in mind, and the video actually reports the phone as running an unreleased Android 4.4.3 KitKat build, so we'll have to wait and see.
It isn't anything eye-catching here, but given the specs it will still be a fast and fluid smartphone that should last for years to come. It may not be able to play the absolute latest high end games like the Samsung Galaxy S5 or HTC One M8, but then it isn't $699 either.
Price
We've already mentioned it a few times, but this is a key aspect of the Moto E. You won't be spending $199 and signing a 2-year contract from Verizon or AT&T, nor will this phone cost you $349 like the Nexus 5. Motorola is aiming for the everyman with the Moto E.
The goal here is to offer a full smartphone experience with a good design, latest software, and good hardware all for a price that regular old feature or flip phone buyers can afford. The Moto E will be $129 in the United States. No contracts, no rebates, nothing. Outright $129 and you'll have a smartphone that should last for years to come.
Software
Running the absolute latest version of Google's Android the Moto E will be a smooth device with excellent software. While we don't have some of the hands-free voice commands and fancy features of the more expensive Moto X, the Moto E has tons of features on top of Android 4.4.2 KitKat.
Motorola Assist is included for hands-free usage or intelligent controls while driving, sleeping, or even while headed to a work meeting, and Motorola Migrate will help those switching from another smartphone (even iPhone) to migrate everything to the new device.
Motorola Alert is a new feature that's included, allowing users to share their location and information with friends and family if needed. The Moto E is priced so low that it will be great for children, and Moto Alert will be handy for parents who'd like to know where the kids are at all times.
Motorola calls the Moto E the "end of dumb-phones", and went as far as to create a website saying exactly that.
Release Date
The all-new Moto E is available starting today from both Motorola and Amazon starting at $129. There's no contracts required, and this feature-phone killer can be your today. We were expecting a release date to be later this summer, but Motorola surprised many and launched it today.
The colorful customization shells are also available today, so head to Motorola.com for more details. As a reminder this phone does not support 4G LTE, and is a GSM phone. This means that for now the Moto E isn't supported on Verizon Wireless or Sprint, but we can expect more details and possibly a pre-paid Verizon variant to arrive in the coming weeks.
We'll know more once we get our hands on it ourselves, but if the Moto E is anything like the Moto G, the $129 asking price makes this the best sub $200 phone on the market.

As an Amazon Associate I earn from qualifying purchases.