Moto G 2014 Release Continues in the U.S.
Last month Motorola announced four brand new devices they've been working on, one being an all-new Moto G for 2014. Originally rumored as the Moto G2, the phone will simply be known as the Moto G like the model before it, but it's a vastly different smartphone you'll want to check out.
Motorola's first Moto G in 2013 was one of the company's most successful smartphones to date. Offering an excellent overall package for an extremely wallet friendly price. It was an overall great smartphone for under $200 with no contract, and from places like Verizon for only $99.
Read: Moto G 2014 vs Moto G: 5 Key Differences
The Moto G 2014 version was announced and released on the same day, back on September 5th. However, the device was only available from Motorola.com which quickly sold out, and has yet to become available from 3rd party retailers, or carriers in the United States. However, as of today one more place has plenty in stock for those interested in an excellent bang for your buck smartphone.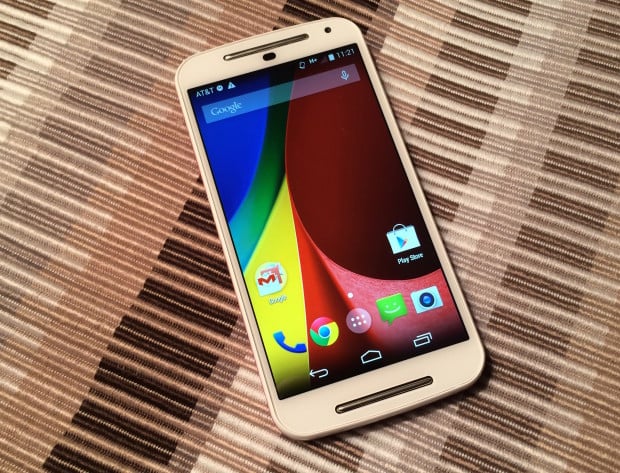 The original Moto G had a 4.5-inch 720p HD display and a powerful processor all for under $200, making it a rather enticing offer. The new one though, is bigger, faster, and better in every way, yet still hits the same important $179 price point. Its screen has been increased to 5-inches, and still offers a 720p HD resolution. Same as the iPhone 6.
Today the smartphone is now available not only for users to try out themselves in select Best Buy stores to see if they like it, but also from Best Buy's online store. The Moto G 2014 comes in at only $179, and is available in both black and white color variants. Like the predecessor, you can buy 8 custom backplates that are easily swappable for a little customization, too.
Read: Moto G 2014 vs Moto X: What Buyers Need to Know
So what does that $179 get you? A pretty excellent smartphone. It actually competes quite well with the flagship Moto X from last year, has tons to offer, a huge HD screen, the latest version of Android, and all of this is delivered for a wallet friendly price. Here's the full rundown for those interested.
New Moto G Specs
5-inch 1280 x 720p HD Display
1.2 GHz Quad-core Snapdragon 400 processor
1GB RAM
8/16GB storage with micro-SD support
Android 4.4 KitKat
4G HSPA+ (no 4G LTE sadly)
8 Megapixel rear and 1.3 front cameras
Dual front-facing speakers
2,070 mAh battery
8 custom color back-plates
The screen is the same resolution as the new iPhone 6, but slightly bigger being 5-inches. It has a powerful quad-core processor and 1GB of RAM for smooth and fluid performance, a micro-SD card slot for expandable storage, and event dual front facing speakers. The Best Buy $179 Moto G 2014 is unlocked and will work with all GSM carriers. Verizon doesn't count, but those with AT&T, T-Mobile, or other GSM SIM card carriers all can enjoy this new phone.
There's one downside. Well, the camera probably isn't the best 8 megapixel shooter around, but the key thing to notice is there's no 4G LTE support. The Moto G supports "faux 4G" with both AT&T and T-Mobile's HSPA+ speeds, which are extremely quick, so this isn't too big of a concern. However, 4G LTE is the future, so that's one thing to consider.
Those looking for more details on the impressive new $179 Moto G for 2014 might want to check out our hands-on coverage linked to below.
Read: Moto G 2014 Hands-On
Again, the new Moto G 2014 is available not only from Motorola's own online store, but can now also be found from BestBuy.com as well as select Best Buy stores. We're showing it as in stock at all stores throughout my area. It may not be the iPhone 6 or a flagship Samsung Galaxy S5, but for $179 the Moto G 2014 is hard to beat.