Moto G (2014) vs Moto X: What Buyers Need to Know
Last week Motorola announced four brand new devices they've been working on, one being the all-new Moto G for 2014. Originally rumored as the Moto G2, the phone will simply be known as the Moto G, just like the version prior, but it's a vastly different smartphone you'll want to check out.
The new Moto G is already available as we speak, right from Motorola's website, and now that buyers have a few more choices when it comes to getting a new Moto smartphone, below we'll rundown some important things you'll need to know.
Read: New Moto G Hands-On Video
Last year it all started with the Moto X, but it was quickly followed up with a cheaper Moto G, and they've done the same year. A smartphone with mid-range specs and an extremely low $179 price tag for those on a budget. It wasn't the best phone, but still managed to be the most successful Motorola smartphone in years.  We have good news though, the new Moto G for 2014 is bigger and better in every way. Read on to see what you need to know about the new Moto G compared to the flagship Moto X from 2013.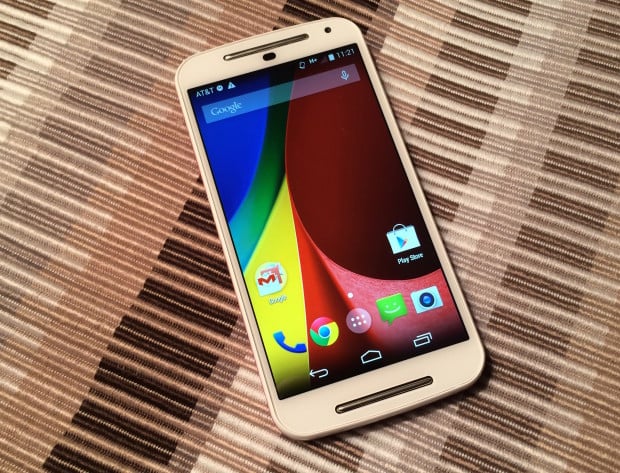 Motorola announced the all-new Moto X for 2014, a new Moto G, the Moto 360 smartwatch, and an accessory headset. While the new Moto X is an awesome smartphone prospective buyers will be drooling over, coming in custom colors, wood, and even genuine leather, that price point isn't for everyone.
Read: Best Cheap Android Smartphones [September, 2014]
The original Moto X from 2013 will likely be seeing some heavy discounts, which will instantly make it be somewhat of a competitor to the new Moto G. That being said, you'll want to weight the options heavily, and below is everything you'll need to know before you buy one vs the other.
Display
The original Moto G had a 4.5-inch 720p HD display and a powerful processor all for under $200, making it a rather enticing offer. The new one though, is bigger, faster, and better in every way, yet still hits the same important $179 price point. Its screen has been increased to 5-inches, and still offers a 720p HD resolution. Same as the iPhone 6.
One thing buyers will be looking at when comparing the new Moto G and last years Moto X is the display size and quality. The Moto X from 2013 is 4.7-inches and 720p, so the budget Moto G this year is slightly bigger, and will be nearly the same quality. Yes the smaller screen technically should look better given the same resolution, but buyers will hardly notice.
Moto has kept the bezels quite small, leaving just a large screen and a small area for front facing speakers on the front of the device. The rest is all screen, and those wanting a bigger display should opt for the Moto G (2014) over the Moto X from last year. However, the display isn't the whole story, so read on for more details.
Design
The overall design, look, and feel is extremely similar, but there are a few key differences for those looking to buy. Last year the Moto X was impressive with all the customization, and the design was tailored for that experience. The Moto G does have 8 different custom colors for the back, but won't offer the wood options like the Moto X.
One thing users will notice though, is that along with a bigger screen the Moto G has dual front-facing speakers. This is something you won't get with the Moto X from last year. They may not be the best speakers on a smartphone to date, but from our hands-on were impressive given the environment.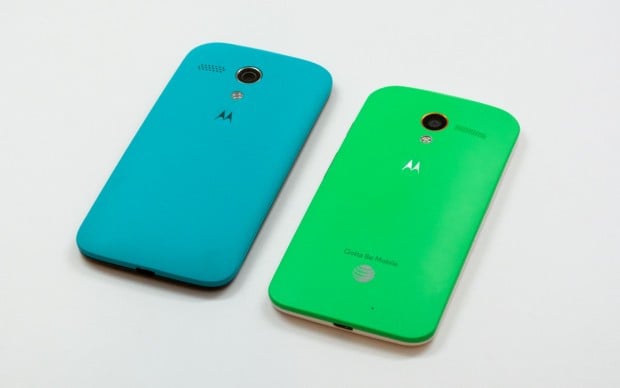 Both feature the same plain front with white or black color options, and a similar curved back with a subtle Motorola logo and camera. The Moto X has tons of customization from colors, accents, engravings, and even wood, which could sway buyers that way. The new Moto G has a few, but not nearly the same level of customization as what the X receives.
In the end though, it isn't just about customization. It's about features, specs, the camera, and of course the price. All of which are mentioned below.
Specs
So what makes the new Moto G better as we mentioned above? Aside from the screen? The specs. Being able to deliver a quality and well-rounded smartphone for under $200 isn't an easy task, but Motorola's done it again. Specs aren't everything, especially for budget minded buyers, but the Moto G still impresses even though it doesn't necessarily need to. It's pretty close to the Moto X actually, for less, so check it out.
New Moto G Specs
5-inch 1280 x 720p HD Display
1.2 GHz Quad-core Snapdragon 400 processor
1GB RAM
8/16GB storage with micro-SD support
Android 4.4 KitKat
4G HSPA+ (no 4G LTE sadly)
8 Megapixel rear and 1.3 front cameras
Dual front-facing speakers
2,070 mAh battery
8 custom color back-plates
Moto X 2013 Specs
4.7-inch 720p Display
1.7 GHz Snapdragon Dual-core processor
2GB of RAM
16/32/64GB storage options
2,200 mAh battery
10 MP rear camera, 2MP front
Single LED flash
Android 4.4 KitKat
18 Customization options, including wood
The dual-core vs quad-core can be taken with a grain of salt, as the quad-core is a lower end variant from Qualcomm, but both of these phones perform excellent. Apps, games, multi-tasking, and watching Netflix works as smooth as ever, and you can't go wrong with either option. Again, specs don't mean everything, but we wanted to share them for those interested.
Price
We can't forget the price. This is essentially the most important aspect of the phone. The Moto X debuted in August of 2013 for $499 and eventually dropped to $399 outright, or less on contract. It's still a great phone for the price, but the Moto G may be best for those on a budget.
The same all-important $179 price tag as last year, is what Motorola is asking for the new Moto G, which is actually available right now from Motorola.com. It comes in white or black, and 8 different custom color backs are available as well, for $14.95. This is the same approach Motorola took last year that worked so well. While the Moto X may be a slightly better phone in terms of raw performance, customization, and supports 4G LTE, it's hard to argue with a $179 price tag for the new Moto G.