Moto G 2015 Hands On: Budget Price, Premium Phone
The original Moto G paved the way and set the bar for good quality yet cheap Android smartphones, and here in 2015 with the all-new 3rd Gen Moto G, the company has done it again. Only this time they raised the bar and delivered a smartphone that has a premium look, feel and experience, for the same wallet-friendly $179 price. This is our hands-on and first impressions of the 2015 Moto G 3rd Gen.
Earlier this week Motorola took the stage in New York City and confirmed what we'd seen in leaks for months, and that is a much-improved Moto G for 2015. Along with it the company revealed two new Moto X flagship smartphones. However, the Moto G is just as important of a launch, if not more important for Motorola.
Read: Moto G 3rd Gen: 5 Things to Know
What is a budget or "mid-range" phone these days? The Moto G certainly blends the lines a little bit, and we're here to tell you this budget device is actually a premium Android smartphone. It has a large 5-inch 720p HD display, a great 13 megapixel camera borrowed from last years flagship Nexus 6, tons of power, 2GB of RAM, 4G LTE and more. The 2015 Moto G is a phone you won't want to pass up, especially if you're on a budget.
With the original Moto G in 2013 Motorola had a real winner. A budget-friendly smartphone that offered more than anything else we'd seen for under $200, and it went on to be Motorola's most successful smartphone ever released. A move many manufacturers have tried to emulate. This year brings a new Moto G that is better and faster than the first two, offers more customization, additional features, a great camera, it's water-resistant, and an overall better experience all with the same aggressive price.
Moto added a beautiful aluminum design around the edges, introduced customization options, and improved every single aspect of this phone, even if it looks extremely similar to last years model. It might look the same, but this is a completely different smartphone. Interested yet?
If so, the new Moto G is available right now, starting at $179. Below is everything you need to know.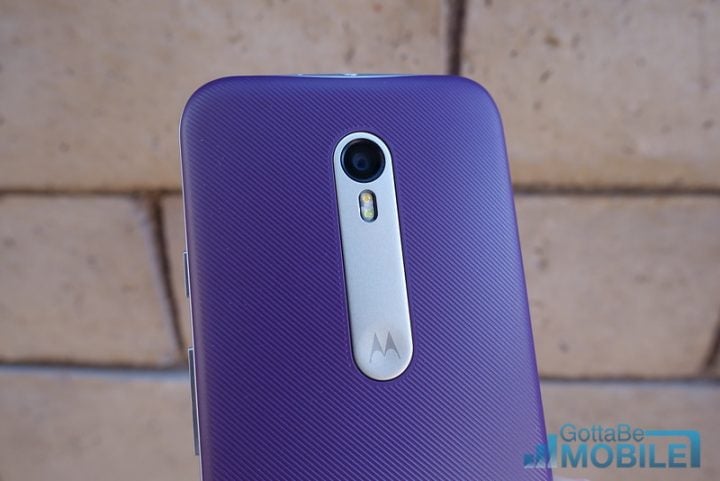 New Moto G 3rd Gen Hands On
Watch our quick hands-on video below of the brand new Moto G for 2015. We'll go over everything it has to offer, the specs, what's new, some of the customization options, and even quickly compare it to last years Moto G (2014).
For $179 buyers are probably thinking they aren't getting a very good phone, but with the Moto G you'll get an excellent smartphone. It might not have the latest and greatest of everything, but it has more than enough for most, runs extremely smooth, and is an all around great smartphone. I'm actually extremely impressed by how great the new Moto G is. It doesn't look, feel, or perform like a $179 phone. Motorola has changed the game, again. Here's the full specs for those curious.
Moto G 3rd Gen Specs
5-inch 720p HD Display
Quad-core Snapdragon 410 (64-bit) Processor
8GB of Storage and 1GB of RAM ($179)
16GB of Storage and 2GB of RAM ($219)
4G LTE and Micro-SD support for storage expansion
13 Megapixel camera (LED flash), 5 megapixel front

selfie

camera
Moto Maker customization
Dual front stereo speakers
IPX7 Water-resistance

2,470

mAh

Battery

more
Motorola kept the device the same size this year, but improved everything. The screen is still only 720p HD, but looks great considering the price. The price is the #1 factor here. It received an increase to a faster, more modern 64-bit quad-core processor, doubled the RAM to 2GB, and fixed two areas the older Moto G's needed help. Those being the camera, and battery life.
The new Moto G has nearly the same 13 megapixel camera as the Moto X and Nexus 6 from 2014, without optical image stabilization, but has a dual LED flash. The company added a better 5 megapixel camera to the front, made it water resistant, and added a bigger 2,470 mAh battery for all day usage. Yes, all of that is still only $179. There's also a 16GB model with 2GB of RAM for $219, which still beats anything in this price category.
It has a brushed aluminum bezel around the entire device which protects the 5-inch 1280 x 720p HD display. The back can be pulled off and switched out for 10 different options all varying in color, then the aluminum accents can be customized on MotoMaker.com completely free. Meaning you can choose from 10 device colors, then 10 metallic colors for the aluminum stripe down the back. The customization doesn't change the aluminum around the device or the buttons like the Moto X customization, but it's still a nice addition.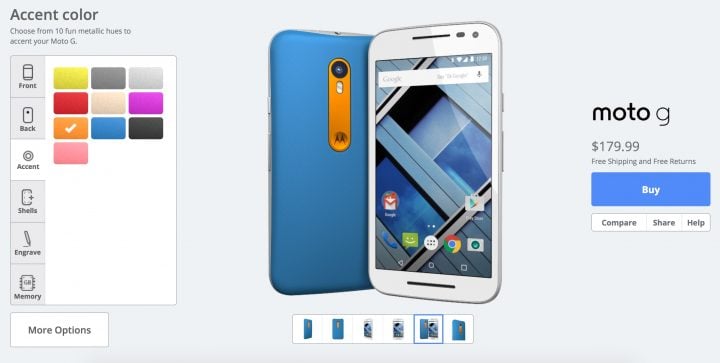 However, if you'd like to have a different color for any occasion, Motorola.com sells the back covers in all 10 colors for only $14.99, or $29.99 for replacement backs with a built-in flip cover to protect the entire device and its screen.
The first thing you'll notice when you pickup the Moto G is just now nice it feels in your hand. It has the same comfortable curves as past Motorola devices, but just feels better. It doesn't feel lightweight and cheap like last years model. The aluminum around the sides certainly helps too.
Its 5-inch screen is big, bright and clear. I didn't notice the lower 720p resolution, and images and video are still crisp and sharp. The brightness is extremely good, as are the wide viewing angles. Colors don't fade or wash out, and it's just a joy to use. This device will make millions of owners extremely happy for years to come.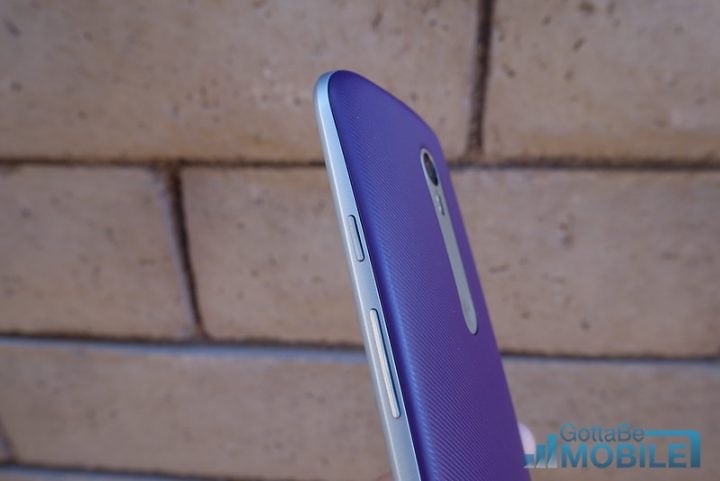 Running the latest Android 5.1.1 Lollipop we have a familiar and smooth experience too. Everything from browsing the web, watching some YouTube, to even playing some Clash of Clans all was smooth. I haven't had any hiccups or freezing. The quad-core processor and 2GB of RAM with my model is more than enough for almost all Android apps, games, and usage needs.
Moto kept stock Android here, right down to Google Now off to the left, and only added a few Moto apps to improve the experience like previous owners have come to expect. The speakers aren't the best we've ever heard, but for $179 I have absolutely nothing to complain about. They face forward, not back, so are actually better than many high-end smartphones.
Keeping the screen at 5-inches means it's easy to hold and use, and again, the curves around back make it easy to enjoy, and very comfortable. Yes there's only 8GB of storage in the $179 model which isn't enough for most and will fill up after a few games or photos are taken, but pull off the back and throw in a micro-SD card to expand storage.
So far everything from gaming, browsing the web, downloading apps, checking emails, and taking pictures has all been a breeze. I keep thinking to myself, "how is this a $179 smartphone?" For the record, we're using the $219 model with 16GB of storage (10GB available out of the box) and 2GB of RAM, so it may be slightly better than the cheaper variant, but users shouldn't have any complaints either way.
Final Thoughts
Motorola's new Moto G 3rd Gen for 2015 doesn't feel, look, or perform like a $179 smartphone. It feels premium, looks premium, and has a great camera and software experience to back that all up. I've only had it for a day so can't comment on battery life, extended use performance, or share more details about the camera and everything else, but expect a full review coming soon.
In closing, I can't help but feel like recommending this to anyone and everyone on a budget, and I've only had it for a day. So far the Moto G is very promising and seriously impressive. All the upgrades and improvements to the overall device, on top of water-resistance, customization, and a bigger battery, makes this one compelling package. It's hard to believe this is all only $179 or $219.
The original was Motorola's most successful smartphone to date, and from what we're seeing and enjoying so far, the new 2015 Moto G might surpass it. Stay tuned for a full review, as I have a lot to say about this smartphone.