Moto G 2015 Release: What We Know So Far
More details and leaks continue to surface about the rumored Moto G for 2015, but a release has yet to be confirmed. As we move deeper into the summer and closer to the rumored September release date, here we want to take a look at everything we know so far about the new Moto G 3rd Gen for 2015.
The original Moto G was released in November of 2013 and shocked the market offering a great device for only $179, and went on to be Motorola's most successful smartphone ever. The 2nd model arrived in September of last year, and now a 3rd generation Moto G for 2015 is in the works, and we know plenty about the wallet-friendly little phone already.
Read: Moto G Leak Reveals All the Details
Recently all the leaks and rumors have been about the new Moto X for later this year, but last week out of the blue the Moto G 3rd Gen was completely revealed on video, ahead of any leaks or announcements. Since then we've received a few more details, and some official press photos arrived this week as well. Here's what buyers should know.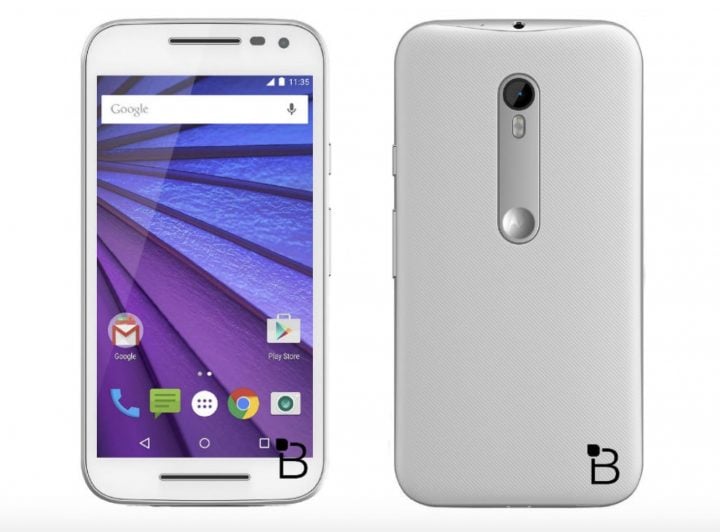 Last year the Moto G was a great mid-range smartphone that consistently made our Best Cheap Smartphones list. However, in 2015 Motorola looks to change things up by offering a slightly different design, but an overall similar device for the same low price. Something smartphone shoppers on a budget will be interested in.
Moto G 2015 Release Date
Over the past few years Motorola has announced a new Moto G near the end of the summer, and released it in September. Most likely the same will hold true in 2015, and back in March that was basically confirmed by a Motorola rep on Twitter.
In March Rick Osterloh, President at Motorola posted to Twitter in an effort to answer some customers questions and confirmed they'll look to stick to the same annual release cycle as prior years. It was in response to a question about the Moto X, but his reply states all of Motorola's products are trying to stick to the same annual release cycle, including the Moto G.
.@northead we try to stay on a roughly annual cycle for all of our products including Moto X. #AskRickO

— Rick Osterloh (@rosterloh) March 25, 2015
If the above comment is accurate, not to mention some recent leaks and rumors, a new Moto G is currently under final development stages and will be revealed later this summer, and likely released in September. This is later than most other manufacturers, but the Moto G is in a mid-range segment all by itself. It does have competition from the new ASUS Zenfone 2, and a few other cheaper devices, but it should offer a better overall experience.
Moto G 2015 Details
If all the leaks we've seen thus far are accurate, Motorola will be delivering a device extremely similar to last years Moto G, which is kind of a let-down, but it will still be an extremely capable and affordable smartphone for millions of prospective buyers.
The video below is the first leak of the new Moto G for 2015, and it reveals all kinds of important information about the device. The screen size, specs and more are being detailed for the first time.
As you can see above the leak suggests Motorola will be improving the Moto G 2015 in terms of design, but sticking to a familiar yet successful set of specs under the hood in order to make this a powerful phone while keeping the price as low as possible. It isn't seeing the jump in specs many hoped for, and below is what we're hearing will be on board.
Moto G Specs (Rumored)
5-inch 1280 x 720p HD Display
Quad-core Snapdragon 410 processor with 1GB of RAM (same as last year)
13 megapixel rear and 5 megapixel front camera
Android 5.1.1 Lollipop
Dual front facing speakers
4G LTE
more
So far that's all we know so far, which isn't much. The photos and video above reveal a slightly redesigned look with a plastic or aluminum bar on back, which could double as some sort of button. That was a rumor with the Motorola logo on the back of the Moto X last year, but it ended up just being aesthetics, and served no function.
We are seeing a better set of dual front facing speakers, and both the front and rear camera should be much improved this year. We're expecting the same removable back with up to eight different colors, like previous releases, but that's yet to be confirmed at this point.
For now this is all the details we have, which aren't much, but we can expect to see more details start to surface as the summer progresses. Last year the Moto G leaked a few times ahead of the August announcement, and was released in September unlocked, pre-paid, and on Verizon Wireless. If previous years are any indication we'll get a few more leaks, confirmation of the specs and accessories, and then an announcement in the next 45-60 days followed shortly by the release date. This should come in around the same $179 price point as previous years, making it one of the most affordable and capable budget smartphones on the market.