Moto G 2015 Release Details Emerge
Back in June a huge leak surfaced revealing all kinds of information about the new and upcoming Moto G 3rd Gen phone for 2015, and today even more details emerged. A release has yet to be confirmed but as the summer progress and we near the rumored August or September release date, more details are starting to come to light.
The original Moto G was the company's most successful smartphone ever released, shocking the mobile market by being a great device for only $179 outright. Then a 2nd model arrived in September of last year, and now a 3rd generation Moto G for 2015 is coming soon, and it looks like the budget device will have a few tricks up its sleeve.
Read: Moto G 2015: What We Know So Far
A lot of rumors have been floating around about a new Moto X for 2015, the Moto G, and even a few videos leaked. Then around the end of June some official press photos surfaced showing us what to expect, but today we received a leak regarding one huge piece of the Moto G puzzle.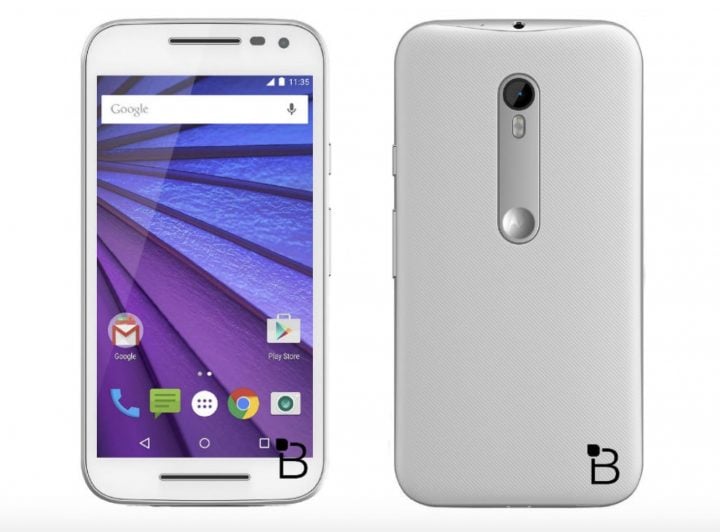 Famed and now semi-retired leakster on Twitter known as @evleaks has revealed that this year Motorola aims to make the Moto G 3rd Gen even better. The smartphone manufacturer will offer a device nearly the same as last year but with a few noteworthy and needed upgrades, as well as full customization.
According to evleaks the Moto G will be fully customizable on Motomaker.com, a site previously only made available for those considering the Moto X or Moto 360 smartwatch. According to his sources the Moto G 3rd Gen will support Moto Maker, and possibly the entire lineup of Motorola smartphones coming in 2015.
The image above was provided by the leakster, clearly showing the same Moto G 3rd Gen (2015) we've seen leak time and time again, only this time it comes in a slew of different colors, options, accent colors and more.
Motomaker originally launched with 18 different colors, accent colors, custom wallpapers and a few other things, but has grown to offer leather and wood backs for the Moto X, custom straps and colors for the Moto 360 smartwatch, and will now reportedly offer the same great level of customization for the wallet-friendly Moto G.
This means potential buyers can get the impressive 3rd Gen Moto G for the same stunning $179 (or $199) price, then customize it with unique colors for the back, the accents like the power and volume keys as well as the new signature Motorola aluminum bar down the back, and more. We've seen that same aluminum bar on a few devices, something that could be on all Motorola smartphone in 2015.
Moto G 3rd Gen Specs (Rumored)
5-inch 720p HD display
Quad-core Snapdragon 410 processor
8GB of storage and 1GB of RAM
or a 16GB model with 2GB of RAM
13 megapixel rear and 5 mp front camera setup
Android 5.1.1 Lollipop
Dual front facing speakers
4G LTE
MotoMaker Support
more
As you can see above the Moto G in 2015 will be the same size as last year, with the same powerful yet low-priced quad-core processor, but come in two different storage and RAM options. That has yet to be confirmed, but has been spotted multiple times.
It looks like sometime in mid August a new $179 Moto G will be released and buyers will be able to fully customize this excellent wallet-friendly smartphone. Then, a second option with double the storage and RAM will be available for $20 more, but we can't be 100% sure on the pricing until it's all officially announced by Motorola.
Earlier this year the company confirmed they aim to stick to the same annual release cycle, meaning the new Moto X, Moto G, and maybe a new Moto 360 smartwatch should all be announced and released in August or September. We'll have to wait and see, and will update as more details become available.