Moto G 2016 Leaks Tease Fingerprint Scanner
With three major flagship smartphones already announced, the next big release is expected to be from Motorola. While we're still waiting for more details, this week countless Moto G 2016 information and photos have leaked giving us a good idea of what to expect from Motorola in 2016.
Back in September Motorola released the Moto X Pure Edition, its latest flagship smartphone. And while their high-end offering is still likely many months away, the budget Moto G and Moto E should be coming soon. This week we're getting our first photos of exactly that.
Read: 5 Small Screen Android Phones Worth Buying
Late last week and over the course of the weekend a slew of information, photos, and details surfaced about Motorola's new budget smartphone. It's been the best budget smartphone for years, and now the new 2016 Moto G looks to bring fingerprint scanners to the budget market. Read on for more details.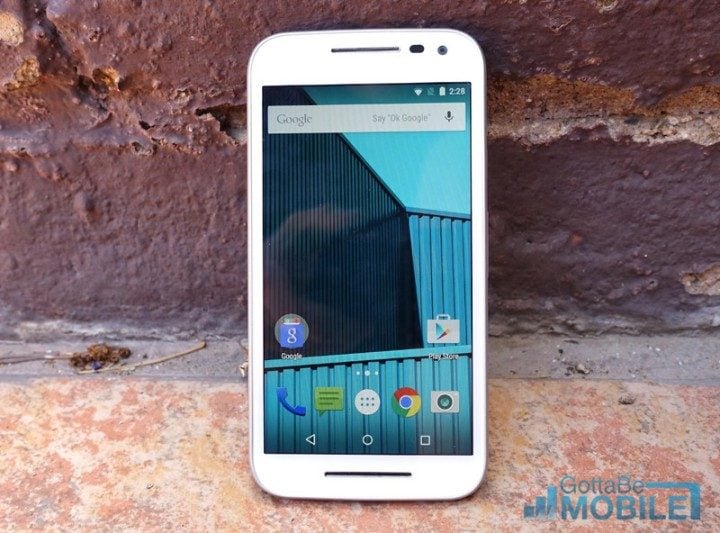 Starting with the famed and popular leakster Evan Blass on Twitter, last week @evleaks shared a heavily doctored photo of what he claimed was the new Moto G for 2016. Shortly after a reader posted a comment and confirmed the device was indeed the Moto G4 Plus, although that could simply be the Moto G 4th Gen in the United States.
Now a few days later, we're starting to see more details surface as a potential release date nears. Popular site No Where Else received the two photos below, and confirmed it is the 2016 Moto G. The first thing we notice is the big round fingerprint scanner, which is a first for Motorola. In previous years rumors stated the company would be adding a fingerprint scanner to the M logo and dimple on the back of their phones, but that doesn't appear to be the case.
Looking at the photo above it looks like in 2016 Motorola will be ditching the dual front facing speakers in favor of a fingerprint scanner, which will likely be on the Moto X, Moto G, and other devices, and potentially even the cheap Moto E.
For now this is about all we have to go on, just the photos, although a few comments following the leak by Evan Blass seem to shed light on the potential details.
If true, the Moto G 2016 could have a 5.5-inch display (last year was 5-inches) with a 1080p HD display, upgraded internals, an improved camera, and the dual front speaker design will be replaced with this rather odd square home button and fingerprint scanner. A mix between the iPhone, Samsung's home button, and older Samsung devices like the Galaxy SII. It's worth noting that the Moto G has always been around $199, a budget device, with a well balanced feature list.
Read: Moto G 2015 Review: The Best Budget Phone
These photos and rumors suggest the screen will be bigger, a fingerprint scanner is clearly visible, but that's all we know so far. Another comment claims that the back will once again be removable, similar to past Motorola phones, and customizable with replacement backs in plastic, leather or wood. Like the Moto X.
For now it's far too early to tell, and there are no other details to back this up aside from looking at the image and assuming the back is removable. Either way, it looks like Motorola could have another winner on their hands in terms of the best price/performance phone, with the new and improved Moto G 4th Gen for 2016.
Last year the Moto G 3rd Gen was released near the end of July, but we have a feeling this year it will be released earlier than ever before in order to compete with other smartphones. As soon as we hear or learn more we'll update with all the details.

As an Amazon Associate I earn from qualifying purchases.