Moto G 4G LTE Release Likely Nearing
Motorola could be preparing to release another version of the popular budget-friendly Moto G, one with 4G LTE support for T-Mobile and AT&T.
The Moto G launched late last year as an extremely well rounded and affordable Android smartphone, being just $179 outright without a contract. It received excellent reviews, and we enjoyed it ourselves, but the biggest complaint was the lack of 4G LTE. According to some newly revealed FCC filings, spotted by an eagle-eyed Reddit user, Motorola has recently filed a new device that lines up with the Moto G, only this one has LTE on board.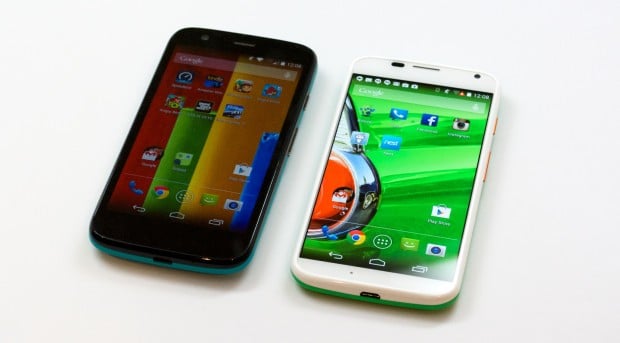 The Moto G offers a smartphone that runs the latest Android 4.4 KitKat, has great build quality, decent specs with a 4.5-inch HD display, but doesn't have the latest 4G LTE speeds that are popular amongst US consumers. While it's already available from Verizon, MetroPCS, US Cellular and others, AT&T could be getting a better version.
The new FCC report shows a device with the same battery as the Moto G, but that's not quite enough to confirm a Moto G with LTE is coming. The report shows 4G LTE options for AT&T, and potentially T-Mobile, which could give both a leg up over the Verizon competition.
Read: Moto G vs. Moto X: 6 Key Differences for Buyers
Then, today we're also seeing reports from GSMArena who spotted a new device with identical specs to the Moto G running some benchmark tests, but it's cleared labeled as a device for AT&T, and happens to have 4G LTE on board.
So why does this matter? The Moto G is a quad-core smartphone with a 4.5-inch 720p HD display, runs the absolute latest version of Android, and is only $179 without a contract. If Motorola could launch a similar device with 4G LTE, but retain the same low price point, it would likely be a huge success and extremely popular with consumers.
AT&T's GoPhone lineup, and other prepaid carriers will all likely on board if this device indeed is real. Motorola has an event scheduled later this month in Spain for Mobile World Congress, and we could see a new 4G Moto G, but will have to wait and see.

As an Amazon Associate I earn from qualifying purchases.