Moto G Android 4.4 KitKat Update Problems Emerge
The new Motorola has adopted a strategy to be one of the first manufacturers to update its smartphones to the latest versions of Google's Android. The Moto G Android 4.4.2 KitKat update is a prime example.
We saw this with the Moto X getting Android 4.4 before some Nexus devices, not to mention Motorola issued Android 4.4.2 KitKat to the Moto G before most flagship devices from Samsung, HTC and LG. The only devices getting updates faster are Nexus units, or devices from the Google Play Store. However, being first isn't always best, as we're now seeing a few problems and issues arise after the Moto G Android 4.4.2 KitKat update.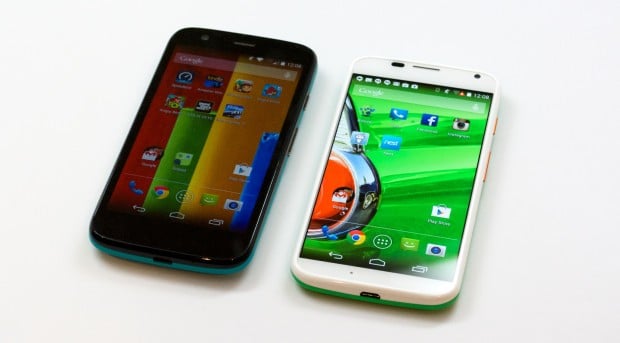 The Moto G budget phone was first launched last year with Android 4.3 Jelly Bean, but was quickly updated to the absolute latest and nearly stock version of Android 4.4.2 KitKat. Bringing with it camera enhancements, interface tweaks, reportedly better battery life, and a few other minor changes. However, users aren't so lucky, and the Motorola Support Forums are filling up with complaints.
These problems have all appeared since the Moto G was updated to Android 4.4.2 KitKat, and weren't present with Android 4.3 Jelly Bean the device first shipped to consumers with, so it's important they get fixed quickly.
Reports suggest the biggest problem is phones dropping calls or losing the signal completely and missing calls, which is extremely important for a phone. This issue could be related to a bug where the phone is reporting no SIM card, which means no phone, text, or internet usage. Others are experiencing the Moto G working as expected, but still seeing the "No SIM" notification in the pulldown bar, which can't be cleared.
Read: Moto G Review
These problems have been confirmed to be happening on the Verizon Moto G, prepaid options like MetroPCS, but mainly in units overseas and outside of the US. That isn't all either. We're hearing horror stories about the phones dropping service and falling into airplane mode, a mode which prevents all radios and signal completely for flights. Phones get stuck in airplane mode and are requiring a reboot to regain cell service, and more.
Some users, although not as often, are reporting the airplane mode pops up while trying to make calls, something which often causes the actual phone or dialer app to force close or crash. Killing the call and requiring the user to start over. Pretty puzzling and irritating stuff here.
We're hearing if users disable data completely and use the Moto G on Android 4.4.2 KitKat simply as a phone for calls and texts, these issues aren't present, but that's yet to be confirmed. Either way Motorola has some serious bugs going on with the Moto G KitKat update, and they need to be addressed.
Read: Moto G vs Moto X: 6 Key Differences
With well over 400 posts and counting on the Motorola support forum, these problems are bigger than just a few limited cases, which means we can expect a bug-fixing update to arrive as soon as humanly possible.
For now users can try turning airplane mode on and off to regain signal for calls and data connectivity for internet and Facebook use, and if that fails a simple reboot seems to be fixing the problems. Of course these are only temporary and the signal dropping may continue later.
We'll be sure to monitor the thread for more details, and will be looking for more details from Motorola and US carriers. An update should be coming to solve these irritating bugs that are plaguing users of the Moto G since being updated to Android 4.4.2 KitKat.

As an Amazon Associate I earn from qualifying purchases.