Moto G Deal Chops Price to Insane Low
The first Moto G announced and released by Motorola back in 2013 was the most successful smartphone released in history for the company, and with good reason. It was a well-rounded Android smartphone with the latest software, decent hardware, and an extremely wallet-friendly price. However, a new model is here, and now a huge deal has chopped the price off the original for those on a budget.
The Moto G was only $179 and had a lot to offer, and eventually a 4G LTE model with a micro-SD slot arrived for $199 outright, with no contracts. It's still a great price for a good phone, but for the next 24 hours you can get it for even less.
Read: Best Cheap Android Smartphones [March, 2015]
Today Motorola announced a rather impressive deal for the original Moto G with 4G LTE, chopping the price by $40 for those interested. Meaning you can get an excellent device that's already updated to Android 5.0 Lollipop in some regions, for only $159. Read on for more details.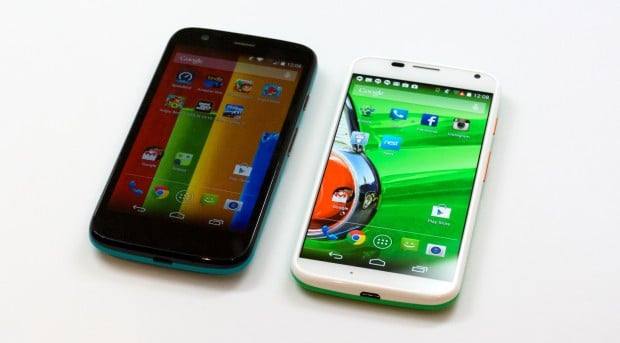 Motorola has been very successful in the mid-range smartphone market with the original Moto G, and the 2nd Gen Moto G announced back in September. In fact, they were so successful it set the bar and other manufacturers have tried to offer something similar.
The first-gen Moto G is a little smaller than the new model announced in late 2014, but it still has tons to offer, especially if you're only paying $159 with no contract. That's the outright price, and you can use it with just about any carrier you'd like.
Read: Moto G Review
For those curious about the Moto G, it has plenty to offer. Above is our review from the original Moto G, which will tell you plenty about it before dropping the small $159 asking price. It comes with a 4.5-inch 720p HD display, a quad-core Snapdragon 400 processor and 1GB of RAM, 8GB of storage and a micro-SD slot, a 5 megapixel camera, and of course 4G LTE support.
The LTE version of this device has support for LTE and HSPA+ bands on AT&T and T-Mobile in the US, as well as many of the smaller carriers like MetroPCS. Again, the phone is available today on Motorola.com at a huge discount, but this price will only be available for 24 hours.
Above you can see the deal and savings on the Motorola website. Which is offering the original 2013 Moto G 4G LTE variant for only $159 vs the regular $199 asking price. As an added bonus shipping is free. This deal and extremely wallet-friendly low price will only last until tomorrow March 25th at 10:59AM CT.
The second-gen Moto G is only $179, mind you, but it doesn't have 4G LTE support. Instead it only supports HSPA+, which is fine for most, but is still something to consider. It also has a slightly bigger display, a better camera, and more. Most likely buyers will want to get the second-gen Moto G for just $20 more, but if you truly need 4G LTE the original at this price is worth considering.
It's worth noting the original Moto G has only received Android 5.0 Lollipop in a few regions outside of the United States, and will arrive from Motorola with Android 4.4 KitKat. That said, an update to Android 5.0, or Android 5.1, should be coming any day now.

As an Amazon Associate I earn from qualifying purchases.