Moto G vs Google Edition Moto G: 5 Things to Consider
When Motorola announced and released the Moto G late last year it was met with plenty of excitement. Mainly for the simple fact that users will be getting an excellent smartphone experience, all running nearly stock Android, for a great price.
Fast forward to this week and Google's now released a Moto G Google Play Edition with stock Android 4.4.2 KitKat on the Play Store, for the same price. It's a great deal, but you may be wondering what the difference is between the Moto G on Boost Mobile, the Verizon version, and of course the new Google Play Edition right from Google themselves. If so, read on for 5 differences worth talking about.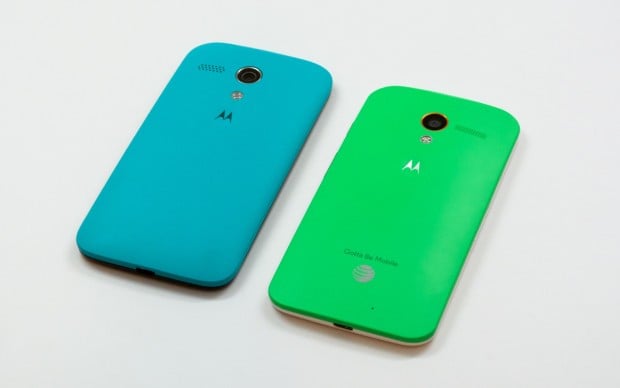 Motorola's latest phones all run nearly stock Android with a few tweaks and additions to make them even better, but nothing near a complete user interface overhaul like Samsung and HTC. It's the best Motorola yet, and will only get better with Google now in charge. That being said, the Moto G is nearly stock already, so why do we need a Google Edition? Well, we don't, but it's a part of Google's master plan.
Google wants to offer smartphones from all carriers, of all shapes and sizes, all running stock Android with a promise of timely updates. Samsung, HTC, Sony, LG, and now Motorola have Google edition devices sold through the Play Store. So while many may think the Moto G option isn't needed, it could still have some benefits.
Hardware
The Moto G is an all around awesome smartphone, especially when you consider the price. It's only $179 without a contract, and the few compromises are big for some, but won't matter to the mass majority of who the phone targets. The camera isn't the best, and there's no 4G LTE (a biggie for most users) but for first-time smartphone buyers, kids, and emerging markets this device is awesome.
Read: Moto G vs Moto X: Differences for Potential Buyers
The hardware is exactly the same whether you buy it on Boost Mobile, Verizon, Motorola.com, or the Google Play Store. For the most part. We'll talk carriers below, but regarding the actual hardware nothing is different. You'll enjoy a 4.5-inch 720p display, and a quad-core Qualcomm Snapdragon 400 processor that should keep this device performing excellent for years and years. There's 1GB of RAM, a 2,000 mAh battery for all day usage, 8 or 16GB of storage, a 5 megapixel camera, and only 3G for internet speeds. It's awesome for $179 and $199.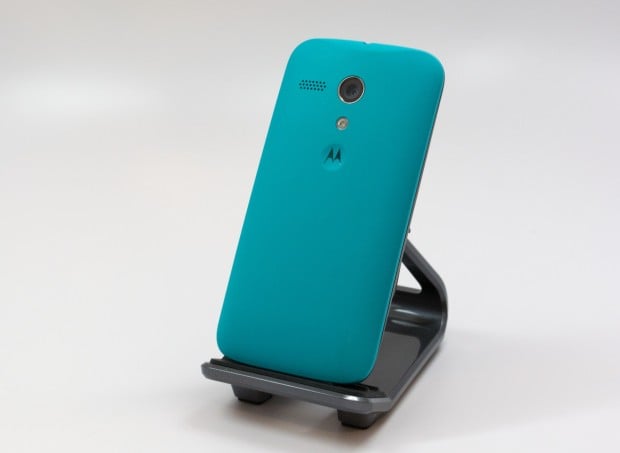 The model you'll get from the Play Store vs others won't be different in any way, shape, or form, aside from the Verizon model for its network. The soft-touch back is still soft and comfortable, and all the exchangeable backs for a different color will work the same. So what's the difference here? Nothing. It's the same great phone we enjoyed in our original review below.
Read: Moto G Review
Software
One thing that is arguable the biggest, and smallest difference, is the software. As we said above Motorola's already moved to the closest thing to stock Android as Google builds it for its phones, and the G is no exception. In fact, buying the Moto G Google Play Edition you actually lose features. That's because it's stock Android with a few key additions from Motorola.
Things like Moto Assist for hands-free texting while driving, and tons of other convenient automated controls. Motorola Migrate is missing as is Moto Help, FM radio, and the camera will be different. Motorola's able to improve features on the go right from the Play Store with the Moto G, and sadly those apps on the Play Store show as incompatible with the Google edition. Personally the camera is a step down going stock Android, so that's a bummer. Surely you can sideload them, but not from Google's store.
Motorola's been working extremely hard to deliver timely updates to Android. In fact, they beat the Nexus 4 to Android 4.4 KitKat on the Moto X late last year, so we're assuming the Moto G may get the same treatment. It's already on Android 4.4.2 KitKat, well ahead of almost every phone from Samsung, LG, and HTC.
One of the only benefits of getting a Google Play edition Moto G is that Google promises timely updates. If Motorola keeps up the good work they've done lately though, that won't really matter, but at least a Google Edition ensures updates for the foreseeable future.
Both of these phones run Android 4.4.2 KitKat, both work nearly the same, only the Google Play Edition is missing a few additional Motorola apps and tweaks. The majority of users would never tell the difference.
Carriers
The biggest difference between Motorola's G and Google's version is the price, carriers and availability. The biggest thing potential buyers need to know about the Moto G is which carriers it supports, in case they're on Verizon.
The Moto G from Motorola's store and Google's works with 3G GSM, and will work wonderfully on AT&T, T-Mobile, and a few others. It won't work on Verizon, at all. Which means if you'll want to use this great phone on Verizon you'll need to buy it directly from Verizon's prepaid options for $99. It's actually less money, so that's certainly something to consider if you don't need stock Android.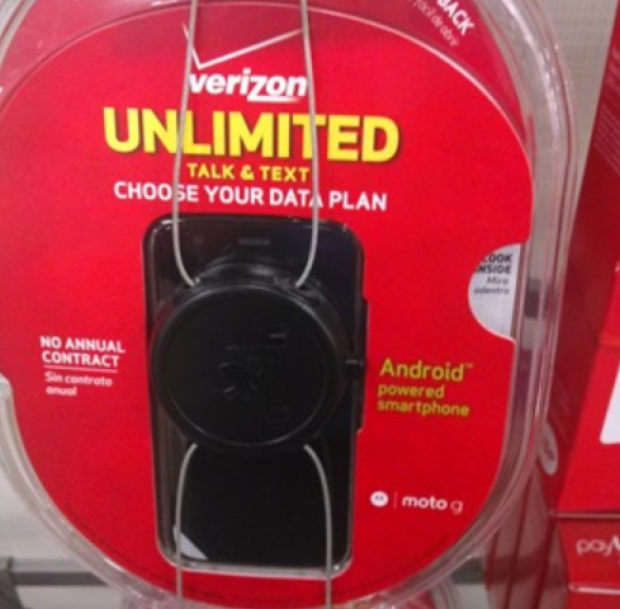 Secondly the fastest 3G speeds on T-Mobile is the 1700 MHz spectrum, which the Moto G works great with, but the Google Play Edition is lacking. This means unless you're in an excellent (few and far between) T-Mobile 2100 MHz 3G spectrum, the Google edition version will be stuck on painfully slow edge speeds, even though it's considered 3G.
Basically the Google Edition will be best suited for AT&T customers, and many outside of the US, otherwise you'll probably want to go for regular models from Verizon or Motorola.
Price
As we mentioned above, the Verizon model comes in at the best price being just $99. It also will probably have the best coverage considering we don't have 4G LTE, because Verizon has such a massive and broad reach with its 3G CDMA network. It's available to prepaid customers for $99, and that surely beats the $179 (8GB) and $199 (16GB) version from Google, even though Verizon only has the 8GB model available.
Boost Mobile will also be offering the regular Moto G for $130 starting on January 20th in stores, which is again cheaper than the versions from the Play Store. You'll likely need to use some service with them, so in the long run they could cost more, but up front the carriers have better deals.
The Moto G from both the Google Play Store and Motorola.com are unlocked and available for $179 and $199. So unless you want to use Verizon, you'll need to decide which is right for you. Honestly you can't go wrong with either, and we'd go as far as to say the stock Moto G may be the better choice.
Availability
The Moto G is readily available as we speak from multiple outlets. Motorola.com has the standard GSM unlocked models, as does the Google Play Store, and Verizon stores and Best Buy are offering the Verizon model. Boost Mobile options are available online, and it will be in retail stores January 20th. Meaning the wait is less than a week for anyone.
We've heard reports of T-Mobile offering the device soon as well, which will likely be free with monthly payments, so that's one potentially worth waiting for. That aside, the options are essentially limitless at the moment. However, Google's Play Store has been known to run out of stock quite often, so if you're eying the Google Play Edition Moto G you may want to grab one now before they sell out.
Final Thoughts
We haven't used the Google Play Edition Moto G yet, but having multiple other GPe smartphones we know what to expect, and it's simply the purest version of Android around. Should you get it over the Motorola Moto G already available? That's entirely your call.
Personally the regular Moto G has a few features that improve the experience from users. Ones which are stripped away for the stock Android model from Google. I'd take a Google Edition Galaxy S4 over the Touchwiz model any day, but this time around, Motorola has a winner.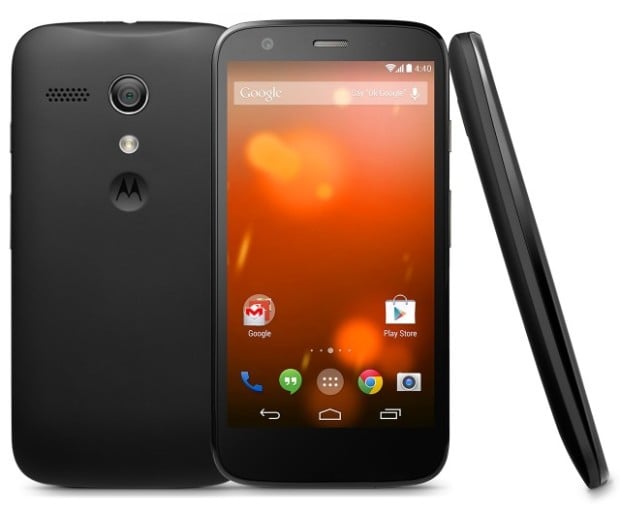 These phones are both so extremely similar the only choice buyers really need to make are how much they want to pay, which carrier they'll use the impressive phone on, and if a promise of updates is important enough to buy from Google vs the others.

As an Amazon Associate I earn from qualifying purchases.