Moto G vs Moto X: 6 Key Differences for Potential Buyers
The recently unveiled new Moto G smartphone is designed to offer a premium experience for all. Mainly by offering a device with well rounded specs for an extremely low price. In doing so it could instantly rival other devices, including the company's own Moto X.
With a $179 Moto G now on the scene, and the popular Moto X already being available from all major US carriers, now for as little as $49 with a new 2-year contract, we're here to rundown a few key differences between the two. The Motorola Moto G isn't available yet, but you'll want to know all the details once it arrives across most US carriers following the holiday season.
Price
Comparing these two very similar devices may be tough but the main and biggest difference here is the price. The main goal for Motorola is to offer a premium handset for anyone and everyone. From prepaid to emerging markets around the globe. As a result they've designed a quality smartphone for only $179. Yes, $179 outright, no contracts. When compared to a Moto X being offered originally at $199, and now $99 with a new 2-year contract.
The driving point with the price is the Moto X can run upwards of $529 outright without a contract, vs just $179 outright for the new Moto G. That is a major difference for a smartphone, especially two with such similar options and overall design, even if the specs and features are quite different.
Specs
When looking at the major price swing above, you're probably wondering if the specs are really that much higher or lower to warrant the difference. In reality, it isn't all that different. There's some key changes that makes the Moto X a high end device, but the G isn't too bad either. Motorola offers a 4.7-inch 720p HD display, and is powered by a new X8 Mobile Computing System. Offering a 1.7 GHz dual-core Snapdragon processor with 2GB of RAM, and addition CPU's for the hands-free voice actions. Ones which aren't on the G. Then you'll enjoy 16GB of internal storage, and a quality 10 megapixel "clearpixel" camera on the rear. All powered by a 2,200 mAh battery which promises 24-hours of mixed battery life.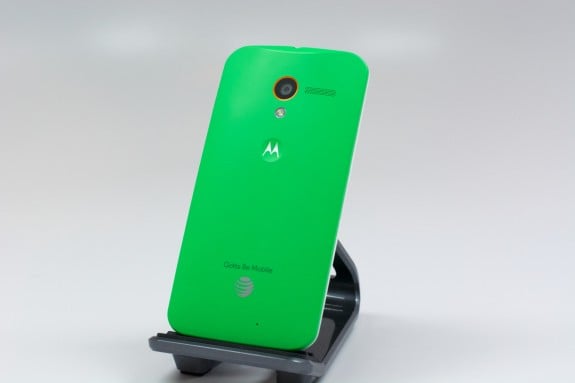 The Moto G on the other hand actually comes with a smaller, more crisp 4.5-inch 720p HD display, and a 1.2 GHz quad-core processor with 1GB of RAM. The Snapdragon 400 under the hood is Qualcomm's budget series, and isn't the same as the X8 system from the Moto X, but we're expecting it to offer pretty excellent performance too. Especially once it launches with Android 4.4 KitKat here in the US. You'll get 8 or 16GB of storage with the Moto G, and only a 5 megapixel camera on back.
The Snapdragon 400 should provide an excellent experience all around, and the only areas that we'd say are actually lacking with the Moto G are the camera, and smaller 2,070 mAh battery. Well, and one other major specification that needs its own category.
4G LTE
The only big list feature the Moto G is lacking is 4G LTE support. Offering faster data speeds to smartphones and tablets all over the world. However, in an effort to keep the price down, battery last longer, and offer an exceptional device on a budget the Moto G lacks LTE. When looking at the big picture the G is aimed at emerging markets, many of which don't even support 4G LTE, which is why it's somewhat understandable that Google and Motorola left this out.
On the other hand it is almost 2014, and 4G LTE is the standard in many regions, and will continue to grow and expand all of next year. The Moto X supports LTE on AT&T, T-Mobile,Verizon, Sprint and more. So one major feature that many need, isn't available on the G. However, for the mass emerging markets in other parts of the world, it won't be missed, and the G should technically be a big success.
 Customization
One selling point, popular or not on the Moto X, is the wide array of customization options. Allowing customers to pick the rear color, accent colors, engravings, and even the wallpaper one first boot. All completely customized and made in the USA delivered to your door. Initially an exclusive on AT&T this is now an option from all US carriers, and we're expecting the same for the Moto G.
Shown above is an image provided from Motorola of the Moto G custom backs, which will be available soon. Not only will users be able to choose the color of their $179 purchase, but there's also accessory covers in an array of colors that can snap on the back. Offering a different color for each day of the week, should you choose. While we can't confirm they'll all be made in the USA too, in Motorola's Texas plant, most likely the exact same options will be available to all with the Moto G. This brings us to our next difference between the phones.
Carriers
The Moto X is readily available across all major US carriers, and we're expecting something similar for the new G. However, Motorola didn't confirm too many details during the announcement. Only stating the new Moto G will be coming to multiple US carriers and prepaid options. Not having 4G LTE you'd think Verizon will pass, but they've already confirmed to be offering the wallet-friendly G in early 2014, sometime before Q1 ends.
At this point you can get the Moto X for $99 from most carriers, and even $50 from Verizon, and until more carriers confirm the Moto G we can't detail this further. However, given the price is $179 off contact, we could very well see the device absolutely free with a new 2-year contract from AT&T and others.
Availability
Just as mentioned above the Moto X can be purchased from all major US carriers, and is readily available. The Moto G however, isn't. For those debating the purchase, price aside, the Moto G won't arrive in the US until 2014. You'll have to wait roughly 2 months or more, as Motorola hasn't revealed an exact date but said sometime in January.
By 2014 the Moto G will be available in 30 countries with more than 60 partners on board, and many of those will be US operators. You'll also be able to buy the Moto G carrier, SIM, and bootloader unlocked at Motorola.com while those outside the US can get it this week in Brazil and parts of Europe.
So while availability isn't important for those outside of the US, the wait for those stateside could weigh on a possible purchase decision given the wait time.
Read: Moto X Review
Should You Buy One?
The Moto X is an excellent smartphone available today, and those willing to wait for the Moto G to arrive early next year will be in for a treat. It might not be on the bleeding edge of mobile tech, offer the best specs, or have the biggest screen or best camera, but for $179 the Moto G is hard to beat. This is the mobile revolution Google's been aiming for, and it will only get better next year.
All buyers wants and needs are different, but for those on a budget the Moto G will probably receive high praises and be one for the holiday shopping list.

As an Amazon Associate I earn from qualifying purchases.