Moto G2 Release: 5 Things You Need to Know
Motorola is holding an event on September 4th where we expect the company to unveil an array of new devices, including the Moto X+1, a new Moto G2, and of course the highly anticipated Moto 360 smartwatch.
With the Moto event quickly approaching and most the attention being on the other two devices mentioned above, here we run down everything buyers will want to know about the upcoming Moto G2 smartphone.
Read: Moto X+1 Release Date and Rumor Breakdown
Last year the Moto G was released, a lower-cost version of the Moto X for those on a budget or emerging markets, and it was an instant hit. The Moto G was actually the company's most successful smartphone to date, sold millions, and a successor is about to be announced that should have many prospective buyers excited. Here's what you need to know.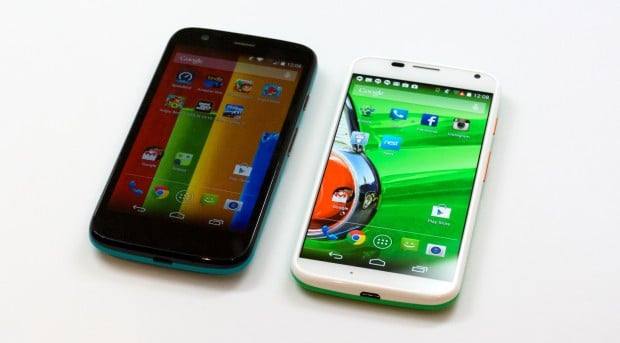 Back in July the first Moto G2 rumors started to surface, and since then a few small leaks have appeared that shed some light on what we can expect. However, unlike last year, this year Motorola has done a rather excellent job keeping quite regarding what's coming. The leaks have been few and far between, but we've gathered enough to have a pretty good idea regarding what to expect.
However, last weekend the most detailed bit of information finally surfaced, but it still doesn't confirm anything yet. A retailer posted up the full Moto G2 specs, but until Motorola takes the stage and makes it all official, these are still mostly based on rumors and leaks. That being said, here's what we know.
Release Date
First things first, before we start talking about screen sizes or what to expect with this new handset, is the release date. While these are only rumors, and could be more aimed at the Moto X+1 and not the Moto G2, sources suggest both phones will arrive on the same day.
Rumors initially suggested middle August for the Moto 360 and these new phones, which clearly won't be happening, so we'll have to assume it will be the date we've been hearing for the Moto X+1.
Multiple leaks out of UK retailers, as well as some "official sources" from GSMArena suggest September 10th will be the global release date of the Moto 360, Moto X+1, and the new Moto G2. This means a week after being announced, we can expect carrier to start offering the handset, or at least make announcements on when an arrival can be expected.
We've heard middle of September time and time again, which appears to be right on track given the September 4th event and multiple comments that continue to surface. We'll know all the details once Motorola confirms them live on stage next month.
Specs
Original rumors suggested a small improvement over the original Moto G from 2013, but if the latest reports and leaks are accurate this may be an excellent all around smartphone that will be priced perfectly under the Moto X+1, and offer one of the best price/performance handsets in all of 2014.
The online site Livaria Lovos, a Brazilian retailer that's accurately leaked multiple Motorola devices as of late, had this to say about the Moto G2.
Moto G2 Specs (Rumored)
5.0-inch 720p HD Display
1.2 GHz Quad-core processor with 1GB of RAM. Likely Snapdragon 400 (or 410)
16GB of storage (Micro-SD expansion)
Android 4.4.4 KitKat
8 Megapixel and 1.3 cameras
Dual Front-facing speakers
Dual-SIM (outside the US)
and more
The information above suggests the new Moto G2 will be a budget device, but a well-rounded one that should have consumers excited. The original Moto G offered a small 4.5-inch display, a 5 megapixel camera, and only had 8GB of internal storage with no micro-SD slot. It was a decent overall smartphone, considering it was under $200, but the new Moto G2 sounds even better.
Read: Moto G Review
Multiple images have leaked reportedly confirming the large 5.0-inch display and front facing speakers, but we've also heard the Moto G2 will have a 4.7-inch screen like last years Moto X. If it indeed is bigger, the Moto G2 could be a better overall price/performance option than the Moto X from 2013.
Price
The next important factor is the price. Sadly we don't have any concrete details regarding the price tag, but this will be key for the Moto G2's success, and Motorola knows that. The original was $179 from multiple carriers, and eventually was $99 from places like Verizon Wireless with pre-paid plans. In early 2014 Motorola released a revised Moto G with 4G LTE and a micro-SD slot for $229.
What this means is most likely the Moto G2 will be priced around the same $229 price tag, but given the bigger display and front facing speakers something along the lines of $249 makes more sense. While Motorola could shock everyone and deliver a low price, $249 sounds the most reasonable thus far.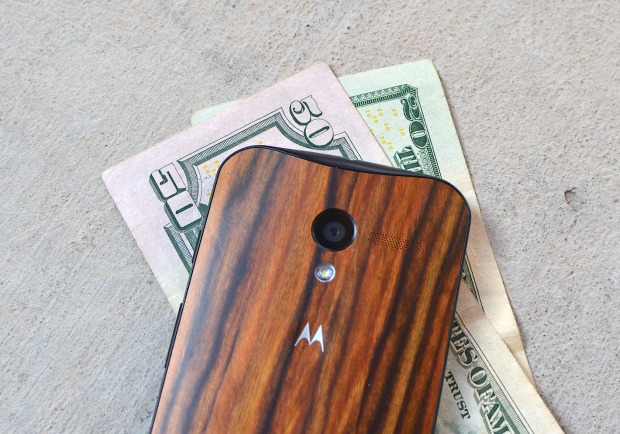 All the leaks we've seen so far, including the Brazilian site mentioned above, have yet to mention a price tag. It's worth noting the Brazilian retailer does suggest the September 5th as the day pre-orders will start, meaning we could have all the details in a matter of weeks.
Customization
The Moto X was the most customizable smartphone ever released, and the new Moto X+1 looks to build on that by offering tons of color choices, accent colors, engravings, wood backs, and even leather options for this impressive phone. But what about the Moto G2? The G2 didn't get the same MotoMaker.com customization treatment, but Motorola did offer an array of different colors for the back. All easily swappable by the consumer to add any color they'd like.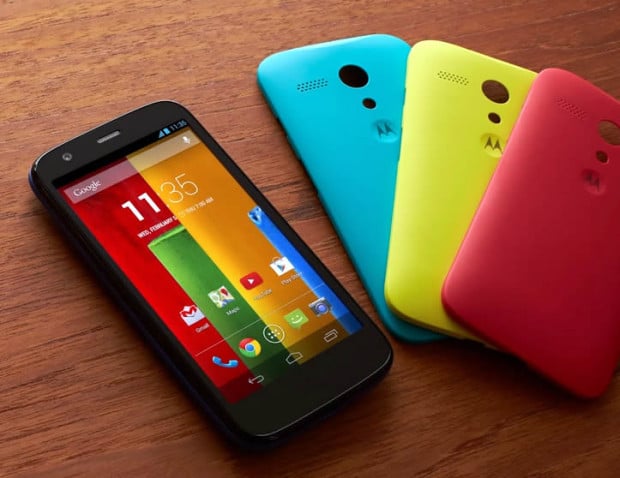 Above are a few of the custom colors available which can easily be swapped out on the original Moto G, and we're expecting a similar selection to be available once the new Moto G2 arrives next month. The company could add it to their MotoMaker full customization suite, but that's doubtful for the budget device.
Availability
The original Moto G was more of a global device rather than something offered by all carriers in the United States. The initial launch didn't have 4G LTE, making it a slower 3G-only device which wasn't offered by most US carriers. However, Verizon's pre-paid lineup sold the Moto G, and multiple other regional carriers or smaller options like MetroPCS, BoostMobile, and others.
Until Motorola confirms all the details on September 4th, the launch and full retail availability is still a mystery. We know the Moto G2 will be aimed at emerging markets and sold around the globe, but carriers in the United States don't always offer the same options to its customers.
With a new, bigger, better Moto G2 with 4G LTE it wouldn't surprise us if all major US carriers offered the device for a low price, but we'll have to wait and see.

As an Amazon Associate I earn from qualifying purchases.