Moto G2 Rumors Confirmed as New Photos Leak
Next month Motorola will take the stage for an event in Chicago to announce the all new Moto X+1, Moto G2, and the Moto 360 smartwatch. For weeks we've been hearing rumors and seeing leaks of the new Moto X+1, but now all the details are finally starting to emerge regarding the Moto G2 as well.
First reports of the new G2 surfaced back in July, and since then we've been waiting for additional details to shed light on exactly what we can expect. Following up the popular Moto G from late 2013 is a newer, bigger, and better G2, and the latest leak provided today is spilling all the beans ahead of the release.
Read: Moto G2 Release: 5 Things You Need to Know
Thanks to the Facebook page HelloMotoHK, we're getting our first full look at the new Moto G2 well ahead of the release date. Motorola is scheduled to announce the phone on the 4th, but the past week we've learned plenty about it, and now we've got multiple images potentially confirming the rumors for prospective buyers.
Last year the Moto G was released, a lower-cost version of the Moto X for those on a budget or emerging markets, and it was an instant hit. The Moto G was one of the most successful smartphones ever for Motorola, and next month they'll be announcing a successor that should be even more popular.
While the Moto X+1 looks promising, the new Moto G2 sounds quite impressive too. Offering a decent smartphone with a bigger HD display and better specs all for the same wallet-friendly price. Motorola hasn't confirmed the device yet, but we've received enough information along with the photos above and below today, to have a good idea of what to expect.
According to HelloMotoHK the new Moto G2 is going to be an impressive budget smartphone. They managed to get their hands on a working unit showing off the blue, white, and pink backs, as the device will have user-customizable backplates like the original. That isn't all though, and here's what else we know.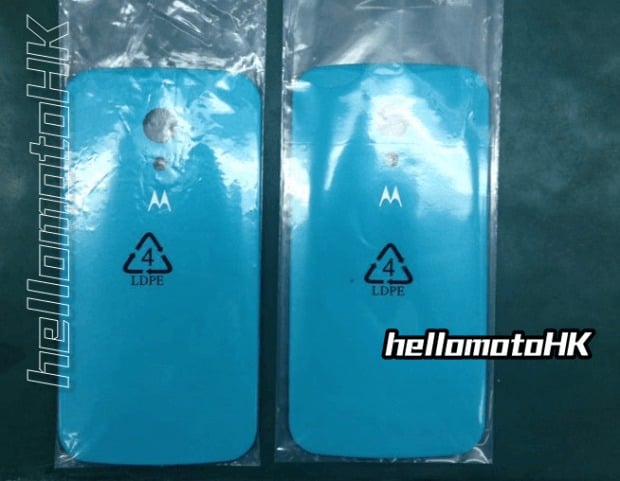 The specs outlined below have yet to be confirmed, but an array of leaks and benchmarks lend credence to the idea that this is what Motorola will announce on September 4th. Add in the photos today, and everything is finally coming together. Here's the rumored specs for the smartphone.
Moto G2 Specs (Rumored)
5.0-inch 720p HD Display
1.2 GHz Quad-core processor with 1GB of RAM. Likely Snapdragon 400 (or 410)
16GB of storage (Micro-SD expansion)
Android 4.4.4 KitKat
8 Megapixel and 1.3 cameras
Dual Front-facing speakers
Dual-SIM (outside the US)
and more
The original Moto G had a 4.5-inch display, no front facing speakers, a pretty terrible 5 megapixel camera (that was our only complaint in our review) and only 8GB of storage with no micro-SD slot. Add in the lack of 4G LTE and it's hard to see how it was so successful. But then when consumers saw the $199 or often times $99 price tag, it instantly became a hit.
Read: Moto G Review
We're not sure Motorola will be able to match that same impressive $199, or $229 price tag like they did earlier this year for the 4G LTE version of the Moto G, but the new G2 should come in pretty close while offering a much better experience.
The new Moto G2 will have a bigger and better display, more storage, 4G LTE, front facing speakers, and additional customization options that should keep many buyers excited, and happy. This leak shows pink, blue, and white, but we can likely expect a lot more custom backplates once it's released.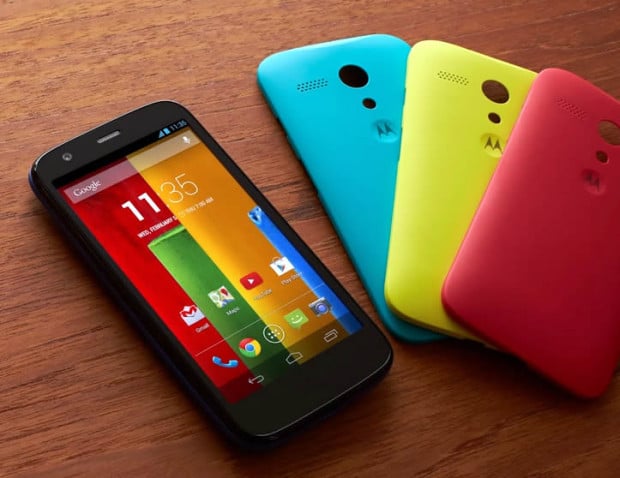 So when can we expect the Moto G2 to be released? A few different leaks out of UK retailers, as well as some "official sources" from GSMArena suggest September 10th will be the global release date of the Moto 360, Moto X+1, and the new Moto G2. The company will take the stage to announce the phone on the 4th, and could have it available from carriers around the globe, including the United States, within a week or so.
US carriers often do things different, or stage their releases so they aren't on the same day. This means the Moto G2 could come to all US carriers on the 10th, or to whoever decides to offer it sometime before the month comes to a close. We'll have to wait and see, but the wait won't be long as we'll be live in Chicago with all the details.