AT&T Moto X (2013) Android 5.1.1 Lollipop Update Released
As of this morning the 1st Gen Moto X (2013) Android 5.1.1 Lollipop update is officially rolling out to owners on AT&T, and we're expecting Verizon to be up next as well as other carriers and unlocked models. Yesterday we learned the AT&T Moto X was in the final update stages, but they didn't take long because it's available today.
Motorola was one of the first manufacturers to offer Android 5.0 Lollipop when they delivered it to the 2nd Gen Moto X from 2014, as well as Android 5.1 Lollipop, but those with the original Moto X 1st Gen from 2013 didn't get the same treatment However, the last two weeks we've seen a lot of movement from Motorola, and the update is finally here and making progress with other carriers as well.
Read: Moto X 2015 Release: 5 Things to Know
Near the end of June Motorola told us the original Moto X Android 5.1 Lollipop update was nearing the final stages for two carriers in the United States, and just yesterday they confirmed AT&T was doing a final "soak test" to ensure everything was ready for the actual release.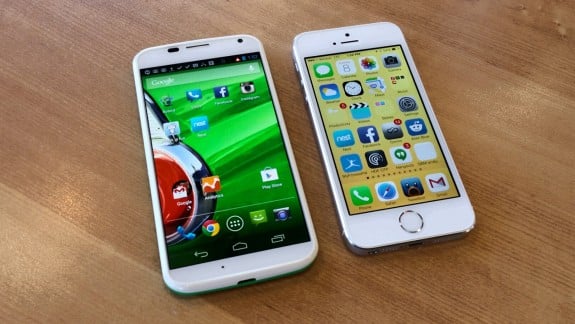 As we said above, yesterday AT&T and Motorola confirmed they were in the final testing phase of the Moto X 2013 Android 5.1.1 Lollipop update, and that it would be here soon. That said, it looks like that soak test and final testing phase didn't last long, because this morning AT&T announced the update is ready, live and available now, and will begin hitting handsets soon.
Oddly enough it appears that the final soak test to make sure the update is stable and ready for millions of owners is still going on, but both AT&T and Motorola have also opened the update to everyone that wants to manually pull the update, rather than wait for the over the air software update notification to arrive.
What this means is over the next week or so we can expect an over the air update and notifications to hit AT&T Moto X (1st Gen from 2013) devices and deliver the latest Android 5.1.1 Lollipop software full of new changes and fixes. However, if owners want it right now, they can simply check for updates on their device and get the software today.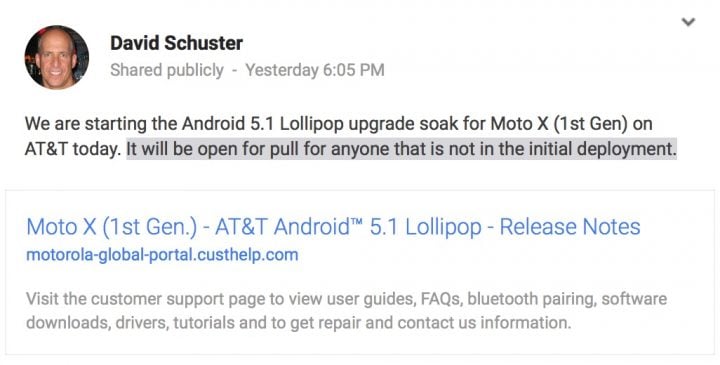 AT&T is instructing owners to head into settings > about phone > and tap check for updates while using a WiFi connection, and the Moto X Android 5.1.1 Lollipop update will be available. This takes the device from Android 5.0.1 to Android 5.1.1 Lollipop and delivers tons of bug fixes, new features, improved battery life, general stability and much more.
Read: Android 5.1 vs Android 5.0 Lollipop: What's New
AT&T states this update will deliver all the changes in Android 5.1 as detailed in the link above, and much more. Some of the changes include software updates to Motorola Assist, Moto Migrate, NFC, Active Notification improvements, touchless control features, SmartBost audio updates, Moto Care, and finally "other planned fixes, updates, and enhancements."
The update is a relatively small 152MB file but a WiFi connection is required, and users are recommended to have at least 50% battery life before starting the download, install, and reboot for the software upgrade.
It's also worth noting that the Verizon Moto X Android 5.1.1 Lollipop update is also in the final approval and testing phase and could arrive by the end of the week, or early next week for millions of other users. Stay tuned, and let us know if you have any problems with the Moto X Android 5.1.1 Lollipop upgrade.

As an Amazon Associate I earn from qualifying purchases.