Moto X (2014) Release in the US: What Buyers Can Expect
Earlier this month Motorola finally unveiled the new Moto X and put all the rumors to rest regarding the release date, pricing, and features. Now that all the details are clear and the release date is quickly approaching, prospective buyers will want to know exactly what to expect regarding the US release date.
The Moto X was joined by a new Moto G and the Moto 360 smartwatch, both of which are available today for purchase. However, the flagship Moto X isn't available quite yet, but this weekend Motorola confirmed AT&T is up first.
Read: New Moto X Hands-On
The new Moto X (rumored as the Moto X+1) release date is later this month, but there is no specific release date in September. However, AT&T just confirmed that pre-orders will start on Tuesday, and more details from others will surely be coming extremely soon. Below are more details regarding the rest of the carriers in the US, and everything you need to know about the new Moto X.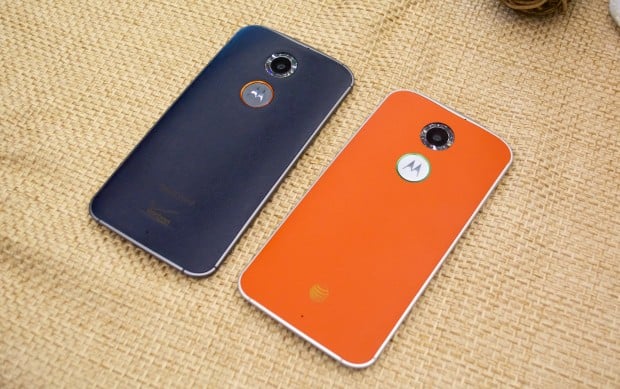 All the Moto X rumors started in February when Motorola tweeted that a new Moto X successor would arrive later this summer, and since then buyers have been waiting patiently. After the long wait it is finally here, coming to a carrier near you soon, and will be quite the phone loaded with features and customization options.
Summer technically ends around September 22nd, and Motorola confirmed it would be available "this summer" so we're expecting Verizon, T-Mobile, and Sprint to make announcements in the near future. For now though, AT&T is the only one with an official statement. They confirmed pre-orders, but not the release date, not yet at least.
Last week Motorola confirmed major US carriers will have the new Moto X (Moto X+1, Moto X2) in stores and available to buyers this month starting at $99 on contract, or $499 outright. This is a good price considering most flagship phones from Samsung, LG, and Apple retail for at least $599, if not more.
Moto X (2014) US Release
As stated above, all the details have yet to surface, but we do know some general details as well as multiple rumors that should help clear things up for buyers looking for the new Moto X. You'll be able to get one soon from all carriers, but at the Moto X event on September 4th we saw both AT&T and Verizon units floating around, which were eventually given to all that attended the event.
This confirms both AT&T and Verizon are to carry the Moto X, and will likely be the first carriers to offer it. AT&T had a short two week exclusive last year, and an even longer exclusive on the MotoMaker.com customization suite which eventually opened up for all carriers. AT&T has already confirmed they're up first again this year, so we can only assume they'll have a week or two exclusive before Verizon joins the fold. Multiple rumors have pegged Verizon's Moto X release for September 25th, but a few leaked images also hint at September 17th for the new Moto X release date.
So what about the other two major carriers in the US? While we can't be certain of some of the smaller carriers, T-Mobile will likely offer the phone, even though they've yet to make a formal announcement. All major carriers sold it last year, so it makes sense to see the same situation in 2014.
Read: Moto X (2013) vs Original Moto X: 5 Key Differences
However, Motorola will also be offering a "Moto X Pure Edition" on the 16th that is fully unlocked, and developer friendly. This is a unit that will work with T-Mobile, AT&T, and all other GSM carriers. Which means it won't support Verizon or Sprint, but others can use it as they'd like. Similar to Google Play Edition phones we've seen in the past.
US Cellular confirmed they'll offer the Moto X to its users as well, sometime before the end of the month. So again, we don't have concrete release dates, but they'll be surfacing sooner rather than later. Possibly after all the iPhone 6 hype dies down after the 19th release date.
Specs
The release date is important, but so are the specs when it has to compete with the Galaxy S5 and iPhone 6. So while these aren't extremely important, here's everything you need to know about the new Moto X, for those interested in the numbers and little details.
Moto X 2014 Specs
5.2-inch 1080p Full HD Display
2.5 GHz Snapdragon 801 Quad-core processor
2GB of RAM
16GB and 32GB storage options
2,300mAh battery
13MP rear facing camera w/ 4k video, 2MP front camera
Front-facing speaker
Dual LED Ring Flash
Android 4.4.4 KitKat
Over 25 customizable back options
Customization
Speaking of the customization we just mentioned above, Motorola went above and beyond for the new Moto X. Last year they shocked the mobile world by offering over 18 different custom colors, accent colors, and eventually wood backs like Bamboo or Walnut wood, but this year they've delivered even more choices. 25 to be exact.
There are 18 different colors for the back, accent colors (like buttons and speaker grills), four wood backs, and four different leathers to choose from. Custom colors are free but the wood and leather are a $25 premium. Those being bamboo, teak, walnut, and ebony. Then new to the Moto X for 2014 though, is four leathers – natural, cognac, black, and navy – from The Horween Leather Company in Chicago.
Motorola also stated that (for now) only AT&T and Verizon are on board for MotoMaker.com customization suite, but eventually all four major carriers supported the option, including US Cellular and Republic Wireless.
At this point we're probably looking at a late September launch starting with pre-orders on the 17th from Verizon, and later for the rest of the US carriers. That being said, none have been confirmed except for AT&T, so we'll be sure and update once we learn more details.

This article may contain affiliate links. Click here for more details.