New Moto X Review: Motorola's Flagship Phone
Motorola stunned followers of the smartphone industry last year when it revealed the Moto X 2014. For a smartphone inspired by a device with modest internals and somewhat lofty off-contract price tag, the Moto X 2014 was a powerhouse. A larger screen with a better resolution made video watching enjoyable. A front-facing speaker made the audio in any video or song easier to hear. A new metal infused design took the Moto X 2014 to a whole new level looks-wise. It was lauded as a true iPhone rival among Android devices that delivered great internals and a poor overall experience.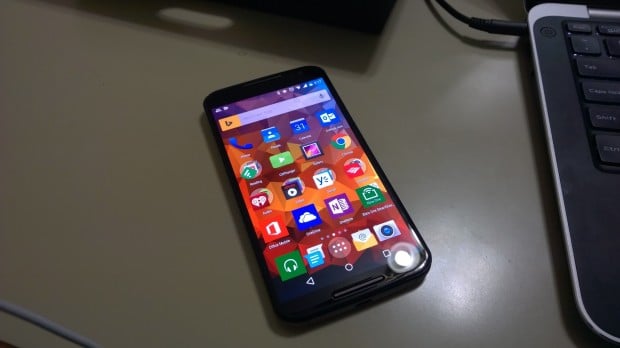 Read: 5 Tips for Moto X 2014 Buyers  
It's now 2015 and a new generation of iPhone rivals are taking the stage. How does the Moto X 2014 hold up almost five months after launch? Astonishingly well, as it turns out.
Moto X 2014 Review: Design & Internals
The original Moto X came dangerously close to delivering a complete experience. Understanding why it missed the mark slightly is key to appreciating the Moto X 2014 for what it is, and it is also key to grasping why it's still a smartphone worth considering.
The original Moto X didn't have a super-sized screen and its internals were modest. Motorola hoped that letting users design their own phone and adding some neat common-sense features would counter balance its decision to not participate in the specification war that so often dictates which smartphones get the most attention from the technology press and wireless carriers. That didn't happen. The Moto X was lauded for its customization and design. But it was universally panned for its internals, which were decidedly mid-range.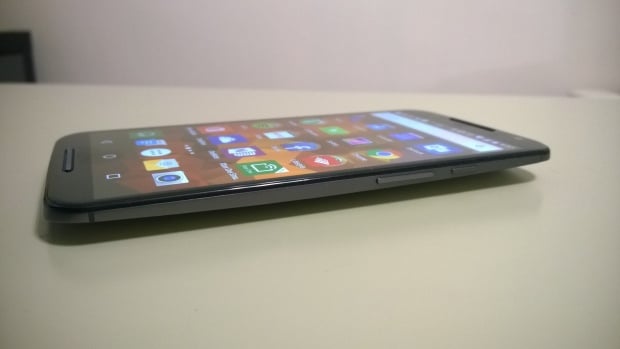 The Moto X 2014 has a 1080p 5.2-inch AMOLED display. Inside is 2GB of RAM and a Snapdragon 801 processor. Even the rear-facing camera is top-notch: its 13 megapixels, and shots taken with it come out great… most of the time. Users who purchase from Motorola's website can choose between 16GB, 32GB and 64GB versions. There is a front-facing web camera for video chatting and self-portraits, and a ring flash that's intended to get better low-light photos from that 13 megapixel rear-facing camera.
The real feat here is that, while packing in the upgrades that users of the original model clamored for, Motorola was able to improve on their first design considerably. A metal edge holds the front and rear halves of the Moto X 2014 together. This edge lends the device a premium feel last year's model just didn't have. The speaker now sits on the front along with a matching metal ear piece. A refreshed metal dimple acts as the highlight of the rear, along with that camera and ring flash.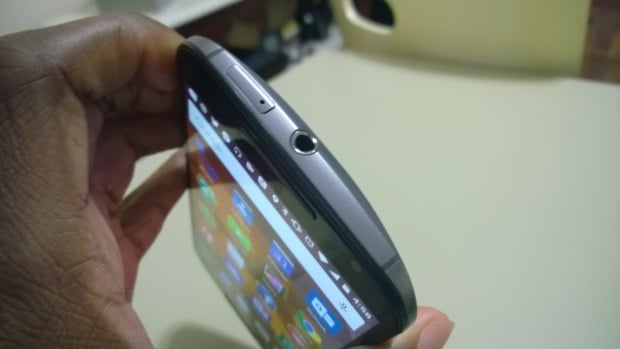 Before purchasing the Moto X 2014, I was sure that I would not like having a smartphone with a curved back. I often sit my devices flat on a table for some activities and I'm very into straight edges. In practice, the Moto X 2014 does move on a table sometimes, but how it feels in my hand is worth the tradeoff. It fits like a glove, and the dimple in the back helps balance everything well. My customized Moto X 2014 still looks good, too, though I didn't opt for a wood or leather case. There are no edge scoffs, no bending, nothing to make me question the design.
Other design and internal ideas, like that front-facing speaker, have worked out excellently too. I do wish that Motorola had not reversed the microUSB port on the Moto X's bottom. Design wise, that's my only complaint.
Moto X 2014 Review: Software & Camera
Ultimately, the reason I decided on the Moto X 2014 as my smartphone had to do with software. So many Android smartphones don't get timely updates when they should. That Motorola doesn't fill the device with drastic changes was on my mind as I hit the "Buy" button. I hoped for speedy updates and little to no bugs.
In the last four months I've been able to test the Moto X 2014's software and Motorola's theories on fast smartphone updates for myself.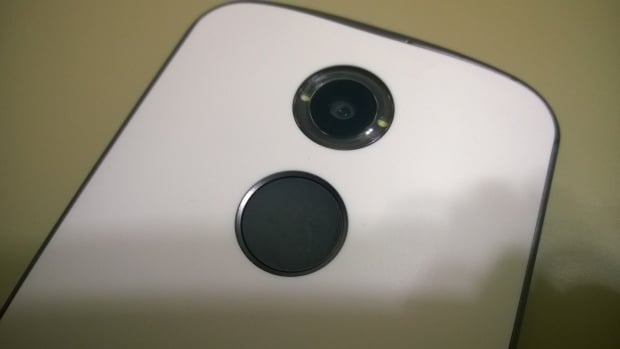 The Android Lollipop update for the Moto X 2014 arrived in what I'd say was a reasonable amount of time and with all the features it should have. I should note that I'm using the Pure Edition Moto X 2014, not a carrier-branded version. Updates for those on Verizon weren't as quick as mine, but arrived soon after.
Read: Moto X 2015 Android Lollipop Update Review
There weren't a ton of bugs, save for a Bluetooth issue where all of the audio in my car sped up. Talk time following the update stayed reasonable. Overall, I'd say the pure Android experience pays off for the Moto X 2014.
Additionally, other design decisions are paying off. Sensors inside the Moto X 2014 allow it to detect hand movements and surface pending notifications. This has been ridiculously useful. I wish every smartphone had it. Moto Assist, the software that plays music in your car and silences notifications when you need some away time, have proved themselves invaluable too.
The biggest disappointment for me, though, has been Moto Voice. In theory, you can talk to your device and give it orders from just about anywhere it can hear you with a simple command. After retraining it three times, it doesn't please me to declare the feature a wash. It's not reliable enough to get me using it in the same way I issue Kinect Voice commands to my Xbox One without thinking. Worse, it's awfully slow and routinely thinks music is my voice. I've tried a few different phrases – remember, you can choose your own – and it just hasn't improved.
Read: 13 Moto X 2014 Tips & Tricks
The Moto X 2014's other big software failure is its camera. It's not remotely consistent. There are times when I get amazing shots and other times where the Moto Camera app refuses to focus on objects both near and far. The great shots that I've gotten lead me to believe it's the app itself and not the actual camera, which is somewhat good news.
Moto X 2014 Review – Conclusion
Overall, I'd say the Moto X 2014 is a great device and definitely capable to standing up to even the latest generation of flagship phones. No, Moto Voice is neither a game changer nor a reason to purchase the Moto X 2014, but it never should have been. The fundamentals are right here. Its design holds up and its display is gorgeous. The speakers are loud and it gets updates at a breakneck pace.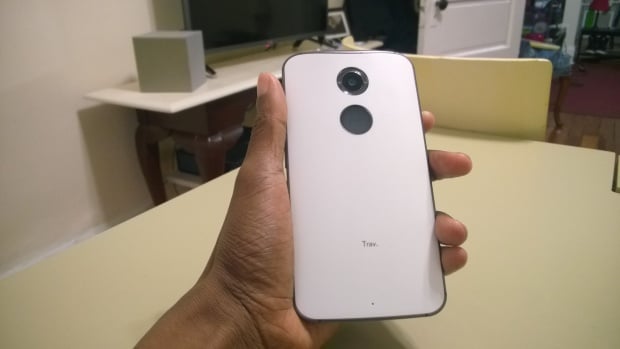 I'd like to see an improved camera app and Moto Voice, but those are the the extent of my concerns. The Moto X 2014 is a great smartphone.