Moto X 2014 vs Moto X: 5 Key Differences
Early this morning Motorola announced four brand new devices they've been working on, and one is the all-new Moto X for 2014. Previously rumored as the Moto X+1 or Moto X2, they've simply decided to call it the Moto X again. Buyers have a tough choice between everything available now, including the original Moto X from 2013.
Last year Motorola shocked the smartphone world by releasing the highly customizable and rather impressive Moto X in August of 2013, and this year they're back with something bigger, better, faster, and more customizable.
Read: New Moto X Hands-On
When Motorola abandoned the specs and big-screen race in 2013 with the original Moto X in favor of customization it was a risky move, one that was somewhat successful. However, in 2014 the new Moto X is better in every way, offers everything the original did and more, but both are still great devices. Here we compare both phones for buyers trying to make a purchase decision.
There was a lot to like about the original Moto X, but there's even more to love about its successor. All the customization is included, and they've improved the device across the board.
With the Samsung Galaxy S5, LG G3, Note 4 coming soon and many other devices all set to be available in September, buyers have tons of choices. Those looking to snag the new Moto X, or get the original for a discount will want to know what they both have to offer, and here's everything you need to know.
Display
As we mentioned above, the original Moto X dropped the specs race we've seen as of late and went with a more compact design and customization instead. As a result users got a small 4.7-inch 720p HD display (when others were going 1080p) but still made it a powerful device. It was the first "Mini" Android smartphone that was impressive on paper.
This year they've ditched the small screen, but managed to keep the overall size not much bigger by offering sleek bezels and an aluminum ring around the new 5.2-inch 1920 x 1080p full HD display. It's an AMOLED panel, so colors are vibrant and saturation is exceptional. Our initial hands-on left us impressed, and sitting next to the original you can certainly see the difference in screen size and quality.
Those who'd rather not hold a large 5.2-inch device in their hands will likely opt for the smaller 4.7-inch Moto X from last year, but both options are easy to hold, comfortable, and should make any buyer happy.
Design
The design remains unchanged for the most part, but there are a few key additional and changes you'll want to know about. First off there's no more plastic mashed together to put the front and back pieces into one solid device, and instead the device is finished with an aluminum frame. This makes it more durable, better looking, and just overall a better device. However the back is still separated simply so users can choose any of the customization options we'll go over below.
There's a few big changes on both the front and the back. Starting with the front the screen is bigger, obviously, but you'll also notice those large speaker grills and some weird dots on bottom. Those are actually IR sensors to know when you're near the phone for hands-free usage and voice controls.
Leaks suggested Motorola would offer dual front-facing speakers like the HTC One M8, but sadly there's only one. The top speaker is the earpiece, and the bottom speaker is the single speaker grill. That being said, it faces forward, is loud and clear, and won't get muffled or lost in the mix like other rear-facing speakers. We're looking at you Samsung.
Next up is around back. There's a huge Motorola logo that's indented, and actually a button. This is the power button, which is nicely located in an easy to reach spot. You'll also notice an odd ring around the camera, as this is what they're calling a "ring-flash" for the new Moto X. There's two LED flash sensors inside the improved 13 megapixel camera, and the ring keeps the overall flash soft and natural, rather than ruining your photos with overexposure. We'll need more time to try it before we commend further.
Overall the design is a huge improvement over the original Moto X, as is durability. The new Moto X just feels great in the hand, and has the same curves that makes it easy and comfortable to hold. We loved the Moto X last year, but have a new favorite with the 2014 edition.
Specs
Both the original and new Moto X are still great smartphones, but looking to the future with Android 4.5 or 5.0 L release, and beyond, you'll want to have the best available. Yes the Moto X is cheaper, and will be a great phone for the foreseeable future, but those wanting to know the exact specs and breakdown by the numbers, here you go.
Moto X 2014 Specs
5.2-inch 1080P Display
2.5 GHz Snapdragon 801 Quad-core processor
2GB of RAM
16GB and 32GB storage options
2,300mAh battery
13MP rear facing camera w/ 4k video, 2MP front camera
Dual LED Ring Flash
Android 4.4.4 KitKat
Over 25 customizable back options
Moto X 2013 Specs
4.7-inch 720p Display
1.7 GHz Snapdragon Dual-core processor
2GB of RAM
16/32/64GB storage options
2,200 mAh battery
10 MP rear camera, 2MP front
Single LED flash
Android 4.4 KitKat
18 Customization options, including wood
The original Moto X was the same price as the competition, but lacked the specs and power on paper to compete. It still is an extremely exceptional and smooth smartphone, but some buyers passed it up for a few of those reasons. In 2014 though, the new Moto X has nearly all the latest and greatest specs, and will be a perfect device to compete with Samsung, HTC, LG, and even Apple with the iPhone 6.
Customization
The Moto X was the most customizable smartphone ever released, and that trend will continue with the new X. MotoMaker.com now has 25 different options for buyers looking to get the new Moto X. Delivering seventeen different colors of plastic back panels to choose between, as well as the same four real wood options from last year. Those being bamboo, teak, walnut, and ebony. New to the Moto X for 2014 though, is four leathers – natural, cognac, black, and navy – from The Horween Leather Company in Chicago.
They've even added more accent options too, but we'll have to wait for the release to see what's all available for prospective buyers. We enjoyed the Moto X last year with Walnut wood, but must confess that we're huge fans of the new leather options. They're soft, smooth, comfortable, and just look and feel great.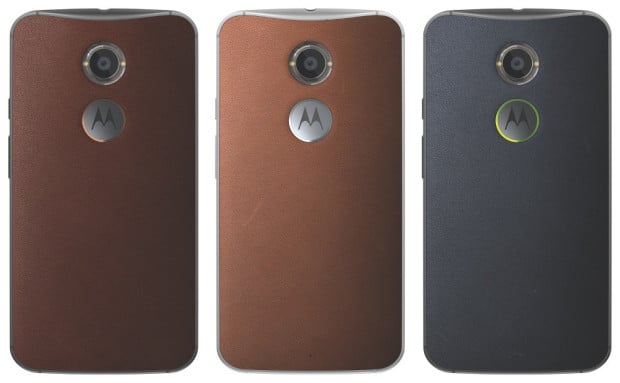 We do have some concerns over the leather handling wear and tear over a 8-12 month period as some users are quite rough on their smartphones, but we'll have to wait and see. Our unit is resisting scratches quite well, and seems to be very durable, but each user is different. Who knows how leather will hold up to the test of time. That being said, it has been used in houses and cars for years, so why not a smartphone. Right?
Considering this is genuine leather there's bound to be a few imperfections, which is what gives it that natural and unique look. Our black model has a small indented type area to the left of the camera, just barely, but it gives it character. If you have OCD you may want to pass on leather, but we're big fans so far.
Price
Last but not least is the price. While we could go on and on regarding some of the small differences, everything above, and the price, are the key things buyers will want to know about the new Moto X.
Motorola has confirmed all four major US carriers will offer the Moto X (2014) in September, and it will be just $99. Yes that is $99 with a new 2-year contract, and it will also be $499 outright. That's a little more than we were expecting, but given the increase in specs this is in-line with the competition, offers more customization, while still undercutting the price of the Galaxy S5, HTC One, or LG G3 by a good amount.
$499 includes all the customization we've talked about today, so that makes this quite an excellent deal. The Moto X was one of the best price/performance options last year and most of 2014, and the new Moto X will be the same.
However, what about the original? It's pretty cheap too. Many carriers are offering it free with 2-year contracts, so that's certainly worth looking at, and the 2013 Moto X is still currently listed as $399 from MotoMaker.com. We've seen countless deals delivering it for $299 all through August, and it's possible that will be a permanent price cut in the near future.
For now the $100 premium for the new Moto X over the original is absolutely worth it, but if you're on a budget the original Moto X is still a rather good investment.
Final Thoughts
This new phone is awesome. While the LG G3 offers a huge screen and slim bezels, or the Galaxy S5 delivers a great camera and water-resistant features, Motorola is aiming for something a little different. They have an excellent all-around package, tons of customization unlike any other manufacturer on the planet, a great device, yet still deliver on a good price for consumers.
It's hard to recommend anyone buy the original Moto X now that the new and improved model has so much more to offer, for a small increase in price, but in the end it's all about you and what you need. The lower price and small screen is still something that will have many flock to the original Moto X while it remains available, but everyone else will likely opt for the new Moto X for 2014.
Stay tuned for more pricing and carrier details in the coming days or weeks.

This article may contain affiliate links. Click here for more details.