Moto X 2015 Concept Teases A Design Users Want
Over the past couple of years Motorola has been successful with the Moto X due to the wallet friendly price and loads of customization options for owners. From genuine leather and wood backs, to over 18 different colors all user-customizable. As expected, a 3rd generation Moto X is coming soon, and today we have a Moto X 2015 concept teasing a design many users want.
The second generation Moto X was released back in September of 2014, and has been one of the more popular smaller Android smartphones over the past 7 months. However, like all things, something new and better is coming. In March we heard reports of a 2015 Moto X release date, last week some specs surfaced, and now a beautiful fan-made concept render is hinting at the future.
Read: Moto X 2015 Rumors & Specs Emerge
Motorola's Moto X has continued to evolve into an impressive top-tier smartphone that offers an ergonomic design, custom build materials the buyer gets to choose, tons of color options and more all while running nearly stock Android 5.0 Lollipop. The 2015 Moto X may be their best yet, especially if rumors are accurate and it looks anything like the render below.
What you see above and below is not an official leak, or in any way associated with Motorola. Instead, this is a beautiful fan-made concept and render created by a designer named Alex Pasquarella. He took some of the recent reports and leaks regarding the specs, added in Motorola's usual design guidelines and elegant curves that make the phone easy to hold, and mixed in a bit of aluminum, blending it all into one beautiful 2015 Moto X that we'd love to see become reality.
The concept image below is obviously not real, but could resemble what Motorola announces this summer and releases later this year. It has the same curves they've used over the past few years, but also looks like a mash-up of the Moto X, the iPhone 6, and the Galaxy S6 all into one device. The end results are pretty impressive, although personally I'm not a fan of the speaker grills.
Google's Motorola-made Nexus 6 is too big, and the 5-inch Moto X 2014 is too small for some. As a result, the latest leaks and rumors suggest the new Moto X for 2015 will have a perfect compromise, coming in at 5.2-inches with a stunning 2560 x 1440 Quad-HD display. The same resolution as the Galaxy S6, LG G4, and other flagship smartphones.
Before we talk too much about the render, here's the latest rumors of what will be including with the 2015 Moto X.
2015 Moto X Specs (Rumored)
5.2-inch 2560 x 1440 Quad-HD AMOLED (2K display)
6-core Snapdragon 808 Processor with 4GB of RAM
16 Megapixel Camera with Optical Image Stabilization, 5 MP front camera
32 and 64GB storage options (Micro-SD slot unknown)
Android 5.1.1 Lollipop
3,280 mAh battery
Tons of customization options
more
Above is a list of specs based on some recent rumors, along with what we've seen from other manufacturers in 2015, and following the slow increase in specs and offerings as Motorola has done the past few years. Most likely we'll have the same multiple colors, wood backs, more leather options, and possibly even more customization than ever, but we will have to wait for more leaks or some comments from Motorola themselves. Alex states he hopes Motorola will take more risks with the design, like his front facing speakers, while keeping the signature Moto X look and customization options. Here's a look at some colors with his new design.
Here Alex incorporated those rumor and everything else we've heard, along with his own imagination and personal wants, and created a masterpiece we can see millions of consumers buying.
In 2014 the second generation Moto X launched with dual front facing speakers, a design that all smartphones should consider, but it all started with the original HTC One. This allow for improved audio output, stereo sound, and audio that's in your face and not around back aiming the wrong direction while using the device. He notes that these will be slightly raised, like a chin, but not enough to make the side profile look odd.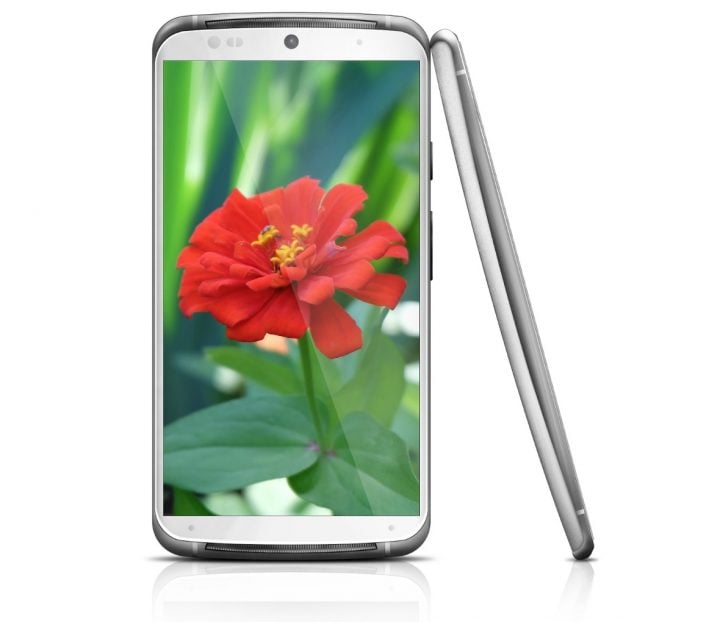 He's added a more durable aluminum ring around the frame, kept the back similar to previous years to allow for customization, and has an all around pretty device we could see attracting millions of buyers. What do you guys think?
Motorola played in safe in 2014 and only made the Moto X a little bigger while adding a few new customization options, but hopefully 2015 it takes a giant step forward. If the leaks specs are anything to go by, they'll have a winner on their hands. If they can increase the specs and screen while also adding in a huge battery, and not make the device too thick, we could see the 2015 Moto X being one of the better phones released this year.
For now we have nothing but rumors, but we've heard an August announcement and release date is in the cards, similar to previous years. That means more details, leaks, and information should start surfacing soon as the launch nears. What do you guys think of this concept? Is it something you'd buy? Let us know in the comments below.