Moto X 2015 Release: What We Know So Far
More details and leaks continue to surface about the rumored Moto X 2015, but a release has yet to be confirmed. As we move deeper into the summer and closer to the rumored August release date, here we want to take a look at everything we know so far about the new Moto X 3rd Gen for 2015.
The original Moto X was announced in August of 2013, and the 2nd model arrived in August and September of last year. Now, the 3rd generation Moto X for 2015 is likely coming soon, rumored to arrive during the same time-frame, and it's stacking up to be the best Motorola smartphone yet.
Read: Moto X 2015 Concept Teases a Design Users Want
A random unconfirmed report surfaced back in May revealing some pretty impressive details for Motorola's next smartphone, and earlier this month more information came to light potentially revealing everything about the device well ahead of any announcement or launch date. Read on for all the details.
Last year the Moto X was one of the better phones announced and released, but just like the original, it wasn't as capable or powerful as the competition. However, in 2015 Motorola looks to shake things up by delivering a powerhouse flagship Moto X 2015 with all the customization users have enjoyed the past two years, but do so with a different approach by offering a top-tier smartphone.
Moto X 2015 Release Date
Over the past few years Motorola has announced a new Moto X near the end of the summer, and released it in September. Most likely the same will hold true in 2015, and back in March that was essentially confirmed by a Motorola employee on Twitter.
Back in March Rick Osterloh, President at Motorola posted to Twitter in an effort to answer some customers questions and confirmed they'll look to stick to the same annual release cycle as prior years. This means buyers can expect the new Moto X to be announced around August, and hopefully released at the end of August like the original, or in early September.
.@northead we try to stay on a roughly annual cycle for all of our products including Moto X. #AskRickO

— Rick Osterloh (@rosterloh) March 25, 2015
If the above comment is accurate, not to mention some recent leaks and rumors, a new Moto X is currently under final development stages and will be revealed later this summer, and released in September. This is months later than the Galaxy S6, LG G4, and HTC One M9 competition, but may give Motorola an opportunity to release something better and one-up the competition. So what could that be? Here's the latest rumors.
Moto X 2015 Details
If all the leaks we've seen thus far are accurate, Motorola will be delivering a top-end smartphone with some of the best specs of any device released in 2015. They'll stick to the same pocket-friendly 5.2-inch screen size, but improve every single aspect of the phone.
Earlier this month a leak surfaced giving us our first look at what could be the Moto X 2015. It wasn't an actual picture of the smartphone itself, but instead a screenshot of a program that's showing all the specs and hardware for Motorola's new smartphone. Essentially detailing what the phone will offer, and how it will compare to the competition. Below is the image, and more details about what could be the Moto X 3rd Generation for 2015.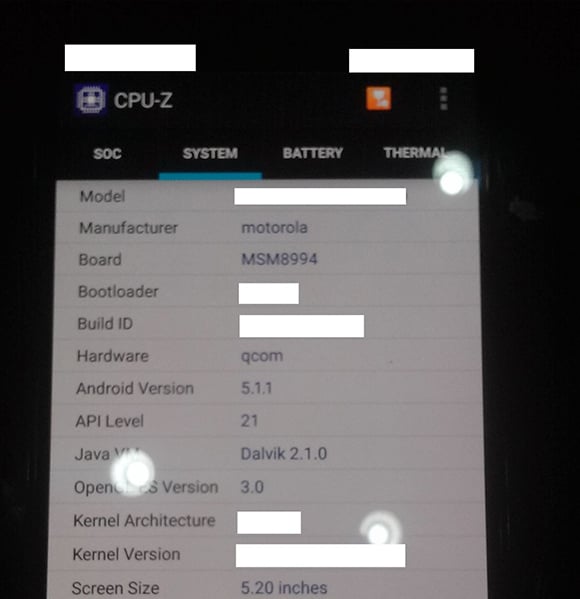 As you can see above the leak suggests Motorola will be improving the Moto X 2015 in all aspects in order to make it truly compete with the Galaxy S6, LG G4, iPhone 6s and more, rather than slightly undercut the competition like they've done the past two years.
Moto X 2015 Specs (Rumored)
5.2-inch 2560 x 1440 Quad-HD AMOLED Display
8-core Snapdragon 810 processor with 4GB of RAM
32/64GB storage with a micro-SD slot for user expandable storage
Android 5.1.1 Lollipop
16 megapixel rear and 5 megapixel front camera
3,280 mAh battery
more
Everything above has been reported more than once, from multiple different sources, and is most likely what's coming later this summer. If accurate, Motorola will keep the screen at the same 5.2-inch size, which is slightly bigger than both the Galaxy S6 and HTC One M9, but increase the resolution to a full 2k display. This will help it compete with Samsung and the LG G4.
One weak link in the Moto X last year was the camera, but that will be getting a huge improvement in 2015. Motorola will offer a 16 megapixel camera hopefully similar to the Galaxy S6 or LG G4, more internal storage, a micro-SD slot, and more.
Perhaps the most exciting part of the leak is the 3,280 mAh battery for the new Moto X. The past two Moto X smartphones all had poor battery life that were less than the competition, but this leak suggests the 3rd Gen Moto X will have a battery bigger than the Galaxy S6, HTC One M9, and the LG G4. Offering nearly the same screen size but a much bigger battery for all-day usage.
Moto X Customization
One of the key selling points for the Moto X has been customization, and making the phone unique for each buyer. MotoMaker allowed users to buy a custom color, accent colors, wood backs, leather backs in 2014, and more. Essentially letting you pick the storage amount inside the phone, all the colors or build materials, then ship it right to your door.
Motorola will have more of the same in 2015, but hopefully add even more to MotoMaker. Past years they had over 18 different colors to choose from, 5 different wood backs, leather, and more. LG one-upped Motorola with the LG G4 and are offering six genuine leather backs, so we could see even more from Motorola this year.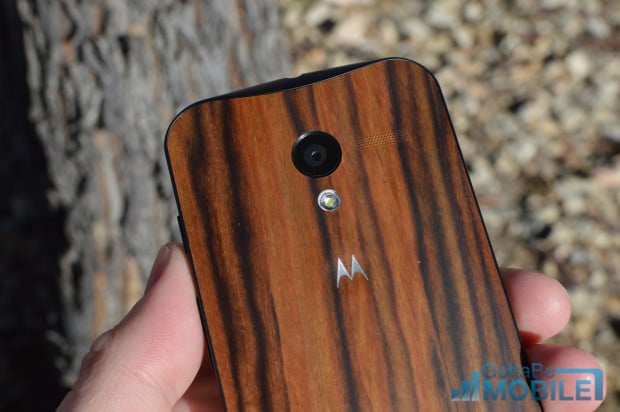 Add all of that to an extremely powerful and good looking phone, and it could be a great device as the summer comes to a close. More customization, a better screen and camera, the latest Android 5.1.1 Lollipop, a huge battery and more should all make this Motorola's best smartphone yet. The only thing we need to know is if these rumors are accurate, what it looks like, and how much they'll ask for it. Past Moto X phones were cheaper than the competition, but that may not be possible given the specs listed above.
It's also worth noting that this week Motorola announced a huge sale on the 2014 Moto X, dropping the price to just $299 outright in what's likely an attempt to clear some outstanding stock and make room for a new device in the coming months.
If recent years and rumors are accurate, we have less than two months to wait before Motorola unveils the Moto X 2015, and likely plenty of leaks will surface well ahead of the announcement. We'll keep an eye out for more details, and update once we learn more about the 3rd generation Moto X coming this summer. This will be the first phone released by Motorola now that popular PC maker Lenovo owns the company, so it should be an exciting release.

This article may contain affiliate links. Click here for more details.