Moto X 2015 Rumors & Specs Emerge
The second generation Moto X was released back in September of 2014, and has been one of the more popular smaller Android smartphones over the past 6-7 months. However, like all things, something new and better is coming. In March we heard reports of a 2015 Moto X release date, and now we have some potential details about the upcoming device.
The original Moto X was released in August of 2013, and the newer Moto X 2nd Gen was released over a year later, but we could see an even earlier arrival of Motorola's next. And while the device is still considered somewhat new, focus is starting to shift to the Moto X 3rd generation for 2015 now that the Galaxy S6, HTC One M9, and LG G4 have been unveiled.
Read: Moto X Android 5.1 Lollipop Update Details Emerge
We're unsure if Motorola is aiming for an August announcement and release like the original, or will wait a little longer like they did last year and deliver a new smartphone later in the year. That said, we do have some new details that surfaced this week possibly revealing what Motorola's new phone will have to offer.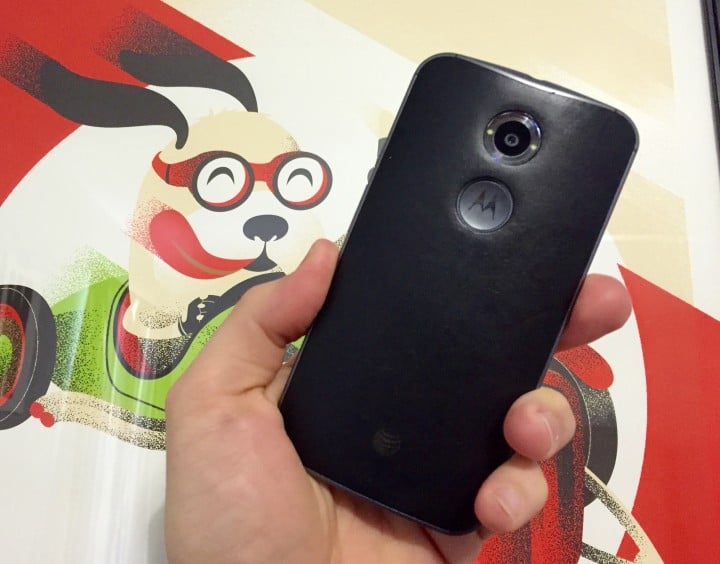 The original Moto X in 2013 was extremely popular for its wallet friendly price and loads of customization, including real wood backs. It ran nearly stock Android, and brought Motorola back into the limelight after years being behind Samsung and HTC.
Last year, the 2nd Gen Moto X didn't change too much, but instead received a slightly bigger display that cranked up to 1080p HD to compete with the current crop of Android devices, a new aluminum ring around the device for added protection, and along with all that customization they introduced genuine leather back options. It was a great looking phone, but the 2015 Moto X could be even better.
Most likely we're still months away from a new Moto X this year, but that doesn't mean leaks, rumors, and potential details can't begin to surface. This week a new report has arrived claiming to have the full rundown of what Motorola has planned for it's new Moto X. The phone finally could see an upgrade to make it directly compete with the Galaxy S6 and iPhone, rather than being a slightly lower option for a smaller $499 price point, like they did last year.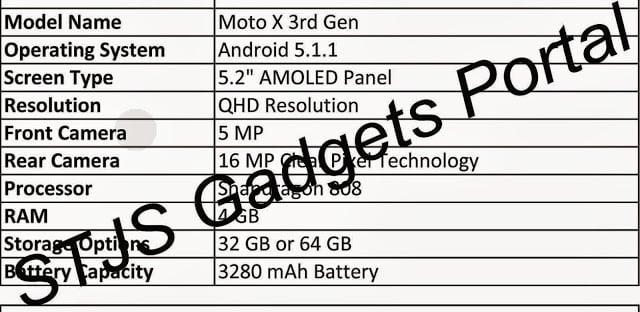 A recent unconfirmed report and image has surfaced claiming that the new Moto X in 2015 will be pretty impressive. Essentially blending the elegant Moto X and the impressive DROID Turbo into one device, and releasing it for all carriers in the US. The image above is all we have for now, but with summer approaching more details should start to emerge.
If the latest leak and rumor is accurate Motorola will increase the screen size from 5-inches from last year, to a bigger 5.2-inch Quad-HD display in 2015. This will be on par with the Galaxy S6, LG G4, and others. It also states we'll see Android 5.1.1 Lollipop, a new 6-core Snapdragon 808 processor, and surprisingly 4GB of RAM. This would be a first for big-name manufacturers, so we'll have to wait and see.
The leak continues by suggesting the camera will increase from 13 megapixels to a new 16 megapixel camera, 5MP on the front, 32 and 64GB storage configurations, and ends by stating buyers could enjoy a huge 3,280 mAh battery. The small battery and poor battery life in previous models has been the only complaint from most owners, and 2015 could finally fix that.
Read: Moto X Android 5.0 Lollipop Review
The leak appears to have even more information about the new Moto X 2015, but it was cut off. Meaning we could have additional details about specs, carriers, customization, release date and more coming soon, but for now this is all we have to go on.
Motorola played things pretty safe in 2014 by barely changing the Moto X, and only making it slightly bigger and introducing some new options, but if this latest leak is accurate the 2015 Moto X 3rd Gen could be Motorola's best smartphone yet. We'll have to wait and see.