Moto X 2015 Rumors Continue to Surface
A new Moto X 3rd Generation for 2015 is coming later this summer or early fall, and we're slowly starting to learn more about the incoming device. The second generation Moto X was released back in September of 2014, and was an extremely popular device for the low price and wide array of customization. That said, a successor is in the works. Back in March we heard reports of a 2015 Moto X release date, and now we have some new details about the smartphone.
The original Moto X was released in August of 2013, and the newer Moto X 2nd Gen was released over a year later in September, but we could see an even earlier arrival of Motorola's next phone. Focus is starting to shift to the Moto X 3rd generation for 2015 now that the Galaxy S6, HTC One M9, and LG G4 have been unveiled, and one Verizon employee may have just shared a few details.
Read: Moto X 2015 Concept Teases a Design Users Want
We're unsure if Motorola is aiming for an August announcement and release like the original, or will wait a little longer like they did last year and deliver a new smartphone later in the year. That said, a new set of details surfaced in Google+ that could be teasing an early summer release date, and a few new features.
According to a Verizon Engineer that tests smartphones and software ahead of release dates, who's been vocal on the social site about the DROID Turbo update, and other Motorola devices, the new Moto X for 2015 is coming soon, and will be pretty impressive.
Jose Arturo claims that Motorola has a lot in store, and teases that prospective buyers should stay tuned for a "summer rollout" which hints to the fact that Motorola may announce and release a new Moto X smartphone before the end of August. This is considered a summer month, rather than in September like they did in 2014.
Previous reports and rumors have suggested something similar, so the information is slowly starting to surface and align, and hopefully more information appears soon. With the Galaxy S6, HTC One M9, and LG G4 all floating around, Motorola will need to start teasing its new phone to keep smartphone buyers interested.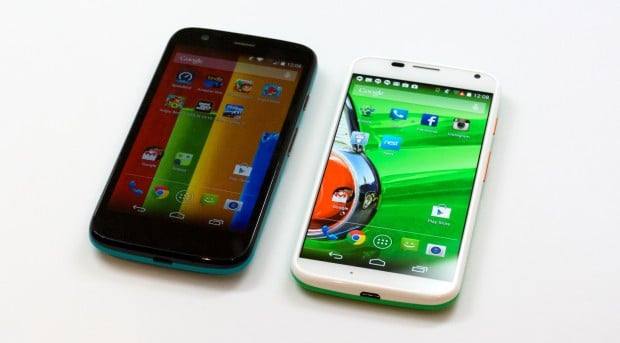 According to Jose, the 3rd generation Moto X for 2015 will reintroduce micro-SD card slots, something the latest model is lacking, and something sorely missing from the new Galaxy S6. To get an edge over the competition the new Moto X will have a micro-SD card, and he even claims a front-facing LED flash for improved selfie photos. The camera on the front face of smartphones continue to get better, and the LG G4 has an 8 megapixel front camera that takes some of the best selfies around.
If his report is accurate the new Moto X could have a much improved front and rear camera, the same ring flash as last year, but also add an LED flash to the front of the device. This seems a bit much, but everyone has different needs or wants.
Other rumor suggest the Moto X 2015 will have a bigger 5.2-inch 2560 x 1440 Quad-HD display, 16 megapixel rear and 5 megapixel front cameras, the latest Android 5.1.1 Lollipop, and a huge 3,280 mAh battery. This would mean the new Moto X in 2015 will have substantial upgrades across the board, ones which will compliment the wide array of customizable colors, leather, wood backs and more they've been offering over the past two years.
It's too early to tell right now, but a new Moto X is certainly coming soon in 2015, and we'll be learning more soon enough. Stay tuned for more details.