Moto X 2015 Rumors & Leaks Continue to Surface
More details and leaks have started to emerge surrounding the new Moto X 2015 smartphone. The second generation Moto X was released in September of last year, but in 2015 a new Moto X could be coming even sooner. In March we heard reports of a 2015 Moto X release date, and now more leaks have surfaced potentially revealing some key details about the release.
Over the past few months we've seen a few small reports here and there about a new Moto X for 2015, but nothing substantial has leaked giving us any idea of what's coming. This week though, some alleged screenshots are showing us our first actual look of what may be inside Motorola's next smartphone.
Read: Moto X 2015 Concept Teases a Design We Want
A random unconfirmed report surfaced back in May revealing some pretty impressive specs for Motorola's next smartphone, and today we have something very similar that could potentially confirm what's coming soon. Read on for everything we know about the Moto X 2015 or 3rd Gen smartphone.
The Moto X for 2015 will be the first smartphone from Motorola released now that the company is owned by Lenovo, the popular PC and laptop manufacturer. They've been busy building their own phones and tablets as well, but have promised to keep Motorola a separate company and release great phones like the Moto X we've enjoyed the past two years.
This week a new leak has arrived giving us our first look at what could be the Moto X 2015. We aren't getting an actual picture of the smartphone itself, but instead a screenshot of a program that's showing all the specs and hardware for Motorola's new smartphone.
According to GSMArena the image comes from a reliable source, and the details shown in the image below match earlier leaks and rumors. All of which are claiming the Moto X 3rd Gen could be a very impressive smartphone.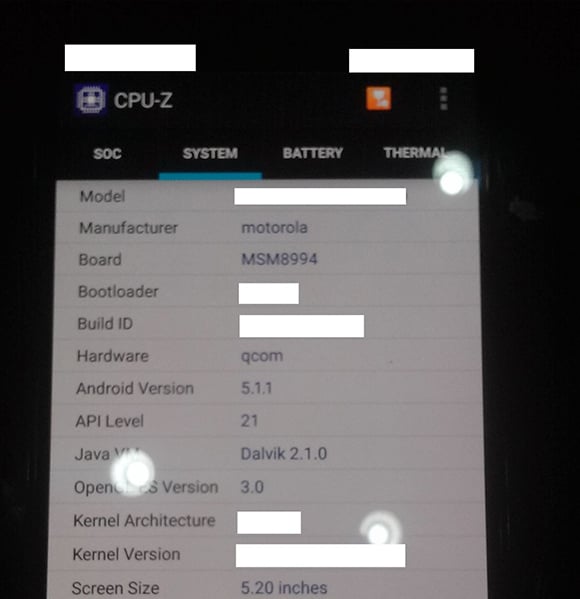 As you can see above the leak suggests Motorola will be improving the Moto X 2015 in all aspects in order to make it truly compete with the Galaxy S6, LG G4, iPhone 6s and more, rather than slightly undercut the competition like they've done the past two years.
Moto X 2015 Specs (Rumored)
5.2-inch 2560 x 1440 Quad-HD AMOLED Display
8-core Snapdragon 810 processor with 4GB of RAM
32/64GB storage with a micro-SD slot for user expandable storage
Android 5.1.1 Lollipop
16 megapixel rear and 5 megapixel front camera
3,280 mAh battery
more
The information above is all that's being provided thus far based on leaks, and is the exact same information that surfaced earlier this year. If accurate, Motorola will keep the screen at the same 5.2-inch size, which is slightly bigger than both the Galaxy S6 and HTC One M9, but increase the resolution to a full 2k display.
Motorola will be improving the cameras, adding more internal storage and bring back the famed micro-SD slot to better compete against Samsung's Galaxy S6, and employ a powerful 8-core processor to notch out the 6-core LG G4 that was just released this week.
Perhaps the most exciting part of the leak is the 3,280 mAh battery for the new Moto X. That has been one of the weakest link for Motorola's past two Moto X smartphones, which could finally be fixed in 2015.
Read: Moto X 2015 Release Date Rumored
The Moto X is one of the most customizable smartphones on the planet with the manufacturer letting buyers select the color, accent colors, leather or wood grain backs, and more. In 2015 we're hearing Motorola will have more of the same, yet offer even more customization options for prospective buyers. Add all of that to an extremely powerful and good looking phone, and it could be a great device as the summer comes to a close.
Earlier this year one of the lead presidents at Motorola confirmed the Moto X will be released around the same rough annual cycle release period as the past few years. This means we're most likely looking at an August announcement, and a release in September. We've also heard it could arrive a little sooner, but we'll have to wait and see.
For now this is all we know thus far, but a very shady video did leak on YouTube claiming to be the new Moto X 2015, but it comes from an extremely unreliable source. As soon as more concrete details emerge, we will be sure to update and share all the information.