Moto X Android 4.4.2 KitKat Update: What to Expect
The Motorola and Google developed Moto X was the first non Nexus smartphone to receive Android 4.4 KitKat. However, after the initial update Google issued two small incremental updates with Android 4.4.1 and 4.4.2 KitKat that Motorola has yet to deliver.
It's been over two months since Motorola first delivered KitKat to Moto X users, and since then we've seen all Nexus devices receive Android 4.4.2 KitKat, all the Google Play edition smartphones and tablets, and even the budget-friendly Moto G. However, the flagship Moto X was all but forgotten for a few months, and only just recently has the update started to surface. Canada received it first, and below are a few details users in the US can expect for the latest software upgrade on the Moto X.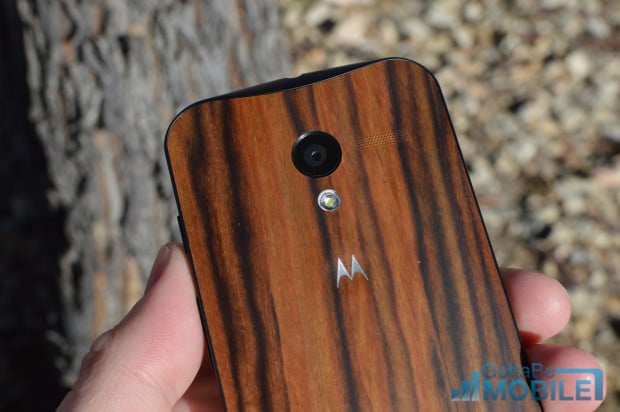 Earlier this month Motorola took to the company's blog to confirm the Canadian Moto X was first to Android 4.4. 2 KitKat, but sadly they didn't reveal any details on the US variant. That being said, we've received plenty of reports, tips, and screenshots of select Verizon and T-Mobile Moto X users receiving the update, even though it isn't ready for primetime.
In the US Motorola offers what they call "soak tests" where the company invites forum members to beta test the latest software. Usually this is a week or so early copy, which once approved rolls out to the masses. So with that said, T-Mobile's Moto X Android 4.4.2 soak test started nearly two weeks ago, and today was officially approved for release.
Read: 15 Hidden Moto X Features
Out of the blue last week the update arrived for Sprint users, but so far it's yet to reach any other carriers, but we have a feeling T-Mobile will be first with others to quickly follow.
Android 4.4.2 KitKat Hitting T-Mobile Next
Today Motorola officially confirmed the update for the T-Mobile Moto X, which is right on time considering they've been doing a soak test with beta members for the past 11 days. However, the update timetable provided by Motorola still says the same software is "coming soon" for all other carriers, including Sprint, who received it last week.
It appears to be rolling out as of this afternoon for T-Mobile, and we'll talk about what's new and what to expect from the update below. Looking at the chart you'll see all others are still listed as coming soon, but we have reason to believe Verizon will be up next. Limited soak test versions went out to Verizon users before T-Mobile, which could mean Verizon is adding the final touches and could roll out Android 4.4.2 KitKat to the Moto X as soon as next week.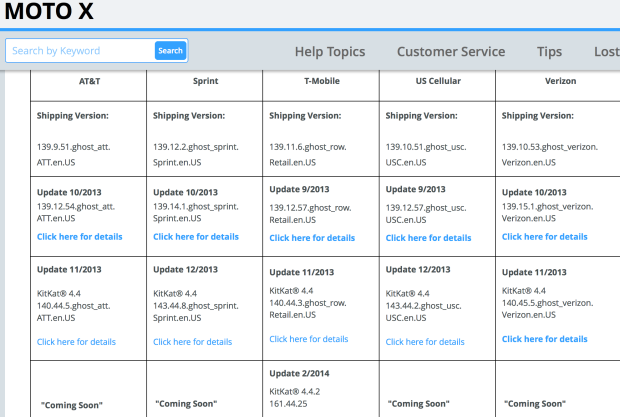 Above you'll see a breakdown of what to expect from each respective US carrier, and what version the device is currently running. While Android 4.4.2 isn't a major update, it's packed with security features, critical bug fixes, and other enhancements each and every Moto X owner will want.
Read: Moto X in Walnut Wood: Hands-on & Unboxing
US carriers are typically only a few weeks behind other regions with updates, but Motorola's main focus has been in the US, with the X only just recently going up for sale in Europe or other regions. While Canadian carriers probably made it easier, we can expect the updates to continue through the US next, then other regions in the following weeks.
It's also worth noting T-Mobile doesn't even sell the Moto X, it's available unlocked from Motorola. Which means this update came first as it was the easiest, and we should see Verizon next as they led the charge with the initial KitKat update months ago.
Staggered Release Dates
Users will want to start by heading into settings and scrolling down to about phone, then selecting check for updates. This will draw the latest update, if available, which is currently rolling out to T-Mobile users first. As a reminder, most carriers and manufacturers do a staggered or staged rollout, to not overload the servers, which means everyone won't receive it at once.
If you check for updates and nothing is available, be patient, as you should see it sometime this weekend. In some cases staggered rollouts can take upwards of 2 weeks, but that's rarely the case and expect Android 4.4.2 KitKat to arrive sooner than later.
It's also likely that Verizon (or others) won't start until T-Mobile is done or nearly finished, as most US carriers tend to issue updates at a different time than other carriers to keep things separate. While Verizon could announce it as early as this weekend or next week, or probably won't arrive til later in February.
What to Expect
Already running Android 4.4 KitKat, most users won't notice any major changes when it comes to the look and feel of the Moto X, but things under the hood will surely be changing. On in particular is improved battery life, which is clearly stated on the T-Mobile upgrade release notes.
Read: Android 4.4 KitKat: What's New in Simple Terms
Whether you're on T-Mobile, Verizon, or AT&T, you can expect the update to be nearly identical from all major carriers. Motorola has a relatively stock version of Android, with minor tweaks and changes, and this will remain the same for all carrier versions.
However, the notes include added support for printing photos, Google Docs, Gmail mail, and other content over WiFi, which should be for all Moto X variants. There was a major issue in Android 4.4 that caused battery drain issues, and that's been fixed, which is extremely good news.

Then as many of you should know, Motorola updates many key aspects and features through the Google Play Store, which is their way of avoiding carriers and still updating its devices. Motorola Camera, Assist, Gallery, Boot screen and more are all in the Google Play Store.
While Motorola's recently made huge improvements to the gallery, camera, and Motorola Assist, these are in the Play Store. Sadly many owners don't tend to use the Play Store and accept updates too often, especially if new to Android or a Smartphone, so we can expect all these latest changes to also be bundled into this software update.
This means the camera should perform better, the gallery is redesigned to be more user friendly and easier to view your pictures, and Motorola Assist got new features to make driving safer for smartphone users.
Introduce Other Issues
Sadly many software updates these days often add other issues. Albeit mostly minor ones, there's usually a few users that don't have things go 100% according to plan. Improving battery life is always something updates try to focus on, and this one is in particular, so hopefully user responses are positive, and not negative.
Occasionally we hear battery issues, connectivity problems and drops, and possibly even things misbehaving. As a reminder it's always good to reboot your phone after an update, even though the update process does this as well. It's always a debate as to if these updates cause issues, but you'll always see a few negative comments in a nearby forum or on Twitter.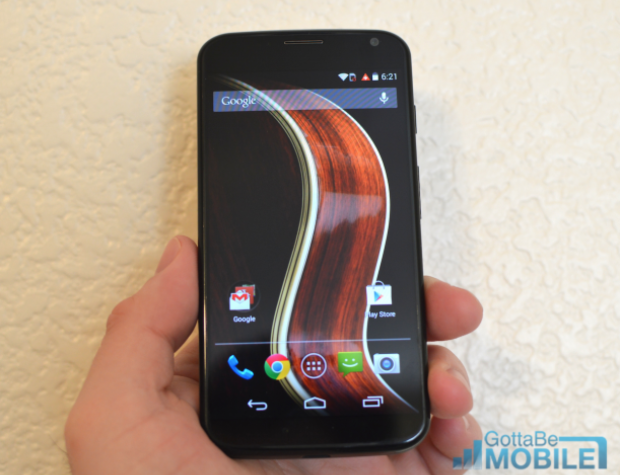 If users do experience any major issues, we could see another quick bug-fixing update arrive, but usually Motorola's been pretty good with this situation. Running a nearly stock version of Android we're not expecting nearly the types of issues and complaints as say, Samsung, since they customize every aspect of Android.
Expect a smooth transition to Android 4.4.2 KitKat, whenever it finally arrives on your device in the US.
Silence From Carriers
Last but not least, something that's no surprise, is that we can expect silence from all US carriers until the update is actually ready to arrive. They don't take to Twitter often ahead of time like HTC, or other carriers outside of the US, and instead updates will just start arriving without notice.
Carriers tend to leave the information behind closed doors, as they don't want to raise users expectations, and will drop the update and news usually on the same day. Of course, we'll be following along in any and all channels to bring you the details as they arrive.

As an Amazon Associate I earn from qualifying purchases.