Moto X Android 4.4.4 KitKat Update Arrives in the US
The Moto X Android 4.4 KitKat update has slowly arrived for more and more users around the globe over the past few months, and now we're seeing it emerge for buyers in the United States. After first seeing reports of a soak test last week, today the Verizon Moto X Android 4.4.4 KitKat update has been confirmed.
A little over a week ago we heard that the Verizon Moto X would be among the first Moto X variants in the US to receive the latest Android update released by Google, and now it's officially rolling out to all users starting today.
Read: Moto X & DROID Ultra Android 4.4.4 KitKat Breakdown
Google's been rather busy as of late when it comes to software updates to the Android platform, and they're slowly but surely arriving for more handsets. After first rolling out Android 4.4.3 in June, followed by 4.4.4 KitKat at the end of the month things have been hectic, but it's all coming together quite nicely. Read on for more details regarding the Verizon Moto X update arriving this week.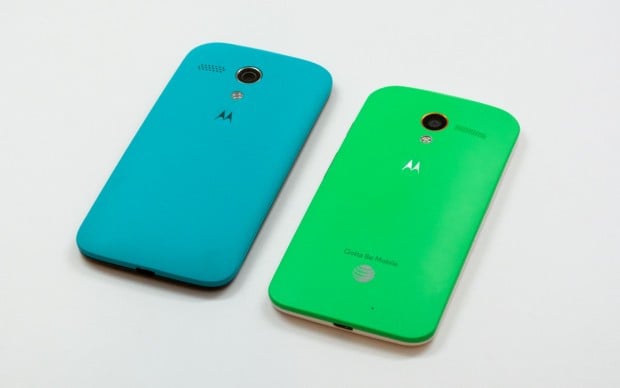 When Google released Android 4.4.4 KitKat so soon after unveiling Android 4.4.3, it disrupted the update timeline for many carriers and manufacturers, Motorola included. They company delayed the DROID Ultra lineup update, and many carriers halted the Moto X Android 4.4.3 update, even though Sprint and T-Mobile both delivered it recently to their users.
So for those still stuck on Android 4.4.2 KitKat, like the Verizon Moto X, this is great news. Last week Motorola and Verizon were doing the final rounds of beta testing before announcing the update, but this morning Verizon made it official by posting the changelog to their support forum.
Read: Moto X+1 Leaks Running Android L
Of course the update from Android 4.4.2 to Android 4.4 isn't a major one, as they're both the latest KitKat, but Google and Motorola both have taken the opportunity to fix a few problems. Google's added an array of security patches and performance enhancements, and Motorola fixed a few bugs specific to the Moto X.
The Verizon Moto X Android 4.4.4 KitKat update delivers all the changes and improved security as mentioned above, but also improves and adds new features to the device. Camera performance and quality has been improved, especially in odd lighting or HDR modes, and the update also introduced a pause while recording function for Moto X owners.
Lastly, the Android 4.4.4 KitKat update for the Moto X brings a new dialer to the smartphone with a new layout, and a few additional colors and tweaks to "better" the experience for all users.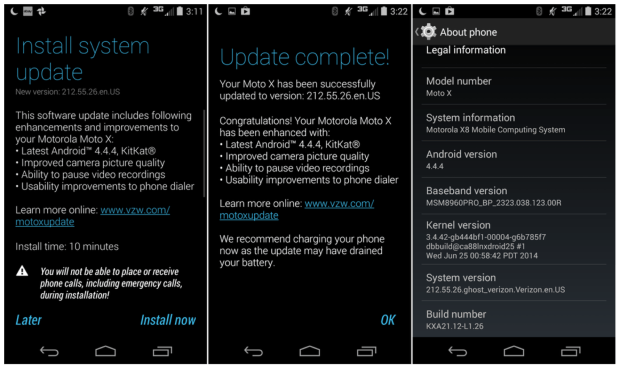 The screenshot shown above was released on Friday from someone taking part in the Motorola beta testing, but now that Verizon has officially confirmed the details and announced the update, all owners should see this shortly.
Usually once Verizon posts the changelog and details to its support forum, as they've done this morning, regular Moto X owners around the globe can typically expect to see the software update notification on their device in the next 24-48 hours. That being said, these are slow and staged rollouts to prevent any issues, and it may take upwards of two weeks to arrive for everyone throughout the United States.
Verizon's Moto X is one of the first versions in the United States to receive Android 4.4.4 KitKat, and we can expect all other carriers to join them in the near future. At the same time, a new Moto X+1 has surfaced over the past few weeks, and next month Motorola could be preparing to release a successor to the Moto X, called the X+1. We'll keep an eye out for more update news, as well as details surrounding the upcoming Moto X+1.
As usual, owners can head into settings > about phone > and check for updates to see if the new Android 4.4.4 KitKat upgrade is ready for your Moto X.

As an Amazon Associate I earn from qualifying purchases.