Moto X Android 4.4.4 KitKat Updates Emerge
The Moto X Android 4.4 KitKat software update has continued to arrive for more and more users around the globe over the past few months, and now we're seeing one more arrive for buyers in the United States. To be accurate, the Verizon Moto X Android 4.4.4 KitKat update has emerged.
A little over a week ago we received word that the Verizon Moto X would be among the first Moto X variants in the US to receive the latest Android update released by Google, and now it's starting to arrive for select users.
Read: Moto X & DROID Ultra Android 4.4.4 KitKat Breakdown
Over the past few months Google's been busy with software updates. Rolling out Android 4.4.3 KitKat in early June, then quickly after that Android 4.4.4 KitKat before the month was over. This disrupted the update timeline for many carriers and manufacturers, Motorola included, but they're finally back on track with the Verizon Moto X kicking things off.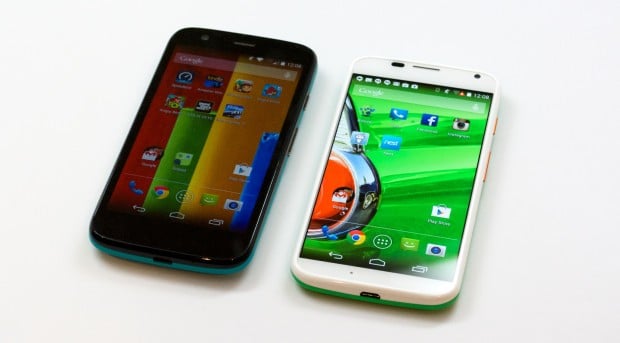 Back in June Android 4.4.3 KitKat arrived for a few different carrier versions of the Moto X in the United States, but that was quickly replaced by Android 4.4.4 when Google released in later in the month. As mentioned above, this made most carriers change their plans. Sprint's Moto X is now on Android 4.4.3 KitKat, but most other carriers are still running the earlier Android 4.4.2 release.
Today though, Verizon skipped over Android 4.4.3 and has officially started the software soak test of Android 4.4.4 KitKat for its Moto X users. In what's called a beta test or "soak test" members of the Motorola Feedback Network have started to receive the software update this afternoon, as you can see from the screenshot below courtesy of Droid-Life.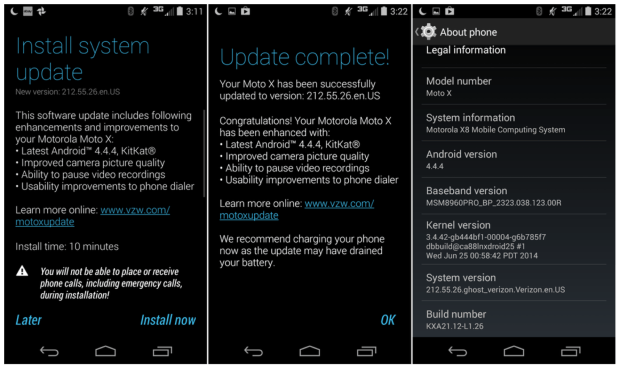 The soak test is done as a last resort and final beta test before the software arrives for the mass public. Usually taking a few days to roll out to a select few testers. If all goes well, regular owners of the Moto X on Verizon can expect the Android 4.4.4 KitKat update to start arriving in the next 24-48 hours, and over the course of the next two weeks.
Read: Moto X in Walnut Wood Hands-on
While there isn't much difference between Android 4.4.3 and 4.4.4, Google's improved the experience and patched some extremely important security holes. So the update is certainly welcomed. On top of that Verizon and Motorola have taken the opportunity to add some additional new features and improvements.
As you can see from the screenshot above aside from Android 4.4.4 KitKat arriving with security patches and fixes from Google, there's other welcomed changed. The camera quality has been improved, and users can now pause live video recording if need be. We're hearing there is also some usability fixed with voice controls, not to mention changes and improvements to the phone dialer application.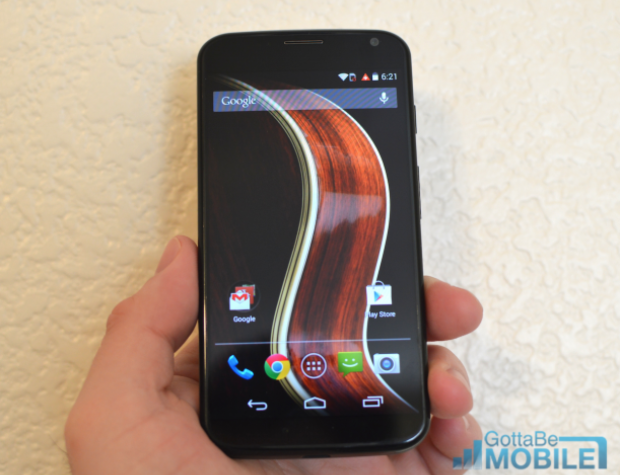 Like we stated last week, and above, once the soak tests starts arriving (which is has) regular users can traditionally expect the same software update to arrive for them in the coming days. The wait is rarely more than 1-2 weeks. Meaning that all those Verizon Moto X users can be excited to receive the latest and greatest Android 4.4.4 KitKat sooner rather than later.
In fact, once source that revealed the image posted above suggests that Verizon has concluded most of the Moto X Android 4.4.4 soak testing, and the rollout for all users is expected to fully start on July 30th. That means just a few more days of waiting and it should start emerging on more and more handsets.
We'll be on the lookout for more details from Verizon and Motorola, and surely update the moment we hear this is finally arriving for the general public.

As an Amazon Associate I earn from qualifying purchases.