Moto X Android 5.0 Lollipop Update Details Emerge
After a rather long wait, it appears that the original 1st generation Moto X Android 5.0 Lollipop update is finally headed to smartphone owners in the United States. While Motorola was the first manufacturer to update the new Moto X and Moto G (2014) to Android 5.0 Lollipop, owners with the original have been stuck waiting.
Android L was first announced as Android 4.4 KitKat's successor back in June during the company's annual Google I/O developer event. Then in October Google officially unveiled the full Android 5.0 Lollipop update along with the Nexus 6, Nexus 9 tablet, and a new Nexus Player for the TV. Soon after Motorola made some announcements, and they were among the first to update smartphones too.
Read: Motorola Android 5.0 Lollipop Update Breakdown [2015]
Since being released we've seen Android 5.0 arrive for many key devices in the United States. Those like the Galaxy S5, Galaxy Note 4, LG G3, HTC One M8 and (M7), and a few new Motorola devices, but the 2013 Moto X has been on the backburner. Today though, we finally have more good news after the break.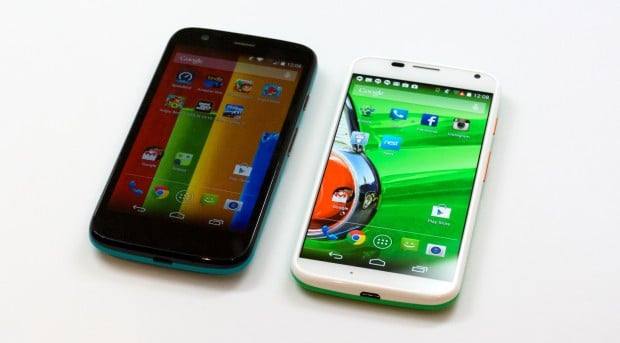 Over the past few years Motorola has done what the company calls a "soak test" where they test software updates ahead of the official release, or any formal announcement. These are sent to limited members of the Motorola Feedback Network, to test software before a final release to carriers.
Typically this means that Motorola's software updates are close, possibly available within 24-48 hours if all goes according to plan. However, these are still tests, and sometimes can have bad results which ends up in further delays. Over the weekend news surfaced that Motorola had started a soak test for the original Moto X, getting owners excited as they wait for the new software upgrade.
That being said, the update is long overdue, and Motorola is finally ready to start talking about it, and hopefully deliver Android 5.0 Lollipop for the original Moto X. And yes, this will be Android 5.0.2, not Android 5.1 Lollipop.
Now that the news of Android 5.0 Lollipop for the original Moto X has surfaced, Motorola employees have taken to Google+ to answer questions. Luciano Carvalho, of Motorola Mobility, shared a few key details for those interested. He's confirmed Android 5.0 Lollipop is headed to the Moto X (1st Gen) and it will be Android 5.0.2 Lollipop. They currently have no plans to update to Android 5.1, but that will most likely arrive at a later date.
Luciano didn't mention any specific carriers, and most likely the unlocked original Moto X will receive it first, ahead of carriers, but with such a long delay we're expecting it to rollout to all carriers in the US as quickly as possible. Motorola had no comments as to what has caused the delay.
Read: Android 5.0 vs Android 4.4 KitKat: What's New in Lollipop
As we all know, the original Android 5.0 Lollipop update has its share of bugs. Google quickly released Android 5.0.1 and then another Android 5.0.2 Lollipop update. Then, last week, Google delivered a huge bug fixing Android 5.1 release aimed at solving many problems. Our initial Android 5.1 impressions have been extremely positive, so hopefully Motorola has more details on that in the near future.
So what can original Moto X owners to expect? If you're a member of the Motorola feedback network you may receive an invite to test the software, or you may not. It's all done at random. Then, if all goes well we can expect updates to start rolling out over the course of the next few days, or this weekend, but we'll have to wait and see.
Most likely Motorola will confirm more details on their updates website, and we can expect carriers to make announcements. All said and done, the soak test could take a few days, or a few weeks, then carriers will need to push the Moto X Android 5.0.2 Lollipop update out to owners. We'll update as soon as more details surface.

As an Amazon Associate I earn from qualifying purchases.