Moto X Android 5.0 Update: What to Expect
Earlier this week we finally received good news regarding the original Moto X Android 5.0 Lollipop update. After months of waiting and silence from the manufacturer and Google, it looks like the 1st generation Moto X will finally be seeing an update to Lollipop in the near future, and here's what to expect.
Lollipop was first announced as Android 4.4 KitKat's successor back in June during the company's annual Google I/O developer event. Then in October Google officially unveiled the full Android 5.0 Lollipop update along with the Nexus 6, Nexus 9 tablet, and a new Nexus Player for the TV. Soon after Motorola made some announcements, and they quickly updated the new Moto X and 2014 Moto X to Lollipop, but not the original.
Read: Motorola Android 5.0 Lollipop Update Breakdown [2015]
Since being released we've seen Android 5.0 arrive for many key devices in the United States. Those like the Galaxy S5, Galaxy Note 4, LG G3, HTC One M8 and (M7), and a few new Motorola devices, but the 2013 Moto X has been on the backburner. This week we learned it's almost here, and below we'll detail a few things owners can look forward to.
After Android 5.0 Lollipop was announced, released, and started rolling out, Motorola released a new updates webpage allowing owners to track the update progress for their specific device. They outlined which devices would see Android 5.0 Lollipop, but not when.
Since then we've seen the Moto G, Moto E, and the new Moto X get updates, but those with an original Moto X 1st Gen from 2013 still are stuck on Android 4.4 KitKat. That isn't necessarily a bad thing, as Android 5.0 has a few bugs that are still being ironed out, but we're hearing it could start arriving in the coming days, or weeks.
Moto X Android 5.0 Update
Thankfully the original Moto X (and new Moto X) run nearly stock Android with hardly any changes like a Samsung or HTC. This usually means updates will arrive quickly, and they did for the new Moto X, but not the older variant. That said, users can expect a brand new look and feel of their device once it arrives.
Read: Android 5.0 Lollipop on the 2014 Moto X
Above is a quick hands-on and initial impressions of Android 5.0 on the new Moto X, but that exact same experience can be expected for those with the current Moto X.
With Android 5.0 Lollipop Google's changed a lot of the visual experience. Owners will see changes to the on-screen navigation buttons, the lockscreen, the notification pulldown bar, and much much more. Android 5.0 has tons of colors, animations, effects, and other small changes. That, along with improved performance and hopefully better battery life.
Read: Android 5.0 vs Android 4.4 KitKat: What's New in Lollipop
As we all know, the original Android 5.0 Lollipop update has its share of bugs. Google quickly released Android 5.0.1 and then another Android 5.0.2 Lollipop update. Then, last week, Google delivered a huge bug fixing Android 5.1 release aimed at solving many problems. Our initial Android 5.1 impressions have been extremely positive, so hopefully Motorola has more details on that in the near future.
As of right now they're currently working on Android 5.0.2 Lollipop for the original Moto X, which means a further update to 5.1 is still a long ways out.
Moto X Android 5.0 Release Date
Over the past few years Motorola has done what the company calls a "soak test" where they test software updates ahead of the official release, or any formal announcement. These are sent to limited members of the Motorola Feedback Network, to test software before a final release to carriers.
Typically this means that Motorola's software updates are close, possibly available within 24-48 hours if all goes according to plan. However, these are still tests, and sometimes can have bad results which ends up in further delays. Over the weekend news surfaced that Motorola had started a soak test for the original Moto X, getting owners excited as they wait for the new software upgrade.
And while we still don't have an actual solid release date to circle on a calendar, this is certainly good news for owners. This means Motorola is in the final testing phase, and likely carriers have already been testing it as well. Typically we see updates rollout almost immediately after a soak test, so it's only a matter of time.
Not all US carriers offered the original Moto X, but those who did will hopefully begin seeding the Android 5.0.2 Lollipop update to the original Moto X starting next week, if not sooner. We've yet to hear of it actually arriving, but stay tuned as the wait shouldn't be much longer.
US Carriers
The Moto X is available from most carriers in the United States, but it hasn't received too many carrier or software updates. A few rolled out late last year to fix a few bugs, and reportedly prepare the handset for Android 5.0, but that's yet to be confirmed. No carrier in the U.S. has officially confirmed the Moto X is getting Android 5.0, but it's on Motorola's website, and was confirmed earlier this week, we just don't know when.
In the past Verizon has actually been first to updates, and they were first with the Moto X Android 4.4 update too, ahead of others like AT&T. While we can't say for sure, carriers likely will have a big say regarding the Moto X Android 5.0 update, and they'll likely release it in stages from each carrier at a different time.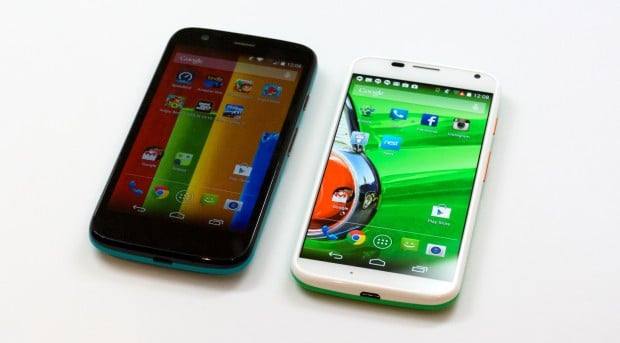 This means those on AT&T can expect it to arrive at a different time than Verizon, or Sprint, but we're not sure when that will actually happen. That said, Motorola's engineer that confirmed the news this weekend stated the unlocked Moto X will receive it first.
Meaning we can expect the unlocked Moto X (that many are using on T-Mobile) to see Android 5.0 first, then other carriers will quickly follow with their own updates.
Delays
Of course, delays are always a possibility, and we've seen plenty of them with Android 5.0 Lollipop. Motorola has been quick in the past, almost too quick, updating to the initial release and taking much longer to rollout bug fixing updates. Above we mentioned Google's already released Android 5.1, a slightly newer version with bug fixes, and that could cause a few potential problems for Motorola. We know they're moving forward with 5.0.2, and they could integrate some of the 5.1 changes to the upgrade.
All said and done, Motorola promised updates for the original Moto X and its owners, and we're still waiting for it to actually arrive. That's sadly the latest word, but we'll update as soon as more Moto X Android 5.0 update details or information arrives.

As an Amazon Associate I earn from qualifying purchases.