Moto X Android 5.1 Lollipop: 3 New Updates Emerge
The last 30 days have been busy for Android smartphone manufacturers who've been pushing out the latest Android 5.1 Lollipop update to devices, including Motorola. The company has been testing the latest release for all Moto X, G, E and even DROID Turbo owners, and this week the update arrived for three carriers in the US who carry the new Moto X.
Motorola's first smartphone to receive Android 5.1 Lollipop was the unlocked and "Pure Edition" Moto X, but that device is one hardly anyone owns. However, this week three major Moto X 2014 (2nd Gen) Android 5.1 Lollipop updates arrived for millions of owners.
Read: Motorola Android 5.1 Lollipop Update Breakdown [June]
Earlier this week we confirmed soak tests had started for the Moto X on Verizon, the DROID Turbo, and even the AT&T Moto X 2014, and now all three of those tests have wrapped up, and the update is headed to all owners. Read on for all the details.
In fact, last weekend Verizon started a soak test for the Moto X Android 5.1 Lollipop, and it reportedly finished the soak test and was released for all owners on Monday. However, the update was slow to arrive for owner, and this morning we're now hearing that the Verizon Moto X 2014 Android 5.1 Lollipop update is hitting all users. Simply as an over the air update, or by owners heading into settings > about phone > and checking for updates manually.
Verizon Moto X
Typically software is released within a week of soak tests, and that's exactly what happened for the Verizon Moto X, and the Verizon DROID Turbo. This has been a busy week for Motorola, and they're showing no signs of slowing down. Verizon released a full Moto X Lollipop update changelog as well.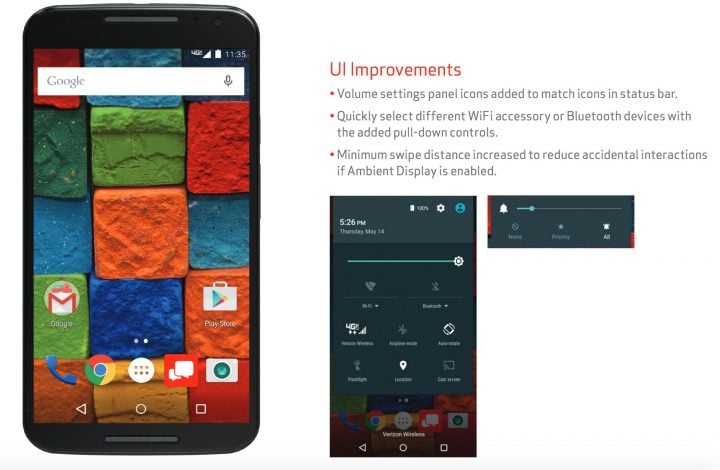 AT&T Moto X
That isn't the only update rolling out this week for Motorola owners in the United States either. We've also been able to confirm the AT&T Moto X 2nd Gen (2014 model) is getting Android 5.1 Lollipop starting today.
Read: Android 5.1 vs Android 5.0 Lollipop: What's New
Last night the AT&T Moto X 2014 update finished the testing phase, and the carrier posted a full Android 5.1 update webpage with additional details. It mentions the wrong device, but we've reached out to AT&T and can confirm this is for the 2nd Gen 2014 Moto X on AT&T, not the original. It's a large 500mb file, so users are recommended to download over a WiFi connection.
US Cellular Moto X
Then, thanks to Motorola's own employee David Schuster, US Cellular has also kicked off the Moto X Android 5.1 Lollipop update, and it should be hitting all owners devices as of late last night, or this morning. Even the Moto E on Cricket is getting Android 5.1 Lollipop today.
According to Motorola's own changelog last week, the Moto X Android 5.1 Lollipop update is loaded with changes and new features. Owners can expect a revamped notification pulldown bar, new quick setting toggles and controls, better heads-up notifications you can swipe up to clear, do-not-disturb mode improvements, enhanced volume controls, support for Android Auto, chop twice to quick launch the camera, and over 17 bug fixes that users have been reporting on.
Those 17 bug fixes are just from Motorola, and it's highly likely that each specific carrier has added a few more bug fixes themselves specific to its own device.
It's worth noting that the Android 5.1 Lollipop update for the Moto X is indeed rolling out to US Cellular, AT&T, and Verizon, with the Pure Edition receiving it last week. This means almost all Moto X 2014 owners can expect it today, or by the end of the week. These updates don't hit everyone at once, and can often times take up to 7-10 days before all owners see it arrive. Be patient, and it should arrive soon enough.