Moto X Android 5.1 Update: What You Need to Know
Late last month we finally received word regarding the Android 5.1 Lollipop update for an array of Motorola devices, and that includes the original Moto X from 2013. And while the details were rather light, this week news surfaced that the Moto X should get Android 5.1 Lollipop in the U.S. in the next couple of weeks.
Since the first release of Android 5.0 Lollipop back in October users from all manufacturers have been waiting for it to arrive. Motorola was one of the first to deliver it for the 2nd Gen Moto X from 2014, and those with the original have been stuck waiting for months. However, we finally have some good news.
Read: Motorola Android 5.1 Lollipop Update Breakdown
Lately all the talk has been about the Motorola DROID Turbo, or leaks revealing information about the new 3rd Generation Moto X 2015 coming later this summer, but those with the original Moto X from 2013 haven't been forgotten, and should get Android 5.1 Lollipop by the end of the month if all goes well.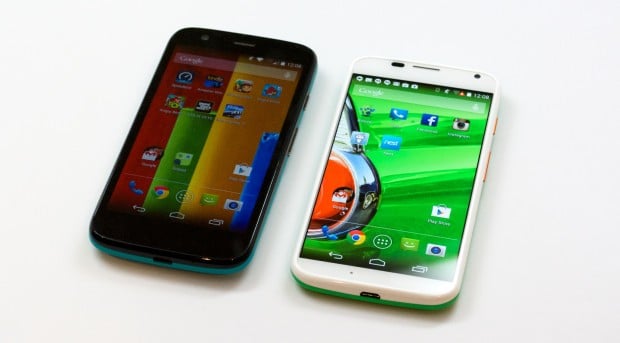 Yesterday Motorola employee David Schuster, who's been very vocal about software updates for Motorola smartphones over on Google+, answered some important questions about the original Moto X Android 5.1 Lollipop update.
Moto X Android 5.1 Release
With Google releasing Android 5.0, then Android 5.0.1, 5.0.2, 5.1, and now Android 5.1.1 the update has seen its share of delays as Motorola tries to keep up. That said, they've managed to get the original Moto X stable on Android 5.1 Lollipop, and that's currently in the final round of testing phases and should start rolling out to all U.S. carriers in the next few weeks. At least according to Schuster.
When asked (again) about the original Moto X getting Android 5.1 Lollipop this is what he had to say on the matter:
We have addressed an issue we found in a previous soak test and should start full soak testing in the US and Brazil for retail later this week. If all goes well, full deployment can happen the following week.
However, as we all know, carriers in the United States play a major role in software updates. Carriers like AT&T and Verizon like to thoroughly test updates before pushing them out to owners, often delaying the release even further. We have good news about that too, as Android 5.1 for the Moto X is already in most carrier testing labs, and as he said above, if all goes well it could start rolling out in the next two weeks.
We are in a number of the carrier labs now so we don't anticipate issues in getting the upgrades deployed.
Read: Android 5.0 vs Android 4.4 KitKat: What's New in Lollipop
This is great news for those still enjoying the original Moto X, as they've been patiently waiting for this software update to arrive. It's also good to see the Moto X going right to Android 5.1 Lollipop, skipping Android 5.0.2 which had many small bugs and issues that are currently plaguing other smartphone owners.
Moto X Android 5.1 Software
The Moto X will be going right from Android 4.4 KitKat to Android 5.1 Lollipop. Along with it will be a brand new look and feel, fancy new animations and effects, improved notification pulldown bar controls, a better lockscreen and more. The link above details many of the changes from Android 4.4 to Android 5.1 Lollipop. See our Moto X 2014 Android 5.0 Review for more details.
We don't have any exact details regarding each individual carrier, but over the course of the next few weeks we can expect more information to start to surface. It's worth noting that this Motorola employee also confirmed France and Germany devices are in the final testing phase as well. It sounds like the original Moto X should start seeing Android 5.1 Lollipop this month in the United States, and around the globe. Stay tuned and remain patience, it will be here soon enough.
Moto X Android M
Last week Google announced the next version of Android that will replace Lollipop, dubbed Android M for now. It's currently only available as a developer preview for a select few Nexus devices, and that software won't be released until later this year, most likely around October or November.
The Original Moto X could see an update to Android M when it does arrive, but with it being over two years old it's also possible that Android 5.1 Lollipop could be the last major software update for the aging smartphone. This means that the update we mentioned above that should arrive in the next 2-3 weeks could be the final major update for Moto X 1st Gen owners. We'll keep an eye out for more information regarding the Moto X and Android M, and update once we know more.

As an Amazon Associate I earn from qualifying purchases.