Moto X Camera Leak Details New Features
With just about a week left until Motorola officially unveils the Moto X, it appears Motorola may have gone even further in customizing the version of Android that's running on the operating system, and unlike the customizations of others Motorola seems to have opted for a minimalistic approach.
The screenshots, which were sent to AndroidPolice, detail a camera experience that is pretty far from what other Android manufacturers – and even Google itself – is doing with Android. If correct, it seems the Moto X will remove nearly all the on-screen elements of the user interface.
Instead of on-screen controls, the camera's view finder will use edge gestures to pull up settings and look at other pictures. Swiping from the left edge of the display to the right side of the screen brings up the device's camera settings. Users will then see a settings wheel containing flash controls, video speed and auto focus. Swiping triggers a gallery that contains all the photos recently taken with the device.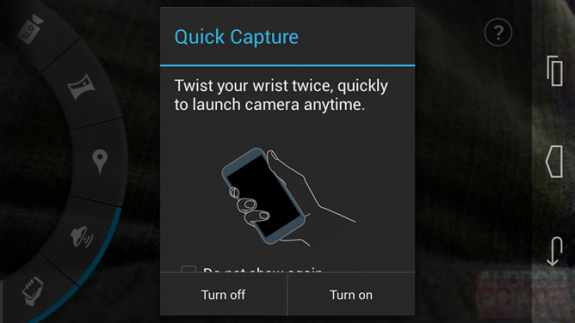 According to one screenshot of a tutorial, when a user flicks their wrist twice, users can activate the camera interface from anywhere in the Moto X's version of Android.
Taking photos is as easy as tapping on the screen inside the view finder. Users can then tap and hold on the touch screen to take multiple pictures. Zoom is controlled by the user moving their finger up and down while holding their finger down on the touchscreen. The Moto X's view finder does still have visual controls for activating it's front and rear-facing cameras.
Recent leaks have already pegged the Moto X as having a 10 megapixel rear-facing camera and a 2 megapixel front-facing camera, so the newly refined camera interface will at least be in good company. That device would also feature a high-definition display.
Motorola and Google are expected to announce the Moto X at an event in New York City on August 1st. The Moto X would likely go on to be made available to users on AT&T, Sprint, U.S. Cellular and Verizon.
Update
It appears users won't have to wait until the Motorola X to get their hands on the newer camera interface. The newly announced Motorola Droid Ultra and Droid Ultra MAXX all include the updated interface as well. Below are photos of the Motorola Droid Ultra with the updated camera interface.
Read: Verizon and Motorola Debuts Droid Ultra
The Droid Ultra and Droid Ultra MAXX, a version of the device with longer battery life are available for pre-order today for $199 and $299 respectively. The devices will ship to Verizon customers on August 20th.

This article may contain affiliate links. Click here for more details.