Moto X Customization Brings 32GB and Engraving Options to All
The Moto Maker customization features and options are no longer exclusive to the AT&T version of the Moto X. This morning we confirmed Moto Maker is now readily available for all major US carriers. Verizon, T-Mobile, AT&T and Sprint customers can all sign-in and customize the colors, accents, wallpaper and more for their new Moto X.
When Moto Maker first went live Motorola delivered engraving options similar to what Apple offers with the iPod Touch. Sadly after a few initial batches went out that option was canceled. A few customers were able to enjoy the feature, including us at Gotta Be Mobile, but it was shortly delayed for quality-assurance. However, now that all carriers can join the fun the feature has been reinstated.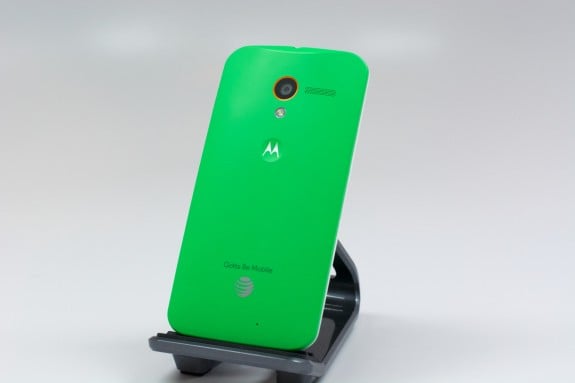 Motorola had a few good things to share today. The Moto X is now just $99 with a new contract from all four carriers, and you can get it completely customized from all four carriers as well. Then, to make the deal even sweeter the 32GB Moto X can now be purchased for any network. AT&T originally had the exclusive on the customization features, and was the only carrier with the 32GB model. Today, that's no loner the case.
Read: Moto Maker Review: Moto X Customization Options Explored
We saw multiple reports and leaks suggesting November 11th Verizon would get the customization options, which was accurate information from @evleaks. However Verizon wasn't the only one, and everyone can now join in on the fun. More details about Moto Maker can be found above.
For now the only thing we've yet to see but were promised by Motorola is the customizable back for the Moto X made from wood. Adding another level of precision, beauty, and customization to your smartphone. Instead of buying some cheap 3rd party bamboo case, Motorola will offer a wood back that will be assembled and completely built at its manufacturing plant in Texas.
Read: Moto X Review
We're still expecting the custom wood options to arrive shortly, but for now there's no additional details or information from Motorola. With 18 different colors and a few accent options to choose from, customers still have plenty of options for the new Moto X.

This article may contain affiliate links. Click here for more details.