Moto X Deal Slashes Price by $125
Last week a huge deal on the Moto X arrived offering big savings on the flagship smartphone as rumors swirl about a successor, and yesterday Motorola announced they've extended that deal. In what they're calling the Moto X Back to School sale buyers can now get the impressive smartphone at a major discount.
The Moto X launched in 2013 full of customization choices and was an instant hit, and now it can be yours for over $100 off, just in time for back to school shoppers.
Read: Moto X+1 Leak Reveals Galaxy S5 Competitor
We're not sure if this is just a back to school sale, or if Motorola is trying to move some last remaining inventory before launching its newest smartphone, but buyers should certainly check it out. Over the past few months more and more details have slowly arrived about what's currently being called the Moto X+1, Motorola's next customizable and flagship smartphone running Android. And while new details have started to surface this week, this deal for the original Moto X has reignited the rumor mills once again of an August release date for the Moto X+1.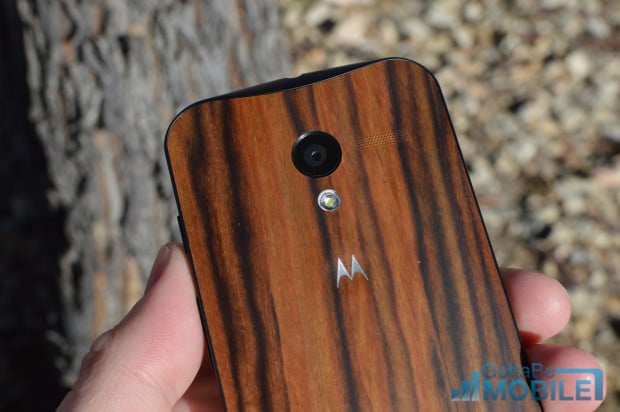 Earlier this week Motorola revealed a huge discount for the original Moto X. Offering the impressive smartphone for $100 off, making it just $299 outright, no contracts required all through the company's MotoMaker.com website. We've seen this deal before, and after offering it for a few days last week Motorola just extended the savings through July 31st.
The original Moto X deal was suppose to end yesterday, but last night Motorola announced that they'll be offering it for nearly another week. Giving users until July 31st to save potentially $125 off the Moto X flagship smartphone.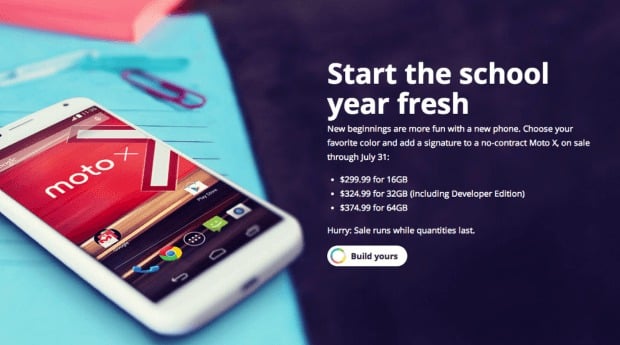 As you can see from the image above, this Moto X deal is aimed at back to school shoppers, and delivers huge savings on the smartphone. Buyers looking to snag the 16GB Moto X will get $100 off, making it $299 outright. That's with no contract from carriers. However, it's the other models that are being discounted even further.
The Moto X is an impressive 4.7-inch 720p HD smartphone that runs the latest Android 4.4 KitKat software, and is packed full of custom Motorola software enhancements and hands-free voice controls. Powered by a Motorola X8 computing chip, Snapdragon processor with 2GB of RAM, and delivering a 10 megapixel camera and more.
Sadly there's no micro-SD card for expanding storage, but that's why Motorola has even better deals as you see above. The 32GB Moto X deal delivers savings of $125 off, making it just $324. Then for those who'd really like tons of storage you can get the 64GB Moto X (on all carriers but Verizon) for only $379. Go look at how much the 64GB iPhone 5s costs, then come back and buy the Moto X.
Read: Moto X in Walnut Wood Hands-on Video
This impressive deal is available through MotoMaker.com allowing buyers tons of customization. There's over 18 different color options, accent colors, engravings, and even custom wood backs like what we have in the link above. All of this is completely free (wood is $25) making this overall one of the best deals in the smartphone market today.
Now that this deal is official there's no promo code you have to enter like last week. Simply head to Motomaker.com and select the device you want, customize it as you see fit, and buy it for an awesome low price all without signing a 2-year contract.
It's worth noting that more and more rumors are suggesting a bigger 5.2-inch Moto X+1 is coming next month, so weigh your options carefully before making a choice.