Moto X Drops to $99 on AT&T, Sprint and US Cellular
You can get a fully-customized Moto X for $100 after signing a new two-year contract. Motorola chopped the subsidized price of its new flagship phone by half. We're not sure if this is a permanent price change, or just a limited-sale offer, but Motorola's website does say that the phone is "now starting at $99," which hints that it may be a permanent thing. Furthermore, Sprint and US Cellular are also discounting the Moto X as well.
Of course, since the deal is through Moto Maker and Moto Maker is only available on AT&T right now, the deal is only for those wanting to get the device on AT&T's network, if it's a customized Moto X you're after, that is. This is the first time that a discounted Moto X has become customizable; Amazon dropped the price of the phone down to $99 in the past, but this is the first time that we're seeing a fully-customizable Moto X cost just $99. Oddly enough, though, the non-customized black and white versions are still $199, but you can easily make these version on Moto Maker if you're really wanting a black or white variant.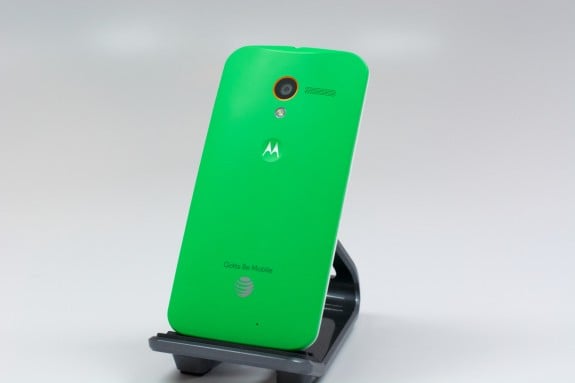 Does this sudden price drop mean that Motorola is making room for a new device? It's certainly possible, as rumors have been spreading about a phablet-style Moto X device that will come with a larger display this time around, but nothing has been set in stone just yet, and the rumor mill for future Motorola products is pretty quiet overall.
Verizon still has yet to see its Moto X get discounted to $99, but it's possible a price drop could be coming very soon, so if you're thinking about getting the Moto X on Verizon, we highly suggest waiting it out for a few days until Verizon discounts the price, and seeing as how AT&T, Sprint and US Cellular are on board, it only makes sense that Verizon would be next.
The Moto X is arguably one of the best phones on the market right now, mostly thanks to its unique features. We even gave it an Editor's Choice in our review of the device, making it a good buy for those looking for a new phone. And now that it costs only $99, it's pretty much an absolute steal. It might not be the fastest phone around as far as specs, but the spec war has been over for a while now, and features are the deciding factor now.

This article may contain affiliate links. Click here for more details.