Moto X & G 2015 Release: Everything You Need to Know
Over the last couple of years Motorola has impressed consumers with it's smartphones like the customizable Moto X and the budget-friendly Moto G. Tomorrow on June 28th, the company is set to unveil a few new smartphones for 2015, and here we'll be going over everything we know so far.
For months rumors have been running wild about the 3rd generation of Moto smartphones coming this year. Lately all the reports have been about the Moto G, confirming everything ahead of the release, and the last few days we've heard plenty about the Moto X 2015. This year Motorola looks to shake things up by releasing two or three stunning smartphones, not to mention the new DROID lineup for Verizon.
Read: 2015 Moto X Release: 3 New Details Emerge
Motorola invited the press to experience its latest lineup of phones for 2015 and ended the invite by saying "XOX, Moto" as shown below, but it looks very much like "XGX" hinting at two new Moto X smartphones, and a new Moto G. Well, that's exactly what rumors have been pointing to, so lets go over what buyers can expect from all three.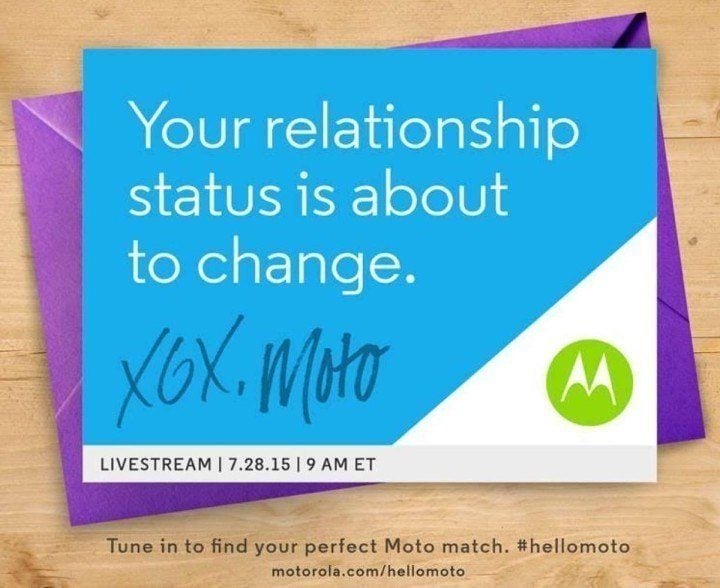 Original rumors started way back in March for the new Moto X, and since then we've heard a little of everything from screen sizes, cameras, high definition displays, multiple battery sizes, 8-core processors and more. It's safe to say the waters are very muddy, and Motorola did an excellent job keeping everything a secret. Well, until the last two weeks.
Last week the Moto G was fully revealed, multiple times, and at the end of the week the Moto X was fully revealed. At this point we have a pretty great idea of what to expect from both devices, even if some of the final details and release dates are still a mystery. We'll start with the Moto G, but the budget friendly device that's their most successful smartphone to date, then move on to the Moto X (or two) that are coming as well.
Moto G 2015
The original Moto G was the company's most successful smartphone to date. It's arrived around September the last two years, and we expected the same this year for the Moto X and G. However, they're both coming tomorrow, and should be released the same day or within the next 2-3 weeks.
Read: Moto G 2015 Release: What You Need to Know
The Moto G for 2015 will be getting a few much needed improvements, even though it won't be extremely noticeable out of the date. Owners will get the same screen size, a slightly better quad-core processor, an improved camera and a bigger battery. It doesn't look too much different, but this is one impressive phone given the price. Oh, and it will be fully customizable with MotoMaker.com. Here's what we know.
Moto G Specs (Rumored)
5-inch 720p HD display
Quad-core Snapdragon 410 processor
8GB of storage and 1GB of RAM
or a 16GB model with 2GB of RAM
13 Megapixel rear and 5 mp front camera setup
Android 5.1.1 Lollipop
Dual front facing speakers
4G LTE and a micro-SD slot
MotoMaker Support
Water-resistant
2,470

mAh

battery
This year we'll get a better more efficient quad-core processor, a bigger battery, a much improved camera, IPx water-resistance, and tons of colors to choose from on Moto Maker. Here's an image that leaked showing some of the options.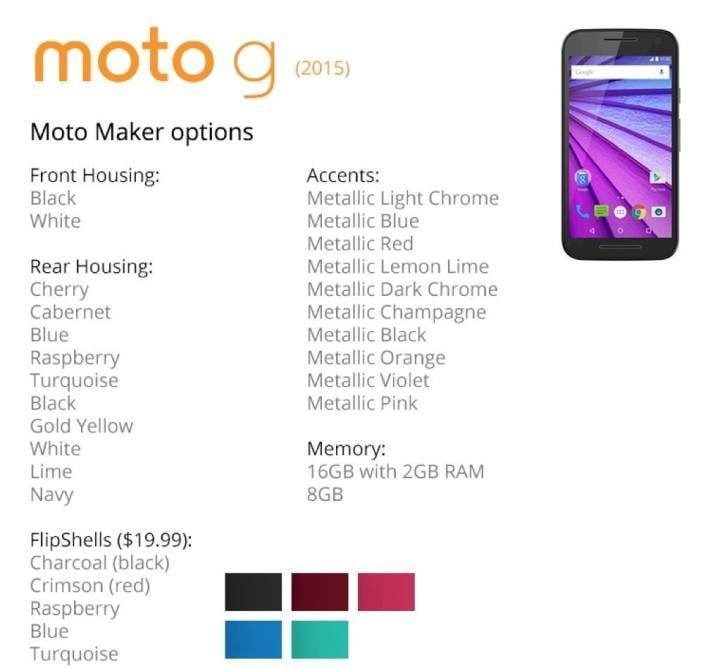 We're not sure about all the details just yet, but it looks like two models will be offered for similar prices as previous years. That being a Moto G 2015 for $179 with 8GB of storage and 1-2GB of RAM and fully customizable. Then, a second model with 16GB of storage and 2GB of RAM will be $199 or $229, but those are just guesses based on a few rumors.
The new Moto G will come in both white or black on the front and be offered on Moto Maker with at least 10 different custom colors for the back, 10 accents that are all beautiful metallic colors, five swappable plastic covers for the back that cost $19.99 each, and at least 10 wallpapers for buyers to choose from, which will be applied before the phone is mailed right to your door. Sounds nice right?
Now all we need is final pricing, release dates, and a phone to enjoy.
Moto X 2015
From the sounds of things Motorola will be taking the same approach this year as Samsung, Apple and others, and release two flagship smartphones in two sizes. One being the regular Moto X, only bigger, and then a smaller 5.2-inch smartphone called the Moto X Sport. That's the latest rumor at least.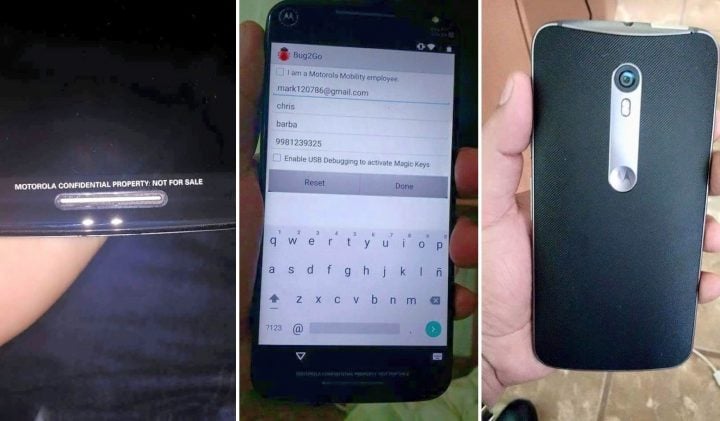 The image above is one of many leaks regarding the new Moto X. The rumors about this device are all over the map, so it's hard to know what's actually coming until Motorola reveals it tomorrow. That said, here's what leaks are saying as recent as this morning.
Moto X 2015 Specs (Rumored)
5.5-inch 1920 x 1080p Full HD Display
6-core Snapdragon 808 with 3-4GB of RAM
21 Megapixel Rear and 5 (or 8) MP wide-angle front camera
Android 5.1.1 Lollipop
32GB of storage
Micro-SD slot for expansion
Huge 3,600

mAh

battery
Tons of customization (colors, wood, leather, vinyl, fabric and more)
That's just one rumor of many. Originally we heard we'd get the same 5.2-inch screen size as last year, but better, a 3,200 mAh battery, and a camera that was improved but certainly no 21 megapixel lens with optical image stabilization. It's safe to say Motorola has kept the new Moto X completely under wraps.
Those details aside, we're also hearing a 5.2-inch Moto X Sport is coming too. It will be similar in size as last years Moto X, but be rugged, durable, waterproof and more. It could have much different specs, but we've heard so many conflicting reports that we won't even speculate.
What we do know though, is almost all signs are pointing to two Moto X phones in 2015, a new Moto G, some accessories and headphones, and eventually a new Moto 360 smartwatch. This is all new now that Lenovo owns the company, not Google.

Stay tuned, because Motorola will reveal everything come tomorrow, June 28th, at 9AM ET.

As an Amazon Associate I earn from qualifying purchases.