Moto X Pure Edition Android 6.0 Update Officially Begins
After a few weeks of testing today Motorola has officially confirmed that the Moto X Pure Edition Android 6.0 Marshmallow update begins for most US owners starting today. Those with the Moto X on Verizon, US Cellular, Sprint and Sprint are up first, with other carriers soon to follow.
In November Motorola made a few important announcements regarding Android 6.0 Marshmallow updates for many of its devices. At that time the company confirmed the new 2015 Moto X Pure Edition Android 6.0 update was coming soon, and a few weeks ago the final testing phase started. And now it has already finished, and updates are headed out now. Read on to see what's new, what to expect, and when it will arrive.
Read: Motorola Android 6.0 Marshmallow Update Breakdown
Motorola's Moto X isn't sold by carriers this year, and instead is unlocked and works on all carriers. We were expecting the update to rollout for all versions at once, but for whatever reason, AT&T and T-Mobile uses have been left out. Here's what we know.
Last month Motorola beat most other manufacturers to the release of Android 6.0 Marshmallow, the successor to Android 5.1 Lollipop, but only on older devices released in 2014, and ones outside of the US. Like the Moto X 2nd Gen and Moto G. Those with the latest 2015 3rd Gen Moto X Pure Edition will be happy to know their devices are up next.
Starting today the 2015 Moto X Pure Edition in the United States is finally getting the highly anticipated update to Android 6.0 Marshmallow. Along with it are tons of changes, new features, better battery life and a slew of fixes from Motorola themselves. This is Android 6.0, and hopefully the newer Android 6.0.1 update arrives soon as well.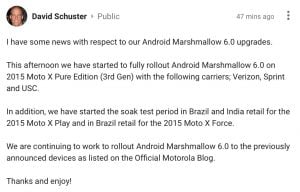 So far Motorola has yet to make any announcements regarding those with a Moto X Pure Edition on AT&T or T-Mobile, but WiFi calling or other software additions could be to blame, but we'll have to wait and see.
Read: Android 6.0 vs Android 5.1.1 Lollipop: What's New in Marshmallow
Above are a few details regarding what's new, and Motorola has a full changelog as well. Motorola states the update to Android 6.0 Marshmallow brings these changes: Doze for battery life improvements, Android Pay, Google Now on Tap, Direct Share, and improved volume controls. Those are just a few of many, and the link above goes into far more details regarding what to expect.
Again, we were expecting the update to rollout for all users at once, since the phone is bought unlocked and works anywhere, but that doesn't appear to be the case. Either way, the Moto X Pure Edition (3rd Gen) for 2015 is getting Android 6.0 Marshmallow today in the United States on three carriers, and the others should arrive hopefully before the end of the week.
Owners of the Moto X being used on Verizon, US Cellular or Sprint can head into settings > about phone > and manually check for updates, or just wait for the over the air update to arrive. It's recommended to have at least 50% battery life before accepting the update. Enjoy the latest Android 6.0 Marshmallow, and drop us a comment below once your update arrives. We'll add additional details once more carriers are confirmed.

As an Amazon Associate I earn from qualifying purchases.