Moto X Release Date (U.S.) Takes Unexpected Turn
As the Moto X release date approaches, we're starting to see more and more news regarding the release with pre-order pages going live, but today things took an unexpected turn for millions of potential buyers.
When Motorola took the stage on September 4th and announced the new Moto X, the Moto G for 2014, and the Moto 360 release date, they only had two carriers to talk about. Confirming both Verizon and AT&T would offer the Moto X. For whatever reason Sprint wasn't mentioned, even though they carried the smartphone last year, and it was even available on MotoMaker.com for customization.
Read: Moto X Release Nears as Ads Highlight Key Features
Today though, Motorola has officially confirmed what many Motorola fans on Sprint were fearing. The new Moto X will not be coming to the Sprint network. This is an unexpected turn regarding the Moto X release in the US, and now buyers will have to look else where if they had their heart set on the impressive new smartphone.
Last year the Moto X launched first on AT&T, then eventually arrived for Sprint, Verizon, US Cellular, Republic Wireless, and a few other small regional carriers in the United States. T-Mobile was the only major US carrier that didn't offer the handset to buyers, even though the developer unit worked perfectly with T-Mobile's 3G and 4G network.
For whatever reason, after initial reports and rumors suggest all four major US carriers (and more) would all offer the new flagship this year, we can now confirm Sprint will not offer the new Moto X in any capacity.
@griffithgg The new Moto X won't be available on the Sprint network. Thanks for checking in.

— Motorola US (@MotorolaUS) September 17, 2014
This means that for now, and likely for good, the Moto X (2014) will only be available from AT&T, Verizon, US Cellular, and possibly a few others in the United States. The Moto X "Pure Edition" which is a fully unlocked model which will receive updates directly from Motorola, works on all GSM networks. It states it's for AT&T, but will fully support T-Mobile this year as well. Basically meaning T-Mobile users can unofficially get the Moto X if they buy it outright from Motorola.
September has been a major month for Sprint. After the failed merger with T-Mobile they fired the man in charge, replaced him with something else, and have taken a radical shift to combat the competition. A few weeks back they announced family plans with double the data, 20GB for lower prices than AT&T and T-Mobile's 10GB family plans, and much much more. They're making big moves to stay relevant, but this is certainly going in the wrong direction.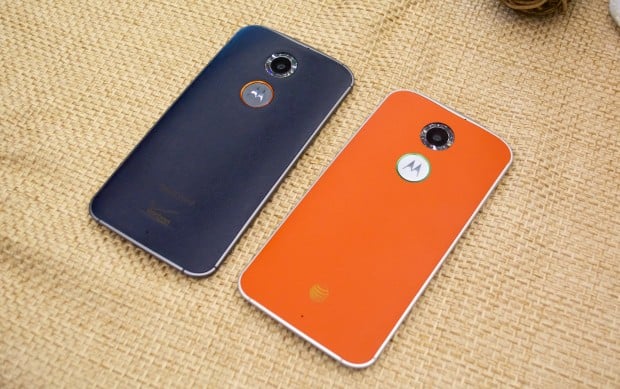 At this point we're not sure if this was a decision by Sprint, or from Motorola, and will be looking for more details. Motorola announced only AT&T and Verizon would have access to MotoMaker.com when the device arrives next week, and that could be why. This would make Sprint's option only come in white or black, with no customization.
The Moto X has over 25 different customization options for AT&T and Verizon buyers. There's 18 different colors for the back, accent colors, four custom real wood finishes, and now four different leather options. The leather looks excellent too, from our hands-on time with the smartphone.
Read: Moto X (2014) Hands-On Video
If there is a significant outcry from customers we may see Sprint or Motorola change their tune on this front, but for now this is sad news and an unexpected turn regarding the Moto X release in the United States. If you're in a contract with Sprint and wanted the new phone, you're out of luck. Otherwise Sprint users may be jumping to AT&T, Verizon, or even T-Mobile to get their hands on the new flagship smartphone.

This article may contain affiliate links. Click here for more details.