Moto X Style and Moto X Play Release Confirmed
This morning live in New York City and London Motorola just announced the big new 5.7-inch Moto X Style, the Moto X Play, and a 3rd generation Moto G smartphone. After months of rumors and reports swirling about what the company had in store for 2015, we now officially have all the details.
For the last few years Motorola has waited until late August or September to reveal its new Android smartphones, which was expected again in 2015, but this year in a surprise turn of events they moved everything up and revealed a trio of devices months earlier than anyone expected. This year the focus wasn't just on better hardware, but improved software as well. And in a big way.
Read: Moto X & G Release: Everything You Need to Know
Today Motorola president Rick Osterloh and a team of helpers took the wraps off the impressive looking new 5.7-inch Moto X Style (3rd Gen), a brand new Moto X Play, and as expected the Moto G. Reports and rumors have been all over the map regarding what to expect from the new Moto X, and you'll want to read on for more information.
Finally after months of rumors, none which seemed accurate until as of late, Motorola has unveiled three stunning devices that aren't like anything anyone expected. All the reports and rumors we're completely wrong, and here's what you need to know.
The successor to the popular Moto X will now be called the Moto X Play, and the Moto X Style. Both of these devices have big displays, impressive 21 megapixel cameras, stock Android, excellent battery life, full customization on Moto Maker, and a low price tag. In fact, they claim they're $200-$300 cheaper than other "flagship" devices. Here's the details.
The Moto X Play will be available from August, the Moto X Style in September, and the all new Moto G is availbable starting today.
Moto X Style
5.7-inch 2560 x 1440 Quad-HD Display
6-core Snapdragon 808 processor with 3GB of RAM
16/32/64 GB of Storage and Micro-SD slot for expandable storage
21 Megapixel Rear and 5 Megapixel Front Camera (Rear and rear LED)
Android 5.1.1 Lollipop
3,000

mAh

battery with the world's fastest TurboPower charging
Universal 4G LTE (Verizon, AT&T, T-Mobile, Sprint and more)
Water-repellent coating
Customization (Rubber, Wood, Leather, Metallic Accents & more)
Starting at $399 in September
Yes the new Moto X Style has a massive 5.7-inch display, which no one saw coming. Users coming from the original with a small 4.7-inch screen, or even the second Gen Moto X from 2014 with a 5.2-inch screen might be worried that's too big, but they've managed to pack this huge screen and stunning specs all into an extremely small package. In fact, it's smaller than most 5.5-inch devices thanks to an extremely thin bezel.
Motorola revealed a new 25w TurboPower charging system that they claim is even better than Turbo Charging, or Samsung's Adaptive Charging. They claim the 21 megapixel camera on both of these devices is "world class" and independent testing results claim it's better than the iPhone 6, and iPhone 6 Plus, and better than most Android devices.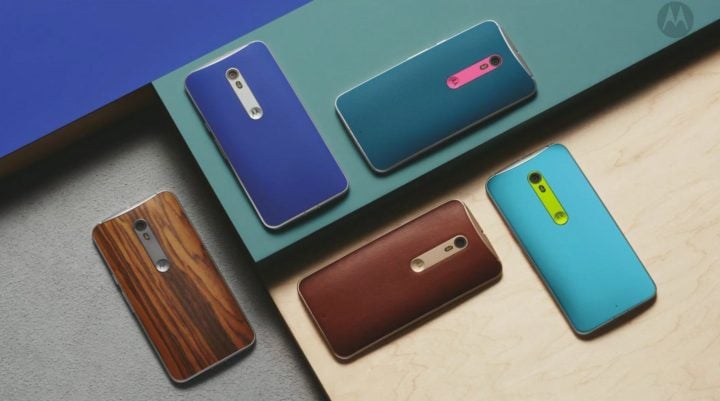 However, if the massive 5.7-inch Moto X Style is too big, here's the Moto X Play, which is closer to that of what we expected from the 3rd Gen Moto X. The Moto X Play is slightly smaller, cheaper, and more of a budget device. You still get almost all of the same awesome stuff, but it's all slightly toned down.
Moto X Play
5.5-inch 1920 x 1080p Full HD Display
8-core Snapdragon 615 processor with 2GB of RAM
16 or 32GB of storage with micro-SD support
21 Megapixel Rear and 5 Megapixel Front Camera (Rear LED flash only)
Android 5.1.1 Lollipop
Huge 3,630

mAh

battery with the world's fastest TurboPower charging
Water-repellent coating
Moto Maker customization with replaceable color and flip shells (no wood, leather, or rubber)
more
Then, the Moto X Play is the second Moto X 3rd generation for 2015, and it's a completely different yet similar and powerful smartphone. They've used a more budget friendly 8-core processor instead of a 6-core chip like above, it only has 2GB of RAM, it has the same stunning cameras, but won't receive the same level of customization, and will be cheaper than the Moto X Style.
No carrier details or pricing has been announced, but both devices will be available directly from Motorola.com with Moto Maker, starting in August and September, and the Moto X Style will come in a "Pure Edition" unlocked for any and all carriers and be sold from Motorola, Best Buy, Amazon and more starting at $399.
Update: The Moto X Play (smaller 5.5-inch model) will not be available in the United States. However, Moto claims more phones for the US are coming later this year, which will likely all be DROID's exclusive to Verizon.
We're still busy catching up with everything Motorola announced this morning, so stay tuned for more details.

As an Amazon Associate I earn from qualifying purchases.