Moto X+1: 5 Final Details Before Release
The Moto X+1 launch date is just days away, set for September 4th, and before the new smartphone is officially announced we want to make a few predictions and round up multiple reports and rumors surrounding the Moto X+1 release date. Below are a few final details you'll want to know before making a purchase this fall.
It all started in February when Motorola tweeted that a new Moto X successor would arrive later this summer, which instantly started the rumor mill months before any information surfaced. And while that successor didn't leak nearly as much as the original Moto X in 2013, there's plenty of info we've learned thus far we can share with those looking for last minute details.
Read: Moto X+1 Release Date in the US: What to Expect
The past month been very telling for the manufacturer, as they've confirmed the September 4th launch date, and multiple rumors have shed light on specs, features, and potentially when the device will launch for the United States. Prospective buyers and Motorola fans will want to know all the details before the unveiling on Thursday, and here's five things you should know about the new Moto X+1.
Earlier this month Motorola sent out a rather telling invite for a September 4th event in Chicago. The teaser image (below) showed a new Moto X, a Moto G successor (rumored as the Moto G2) the Moto 360 smartwatch, and an accessory of some type. Basically confirming two new smartphones and some accessories will all be revealed.
At that point we knew a few new devices were coming soon, but that was about it aside from various leaks over the past month. However, as the date has grown closer more and more details have emerged and we've round up all the specs, pricing details, and potential release date rumors all for your viewing pleasure.
Specs
So what will make the Moto X+1 impressive and worth buying over the Galaxy S5, LG G3, or any other smartphones available in 2014? For one, customization. And for two, it has some pretty good specs too. At least if all the leaks we've seen are accurate.
Along with custom colors, engravings, accent colors, beautiful wood backs like Bamboo or Walut, and even leather in 2014, the phone will have pretty impressive specs to make it a quality device that should last for years to come. Here's what we've heard thus far.
Moto X+1 Specs
5.2-inch 1920 x 1080p Full HD Display
2.5 GHz Snapdragon 800 quad-core with 2GB of RAM
16/32GB storage with micro-SD expansion included
Android 4.4.4 KitKat
12 Megapixel rear and 2.1 front cameras
Dual front-facing speakers (aimed at the HTC One M8)
2,900 mAh battery
Tons of customization options
The Moto X+1 isn't running the absolute latest and greatest like the LG G3 or incoming Galaxy Note 4, but is still plenty powerful. It is powered by an impressive quad-core processor, nearly stock Android, 2GB of RAM, and has an improved camera. Those are all improvements over last year, not to mention the bigger display. The other major problem last year was battery life. In 2014 the Moto X+1 will have a 2,900 mAh battery (rumored) which is bigger than both the Galaxy S5 and HTC One M8 offerings, but barely smaller than the 3,000 mAh battery in the new LG G3.
We're hearing the accessory teased by Motorola may be similar to some of their recent NFC or Bluetooth accessories, and work with the Moto X+1 or G2 for instant pairing, unlocking the device based on location, as well as improve the hands-free always listening and voice command functions, but we'll have to wait and see.
Last but not least (pictured above) the Motorola logo on back will be a button. At least that's what rumors suggest. We're not sure what it's for yet, but we could see additional functions or shortcuts to launch the camera and other apps, or even a camera shutter button for selfies. Motorola may have a trick or two up its sleeve come Thursday.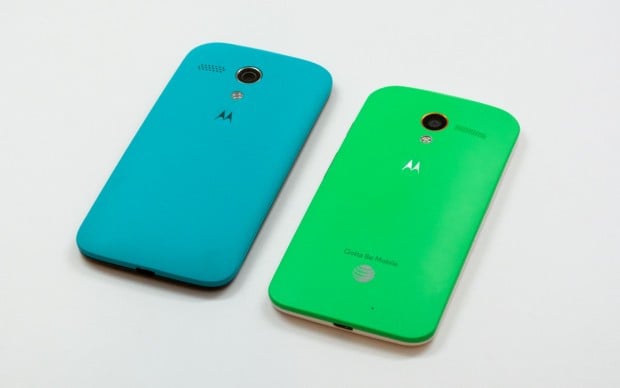 Moto X+1 Launch Date
The image above is the teaser sent over by Motorola, confirming four devices will be announced on September 4th. There's not much speculation around the earpiece accessories in the image, but the other three devices have been hotly anticipated and highly rumored for quite some time.
The launch date will officially be September 4th in the United States as Moto takes the stage in Chicago, and we're hearing similar events should take place in other regions later this week. That all said, the launch date isn't what's important, it's the release date and price.
Moto X+1 Release Date
Last year the original Moto X was announced and released inside of August, and we're hearing the same quick release will take place here in 2014, Although the phone is arriving about a month later than last years variant.
A few quick reports earlier this month "confirmed from Motorola themselves" that a global rollout for the new Moto X+1 and Moto G2 will begin on September 10th. That is a bit quicker than the arrival last year, but would be a similar approach that Apple has been taking lately, as well as HTC earlier this year with a same-day release. Another report suggest the Verizon Moto X+1 won't arrive until September 25th. Then of course we can expect some sort of carrier exclusives (at least in the US) as AT&T offered the phone first, initially, with other carriers later joining in.
The image above is our first actual press photo of the new Moto X+1, thanks to @evleaks. It confirms the designs we've seen from other leaks, as well as at least one carrier for the US. Note that while the rumor above said September 25th for Verizon, this press image shows September 17th. One week later than the 10th date floating around.
Sadly no concrete release details have emerged yet, even if we've seen tons of shipping confirmations for the Moto X+1 and G2 around the globe. A launch is certainly being prepped, but we can't say the release date for sure until Motorola confirms it themselves live on stage.
Last year the Moto X launched in the US first, and eventually other regions around the globe, but many are expecting a global launch of the new Moto X+1 in the US, UK, and more all inside of September. The next few weeks we'll learn all the details from each respective carrier.
U.S. Carriers
Speaking of US carriers, the original Moto X is still available today from an array of carriers in the United States, and that includes small regional operators as well. At this point the new Moto X+1 isn't even "official" so carriers aren't sharing details, but expect plenty of announcements to follow the smartphone launch on September 4th. That being said, the image above clearly confirms Verizon, and late last week the Moto X+1 cleared the FCC for AT&T.
Buyers can expect the new Moto X+1 to launch on AT&T, T-Mobile, Sprint, Verizon, US Cellular, and most likely many other small region carriers. MetroPCS, Cricket, and others all eventually offered the original, and we can expect the same with its successor. However, only the main carriers will get the customization features from MotoMaker.com.
Price
The last important set of details is around the price tag. The Moto X was priced nearly as high as the competition, yet wasn't as powerful of a smartphone. The device finally became more popular once Motorola realized this and lowered the price to $399 off-contract, which made it a pretty great price/performance purchase, especially considering all the free customization.
Currently the Moto X is still $399 off-contract, and less if you sign a 2-year agreement with carriers. We've seen countless deals offering it for $299 to clear inventory, and Motorola is making room for the new X+1. There has been no solid leaks revealing a price point for the Moto X+1, but a few small reports suggest it may replace the current X at the same $399 price point. If Motorola can do that while delivering a bigger, better, faster device with front facing speakers and all the options mentioned above, it should sell quite well.
However, this weekend a Brazilian online retailer outed the price of not only the Moto G2, but the new Moto X+1 as well. Sadly it's hard to get a grasp on what US pricing will be from the leak, as Brazil has a heavy tax on electronics. The original Moto X from last year still runs over $600 in Brazil, so those leaks don't provide much insight into the potential Moto X+1 release and price for US buyers. They have the phone coming in slightly higher than the original, which could mean the same for those stateside.
Most likely it will start out around a $449-499 price, aiming at undercutting most of the competition, but it's too early to tell. We don't expect pricing to be revealed on the 4th, but if the 10th is actually the release date, we'll know everything at once. This means potential buyers will want to keep their ears listening and eyes open.
The Moto X+1, Moto G2, Moto 360, and a new accessory from Motorola will all be officially announced and launched on the 4th, then we'll have a short wait before they hit the market for buyers to enjoy. We'll be live in Chicago with all the details, so stay tuned.

This article may contain affiliate links. Click here for more details.