Moto X+1 and Moto G2 Rumors Continue to Emerge
Early next month Motorola will take the stage at an event in Chicago and announce the brand new Moto X+1, Moto G2, Moto 360, and a new Moto accessory that will likely interact with these devices. As the Moto X+1 release nears, rumors and leaks continue to arrive from all angles.
Way back in March Motorola promised a new Moto X would be "coming this summer" and with September nearly here they're running out of time. Over the past few months however, more leaks have continued to pour in revealing nearly everything about the upcoming Moto X+1 (or Moto X2) and the details are all quite clear at this point. That being said, a few remaining questions are being answered today.
Read: Moto X+1 Release Date & Rumors Breakdown
While nearly all the features and specs are known at this point, thanks to an array of leaks, a few additional details have started to take focus. Yesterday the first official press photo of the Moto X+1 leaked, and now this afternoon a Brazilian website has revealed some key details about both the Moto X+1 and the new Moto G2.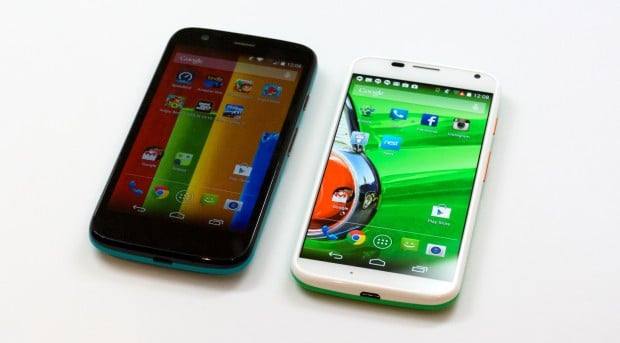 Earlier this year the same Brazilian website we're talking about today revealed the new Moto E days before it was announced, and everything was completely accurate. And while that doesn't confirm the information below is correct, it's most likely on all track regarding Motorola's plans for its new smartphones.
The online site Livaria Lovos confirmed a leak we've been hearing for months, and that is that Motorola will offer the Moto X+1 with not only multiple colors and wood backs, but also in leather. Yes, you'll be able to buy the Moto X+1 and the back will be made out of some sort of leather.
At least six different leather options were rumored way back in April by famed leakster @evleaks, and that appears to be correct if what we're hearing today holds true.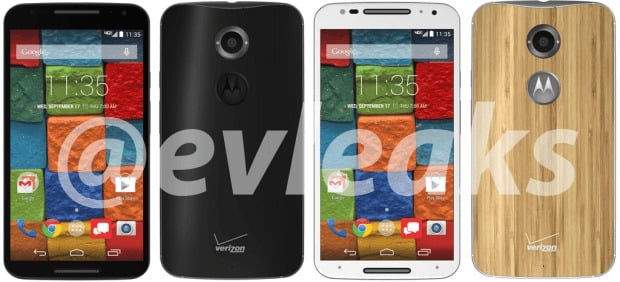 They suggest there will be a white and black option, wood options, and of course leather. However, that isn't all they had to share. The website also released the full specs, which are essentially the same as what we've been hearing for months, save for a few small changes. That being said, the Moto X+1 looks like a compelling smartphone. Here's what they suggest will be announced on the 4th.
Moto X+1 Specs (Rumored)
5.2-inch 1920 x 1080p Full HD Display
2.2 GHz Quad-core Processor with 2GB of RAM. Likely Snapdragon 800
16/32GB internal storage (no mention of micro-SD)
13 Megapixel Camera and 2.1 front (previous rumors suggests a 12MP camera)
Android 4.4.4 KitKat
All the customization options
They didn't have too many other details, but at this point we already know everything about this smartphone. Whether the camera is 12 or 13 remains to be seen, but it will likely be improved over last year, and possibly offer optical image stabilization. Then, they also revealed the Moto G2 specs.
This isn't the first time we've heard about the Moto G2, or what will be included, but it does paint a better picture for the larger, better budget smartphone. These sound rather impressive, and may have some passing on the Moto X for a cheaper Moto G2 in September.
Moto G2 Specs (Rumored)
5.0-inch 720p HD Display
1.2 GHz Quad-core processor with 1GB of RAM. Likely Snapdragon 400 (or 410)
16GB of storage
Android 4.4.4 KitKat
8 Megapixel and 1.3 cameras
Dual-SIM (outside the US)
and more
These match a few reports we've heard lately about the new Moto G2, but it is a phone that has been relatively quiet in terms of leaks. The original Moto G was a budget smartphone that was extremely popular, and this year it appears as if Motorola will have another awesome well-rounded budget Moto G2 to offer prospective buyers.
Again, nothing new was really revealed here as it all lines up with previous leaks. The important thing is this is an official retailer that's been accurate in the past, potentially confirming all the leaks and rumors we've been hearing for months and months.
All said and done, we only have a few weeks left of waiting as Motorola will reveal all the key details come September 4th. We're also expecting a release date to be September 10th around the globe for the Moto X+1 and Moto 360, and potentially the Moto G2 as well.