Moto X+1 Details Continue to Leak Ahead of Release
Motorola is the only major Android manufacturer that has yet to announce or release a new flagship smartphone in 2014, but that's about to change. These past few months more reports and rumors have started to emerge about the next smartphone coming later this summer.  At this point most leaks are calling it the Moto X+1, but it may also be called the Moto X2 come release date.
While little pieces of information have emerged more and more as the summer months continue, today we received another major leak potentially revealing all the key details of their new smartphone. It comes to us by the way of a leaked benchmark result, which as usual, can't be 100% trusted, but it matches previous results, leaks, and various rumors.
Read: Moto X+1 Rumor Roundup: What We Know So Far
Yesterday Motorola confirmed they'll be hosting a media event on September 4th to unveil a new Moto X, Moto G, and the Moto 360 smartwatch. We're not sure what the official names will be yet, but below is what we do know about the "Moto X+1" that's coming in September.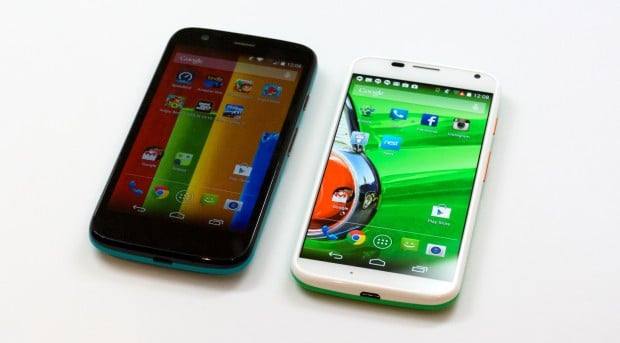 The original Moto X was announced and released in August of 2013, and many expected the same to hold true this year, but sadly Motorola is a little behind schedule. Instead we'll be getting a September 4th announcement of the new handsets, and some reports suggest they'll be launched around the globe on an array of carriers a week later, starting September 10th.
Last year the Moto X was rather popular due to the multiple customization options, wood backs, and hands-free voice controls, but the specs were somewhat underwhelming when compared to the Galaxy S4, LG G2, or HTC One. This year though, Motorola will be on the same level (or close) while still delivering all the customization that had buyers excited.
Read: Moto X in Walnut Wood Hands-on
According to all the leaks we've been seeing, as well as the newest one detailed below, Motorola will have quite the smartphone to announce next month. A result found by GFXBench shows the new Moto X+1 (or Moto X2) will have a 5.2-inch 1080p HD Display, and overall be a rather impressive phone. This is up from the small 4.7-inch screen last year.
Moto X+1 Specs (Rumored)
5.2-inch 1080p HD display
2.5 GHz Quad-core Snapdragon 800 with 2GB of RAM
16/32GB storage options (Micro-SD slot expansion)
Android 4.4.4 KitKat
12 Megapixel Rear and 2 MP front camera
Regular WiFi, GPS, Bluetooth, etc
2,900 mAh battery
Front Facing Speakers
The benchmark results shown below don't reveal the battery size or images, which would confirm the front facing speakers, but we've seen prior images suggesting that is what will be included. The leak does show only 10GB of storage, but that's likely because 6GB is being used by software, and any apps that have been downloaded to the device.
If what we're seeing here is the new Moto X+1 it is a premium flagship smarpthone that should be able to compete quite nicely with the LG G3, Galaxy S5, HTC One M8, and anything else this year. Add in all the customization from 2013, and this could be one smartphone many will want to wait for.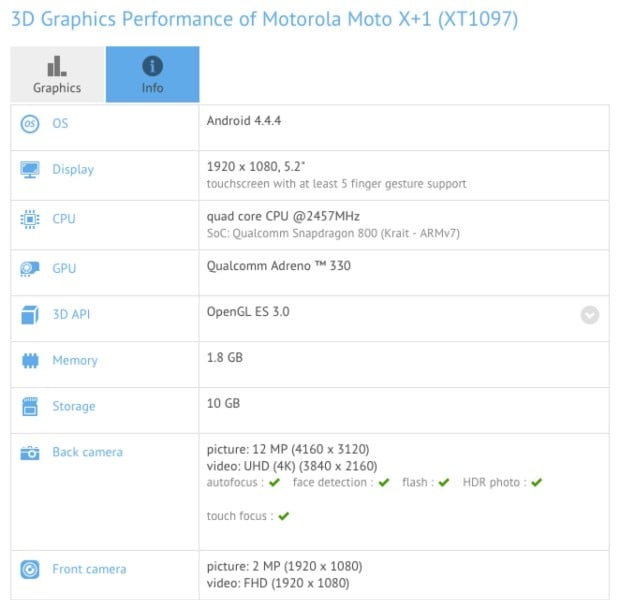 Again, benchmarks can often times be fake or easily manipulated, so we're taking all of this with a grain of salt for now. That being said, these mirror various reports, rumors, and leaks that have continued to appear of the course of the past month.
Most likely what is detailed above will be the new Moto X2 that is coming in September. Either way, Motorola will confirm all the details and make the device official come September 4th at their event in Chicago. Stay tuned.