Moto X+1 Images Emerge in New Leak
The original Moto X was released in August of 2013, and if previous launches and recent rumors are accurate an all-new Moto X+1 is coming sometime next month. Over the course of the past few months we've been hearing small details and seeing leaks suggesting the device is coming, and now our first live images have reportedly leaked.
This isn't the first Moto X+1 rumor or sighting as of late, but the images below are giving us our first solid and best look yet at the upcoming flagship smartphone from Motorola.
Read: Huge Moto X Deal Arrives as Moto X+1 Release Nears
While most of the reports haven't been extremely detailed thus far, a new leak has just revealed some compelling information about this Galaxy S5 and LG G3 competitor. The Moto X+1 will reportedly replace the original and popular Moto X, and could be coming sooner rather than later. Read on for all the details we know so far.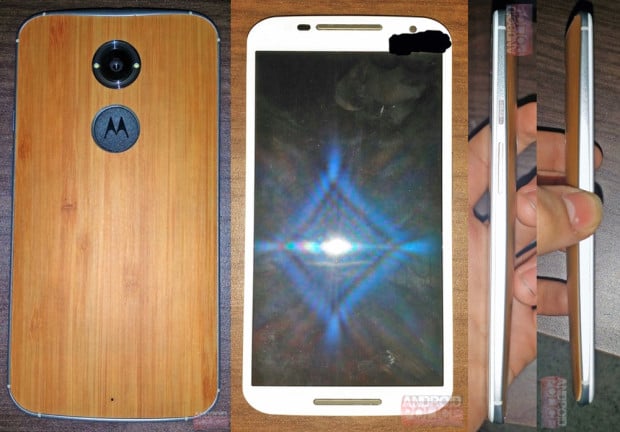 Last year the Moto X offered a brand new level of customization unlike any smartphone before it. With over 18 custom color options, accents, engravings, and eventually wood backs like Walnut for a truly custom and personal device. The company is aiming to do something similar this year, and all rumors aim towards the Moto X+1 being the next device.
Earlier this year evleaks claimed multiple new wood options, and even some leather backs were coming to the next Motorola smartphone, and that information has been confirmed again by this new leak that surfaced today. What you see above is reportedly the brand new, bigger, better Moto X+1 smartphone.
Read: Moto X with Walnut Wood: Hands-on Video
According to a report by Android Police, who received the images of the device in question, Motorola is aiming to offer an overall better and more durable smartphone. The Moto X+1 has the familiar wood back we saw eventually last year, although things are a bit different. You'll obviously notice the gap in the wood where a plastic or aluminum Motorola logo is present, which could be an actionable button. This was rumored for the original Moto X, but that ended up getting canceled on the final device.
According to this leakster the Moto X+1 will be 5.1-inches and sport a full 1080p HD display, but that's all they were able to gather. Previous rumors suggested a 5.2-inch screen, and some decent specs. So far this is what we're hearing will be the Moto X+1.
Moto X+1 Specs
5.2-inch 1920 x 1080p HD display
2.3 GHz quad-core Snapdragon 800 processor with 2GB of RAM
16/32GB of storage (may have a micro-SD slot) this rumor says no SD card
Android 4.4.4 KitKat
12 megapixel rear camera, 5 MP front shooter
Dual front-facing speakers
2,900 mAh battery
Tons of customization options with MotoMaker
Again none of these specs have been confirmed, but based on the images we're seeing above that could end up being the final stat sheet for the new smartphone. One important aspect of the device is the new dual front-facing speakers, which we saw earlier this year from the budget Moto E, which is a surprising new addition.
The Moto X last year was mainly built of a cheap and lightweight plastic, which wasn't extremely durable. Add that to wood backs and the device got rather damaged from the occasional drop. From what we're seeing here Motorola has adopted an aluminum or metal design, not unlike the HTC One M8, but this is just on the sides for protection from drops. The front will be the regular white or black plastic, and that will also be the base colors available from all US carriers.
The images show this Moto X+1 has one of the customizable wood back options, and clearly you'll notice the dual-flash inside of the camera ring. We're not sure if these custom backplates will be user replaceable, but the odd plastic-looking Motorola logo under the camera is quite unique and the leakster didn't have any additional details regarding that.
For now there's no new details regarding what exactly we can expect, or when, but we've already received countless leaks on that front too. So far rumor has it the Moto X+1 will be revealed and released inside of August, potentially alongside the hotly anticipated new Moto 360 Android Wear smartwatch.
It's too early to tell what exactly is going on, or what Motorola has planned, but we'll keep an eye out for more details and update the moment we learn more.