Moto X+1 Leaks Running Android L
Over the past few months more reports and rumors have started to emerge about the next smartphone coming later this summer from Motorola.  Leaks suggest the Lenovo-owned company will be releasing a new smartphone called the Moto X+1 in August, and today we've received what could be our best look of the device yet.
Last year the Moto X was a big surprise and delivered tons of quality features that had consumers excited. While the device wasn't a top end Galaxy S4 competitor, it had nearly stock Android and an array of customization options from MotoMaker.com. Users could choose from over 18 different colors, accent colors, real wood backs, and even get the device engraved with a neat message.
Read: Moto X+1 Rumor Roundup: What We Know So Far
The Moto X wasn't as popular as Motorola had hoped, but the new Moto X+1 is shaping up to be quite the handset that consumers can be excited about if the leaks and rumors end up accurate. So far only the name and a few terrible photos have surfaced, but this week a video emerged showing the new unannounced Moto X+1 running the Android L release, and touting a large 5.2-inch screen.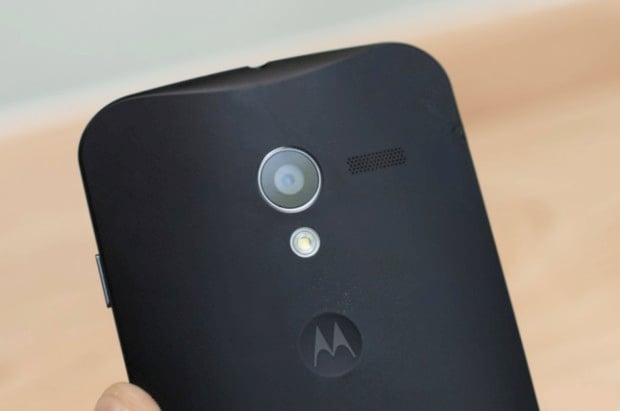 The handset leaked and shown below was spotted and revealed by TKTechNews, and while the video doesn't show the new Moto X+1 in action and fully working, we get multiple shots of the new smartphone running the just announced Android L. Google revealed Android L a few weeks ago at Google I/O, giving users a look at the next version of Android months ahead of the actual release for the first time in over three years.
While there's still no concrete details about when Android L will arrive, or the Moto X+1 for that matter, the video below suggests it could be coming soon, and may even be running the new Android 4.5 or 5.0 "L Release" that many think Google will call Android Lollipop.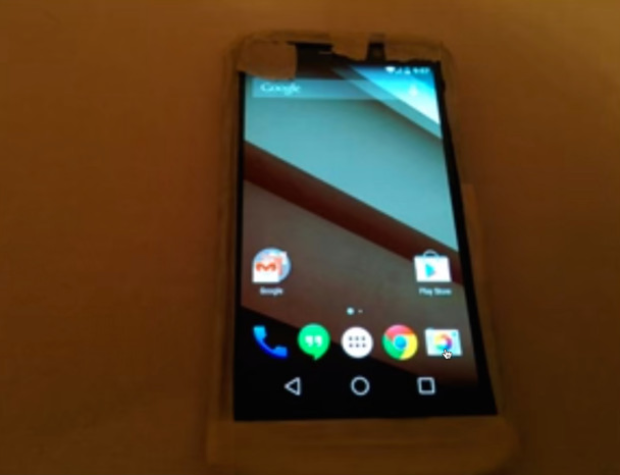 Previous rumors have suggested Motorola will be offering a flagship smartphone with the Moto X+1, yet still deliver all the impressive customization features and more while trying to keep the price low. The video below compares it to the Nexus 5, suggesting the Moto X+1 could have a large 5.2-inch screen, and that's a specification we've heard from previous rumor mills. Take a look and decide for yourself.
Any chance at seeing the actual device won't be happening, as this leakster has completely covered the rumored handset in masking tape to cover any identifying marks, so it's hard to believe what we're actually seeing. And while this could be a fake, it certainly shows a Moto X shaped device with a much larger screen than the 4.7-inch model released in 2013.
At this point not much is actually known about what Motorola has in store for 2014 aside from the highly anticipated Moto 360 smartwatch running Android Wear. It's possibly the device pictured in the video above is a new Moto DROID for Verizon Wireless, aimed to replace the DROID Ultra and MAXX, but we'll have to wait and see.
Read: Moto X+1 Leak Reveals Galaxy S5 Competitor
According to recent leaks the Moto X+1 should be a pretty well-rounded smartphone when it arrives sometime later this year. We've been hearing August, but if Android L will debut it could be in September or October. Last week the full details reportedly leaked suggesting a 5.2-inch 1080p HD display, quad-core Snapdragon 800 processor with 2GB of RAM, 12 megapixel rear and 2 MP front camera, 32GB of internal storage and the return of a micro-SD slot, and even a large 2,900 mAh battery. A battery which is bigger than both the Galaxy S5 and HTC One M8.
If early rumors are any indication we could be seeing the Moto X+1 arrive in August with all the same customization features from last year, wood backs, and even custom leather designs for the material used on the back of the smartphone. Again those are only rumors, and we'll have to wait and see once Motorola makes this smartphone official later this summer, or in the fall.

This article may contain affiliate links. Click here for more details.