Moto X+1 Price Leaks As Rumors Swirl
Last year Motorola shocked the smartphone world by announcing a budget friendly smartphone that was completely customizable by the end user. The Moto X came in an array of different colors, accents, engraving options and more, and now a Moto X+1 successor is on the way.
Over the past few weeks more and more reports have started to surface that Motorola is preparing a few more smartphones for 2014. Of course a replacement to the DROID lineup for Verizon is in the works, and now we keep seeing little hints of a device being called the Moto X+1 on Motorola's own website.
Read: Moto X+1 Rumor Roundup: What We Know So Far
Rather than call it the Moto X2, the Moto X+1 is likely a minimal upgrade over its predecessor, but we won't know until more details are fully confirmed. That being said, today Motorola revealed the price well ahead of anything else. Leaving consumers and fans wondering just what exactly the Moto X+1 really is. Read on for more details.
Back during the beginning of April the first reports of a successor to the Moto X started making the rounds, with the popular @evleaks confirming the Moto X+1 name. Since then we've seen it popup a few times and quickly disappear on Motorola's website, and some recent benchmarks have many wondering if it's an improved device, or simply the same Moto X with more options.
Before we get into rumored specs and possibilities, first up is the price. Today Motorola confirmed the name and revealed the price all on accident. The company uses MotoMaker.com for the Moto X customization, and today a new page appeared showing the new Moto X+1 out of stock, but coming soon for $400. First spotted by a few Reddit users, the image above was posted and quickly removed by Motorola.
The page showed the Moto X+1 was coming soon to AT&T, was $400, but as you can see shows an old image of the original Moto X from 2013. Clearly a placeholder, this has many speculating as to what may actually be coming. The Moto X is currently $349, meaning we're expecting something different with the X+1 if they'll be charging $400 for the device. Early rumors suggested a new design with the same 18+ color customizations, wood, and now leather back options, but that's yet to be confirmed.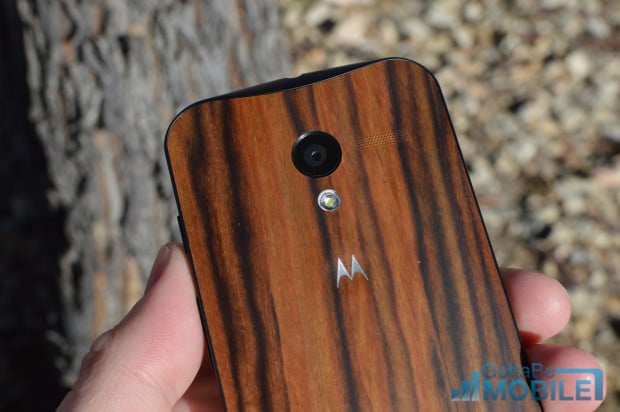 At the same time the name, picture, and even the price could all be wrong and simply placeholders for what's really coming. While this story is far from finished, and the details are just starting to slowly trickle in, a few recent benchmark filings could be giving us an idea of what to expect.
New leaks suggest the Moto X+1 (or the new DROID lineup) could feature a 5.2-inch 1080p HD display, rather than the 4.7-inch screen of the original, and have a much improved overall set of specs while remaining somewhat budget friendly. The leak reportedly showed a quad-core processor with 2GB of RAM, an improved 12 megapixel "clearpixel" camera, and possibly running Android 4.4.3 KitKat. Google's unannounced and unreleased update to the Android operating system.
Read: Moto X Walnut Wood Hands-on and Impressions Video
Most likely though, that's a leak for the upcoming Motorola DROID lineup, and the Moto X+1 will be something much different. Again, these leaks are very new, in the early stages, and we'll be learning more soon, but so far it sounds like the Moto X+1 won't be much different from the original.
Many have speculated that if the phone was vastly different they'd use Moto X2, rather than a name that makes it sound like a minimal change or upgrade. That being said, anything is possibly and we could be seeing Motorola prepare a smartphone and Moto 360 smartwatch combo. It's too early to tell.
Based on other reports from the Moto X+1 leak it's likely we could be seeing a slightly different, more customizable Moto X arrive in the next few weeks for $400. This new phone would be improved in some aspects, have user customizable leather backs, not to mention the wood and various colors, and come to AT&T, Verizon, and Sprint. The original Moto X was never officially released on T-Mobile, but sold through Motorola's site for those in need.
Back in February Motorola promised a new smartphone would be coming this summer, and it would likely be accompanied by the Moto 360 Android Wear Smartwatch. We could be seeing the Moto X+1 only, or a Moto X2 and DROID lineup could all accompany it. Either way, a new Motorola smartphone should be announced in the coming weeks or months, and we'll be on the lookout for more details.

As an Amazon Associate I earn from qualifying purchases.