Moto X+1 Rumor Roundup: What We Know So Far
While most attention as of late has been on the Samsung Galaxy S5 and new LG G3, another smartphone is starting to surface more in the rumor mills and consumers are starting to take notice.
After launching a mildly successful Moto X in 2013 full of customization options, Motorola is now preparing something else, but no one knows exactly what's in store for the company. Previously purchased by Google, then sold earlier this year to Lenovo the smartphone manufacturer has been all over the place as of late, but new leaks suggest they're still aiming for an impressive smartphone release this year.
Read: Moto X in Walnut Hands-on & Impressions Video
Earlier this month our first news of a successor to the Moto X was spotted with a device being called the Moto X+1. Not the Moto X2 everyone was expecting. Talks of new colors, customizable wood backs, and now leather options for those wanting a premium and unique smartphone. Today more rumors have fired up, and below we take a look at everything we know so far.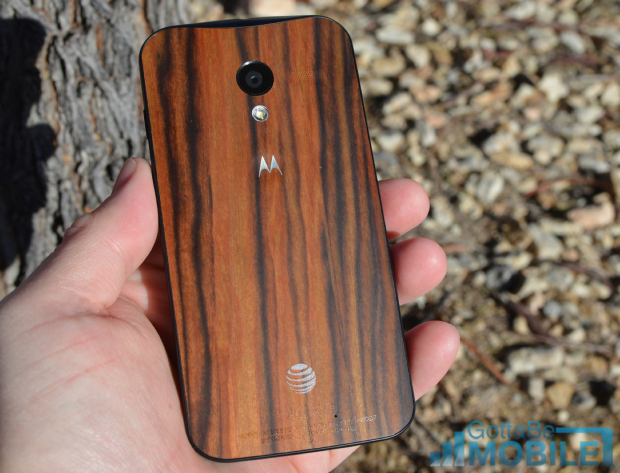 So far the details and information surrounding what is next from Motorola are still extremely thin. The company does a rather good job hiding news and leaks from the consumer eye, and we have a feeling that won't change in 2014. They have a big launch coming up with the Moto 360 smartwatch, and it could be accompanied by a new Moto X+1 smartphone too.
Customization
The first leak courtesy of @evleaks simply reported the "Moto X+1" name, which was then followed by the leakster claiming Motorola will offer leather on the smartphone. As in the back will be made entirely out of a premium leather. Taking the idea of user customization to another level. Different leather colors, designs and textures could all make the list.
Aside from the name and leather options that's all users have to go on, but over the past two weeks additional details have surfaced that should have consumers excited about what's next from Motorola. For now we're not sure if the Moto X+1 will be a small update (hence the +1 and not a 2) in the name, or if that's simply a placeholder name before they announce the real product. That being said, below are the two other major details users should know.
Specs
Last year a huge leak surfaced in March, months before the Moto X was revealed, of a device listed as model XT912A from Motorola. Last week the same exact device surfaced again, but the specs are new and improved in line with other products from 2014. This could be a smokescreen by Motorola to hide the Moto X+1, Moto X2, or even a new DROID Ultra lineup for Verizon Wireless.
So what can we expect from the Moto X+1 if the leaked benchmarks are accurate? A pretty impressive device. Increasing the screen to 5.2-inches and 1080p over the 4.7-inch 720p display from last year. A faster quad-core Snapdragon processor with 2GB of RAM is included, a 12 megapixel camera over the 10 MP shooter in 2013, and the leak also shows Android 4.4.3 KitKat. The last being an unreleased version of Android, which gives this leak and rumor a little salt.
Of course benchmarks can never be 100% trusted, so we're taking this with a grain of salt. The image above claims the Snapdragon 800 quad-core from 2013 will debut on the new Moto smartphone, and not something like the 801 or 805 as Samsung, HTC, and LG are using.
However, Motorola took the same approach in 2013 by releasing a flagship phone with an older chipset accompanied by its own Motorola 8x computing system to handle all the hands-free controls and voice actions exclusive to the Moto X.
For now there's no solid evidence to support the specs shown above, as it's the only leak of its kind. That being said, it's clear that Motorola will be releasing a follow-up to the popular Moto X last year, as well as a new generation of the DROID Ultra lineup for Verizon Wireless.
Moto X+1
Following along with the leaks and details mentioned above, the biggest clue arrived this morning from none other than Motorola themselves. The company MotoMaker website for Moto X customization confirmed a new device itself. Shown below is an image showing the Moto X+1 name right on MotoMaker.com
It appears that Motorola is already building the portal on the MotoMaker site for buyers to head online and customize their brand new smartphone, which is shown as the Moto X+1. Again this could be a placeholder name, but this is the third leak showing a similar title.
Some have rumored the Moto X+1 won't actually be a new smartphone, and instead be a limited or special edition simply offering tons of leather customization options as we mentioned above.
Release Date
The Motorola DROID Ultra lineup was officially announced in July of 2013, and quickly arrived on the market for those with Verizon Wireless. The Moto X however, wasn't announced until August 1st and took a few months to fully arrive to market full of customization options.
Given that we have no details surrounding a release date it's hard to predict when buyers will be able to get what's next from Motorola, but given the leaks we're already seeing today, and previous releases, it should be coming soon. We've heard a few small rumors suggesting a summer release date which matches previous releases, but we'll have to wait and see.
The LG G3 will be one of many different competitors to the new Motorola smartphone, and they've moved up the release from September last year to June in 2014. Meaning Motorola may be last to market with its flagship smartphone of 2014. Is it worth the wait? We'll have to wait and see as more details unfold and rumors arrive.

As an Amazon Associate I earn from qualifying purchases.