Moto X+1 Rumors Kick Off With New Leather Design
Last year with Google in charge of Motorola the company released the Moto X smartphone. Offering an impressive all around device that was highly customizable by the end user unlike any smartphone to date.
With the Samsung Galaxy S5 and HTC One (M8) out of the way, rumors have now turned their attention to the upcoming LG G3 and what we're now hearing is called the Moto X+1. Whether that's just the codename for the Moto X2 remains to be seen, but this weekend the first set of rumors arrived from @evleaks and should already have consumers excited.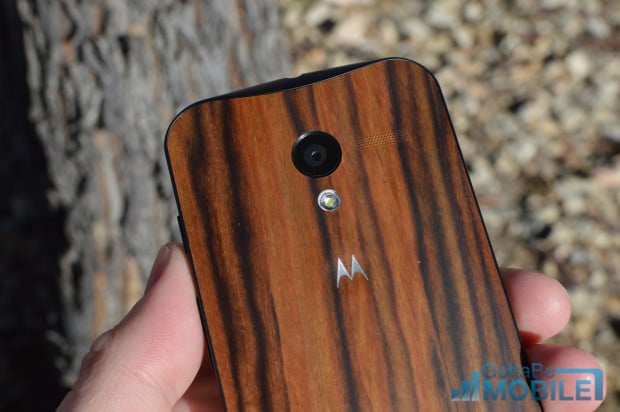 Last year the Moto X arrived with tons of customization options courtesy of MotoMaker.com, and this year we're hearing Motorola will continue that trend, only with more options. The smartphone launched with custom colors, accents, engravings, and even wallpaper customization. Allowing users to order a completely unique device and have a custom experience out of the box.
It wasn't quite as popular as Motorola and many expected, and the Moto G was the most popular smartphone for Motorola of all times, but the new Moto X+1 could change that. The smartphone is rumored to arrive this summer, and now we're hearing custom leather back options will be the big move in 2014.
Motorola's Moto X eventually received custom wood options buyers could choose for only $25 more. Having the back made out of authentic bamboo wood, as well as Teak, Ebony, and Walnut.
Read: Moto X in Walnut Hands-on and Impressions Video
The popular leakster @evleaks tweeted the "Moto X+1" name shown above this weekend, and quickly followed it by stating 2013 was about custom wood backs, but 2014 will be about leather. While we can't gather too much from this limited information, if it's anything like previous releases, we can expect multiple colors and textures at release.
Motorola was recently acquired by the PC giant Lenovo, but the company promises to continue delivering quality smartphones and products under the Motorola brand. The Moto 360 is one of many we expect to arrive in 2014, and now we can look forward to the Moto X+1.

As an Amazon Associate I earn from qualifying purchases.