Moto X+1 Rumors Shed Light on New Features
The new Moto X+1 launch date is just weeks away, scheduled to be announced live on stage come September 4th in Chicago, but that hasn't stopped the leaks and rumors from flowing in. In fact, more and more details continue to surface days ahead of the reveal.
Over the past few months small details regarding the successor to the popular Moto X have arrived, but the past few leaks have been the most telling. Last week our first official images surfaced, and today more leaks are revealing a few of the same features we loved from the original, as well as new features we can expect from the new smartphone.
Read: Moto X+1 Release Date & Rumor Breakdown
Earlier today the Facebook page HelloMotoHK shared images of the new Moto G2, but that wasn't all. They've also detailed a few new features we can expect from the Moto X+1, as well as posted some cropped photos of the new handset ahead of the release. Read on for all the details about the highly anticipated new Moto X+1 smartphone.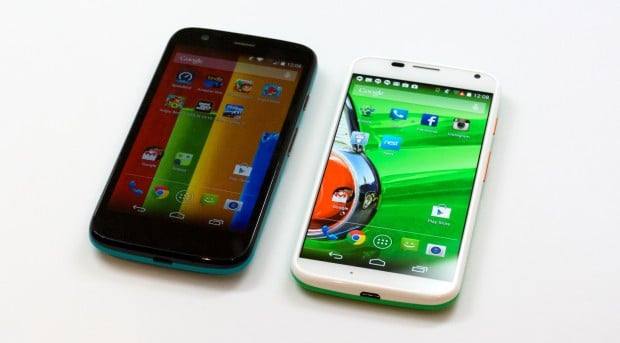 The original Moto X leaked on video months and months ahead of the release, and it is clear this year Motorola put a lot of effort into keeping its devices for 2014 a secret. This year Motorola has done a rather excellent job keeping the leaks to a minimum, but now with only weeks left they're finally starting to surface in full force.
Pictured below is the new Moto X+1 which will be announced and unveiled in Chicago on September 4th by Motorola. We're hearing a release date will quickly follow, but more on that below.
Today's details are regarding some of the specs and featured buyers will be able to enjoy once it does finally get announced. According to HelloMotoHK the new Moto X+1 has a few nifty features they'll be showcasing in a few weeks. Along with the same touch-less controls, voice actions, and active display from last year, is a new 3D feature. We're not sure if this will be like the iPhone parallax effect, or the 3D feature that isn't very popular with the Amazon Fire Phone, but it's possible.
The leak suggests that along with all the specs detailed below, the Moto X+1 will also feature some sort of 3D recognition. It's possible the Moto button on back will initiate some 3D mode, but that's just a guess at this point. You can see a few odd sensors in the image above on the bottom of the white unit, but they could be the microphone like the original Moto X. Rumor has it the Moto logo on back is a button, that will be clickable for certain features, but those remain to be seen. Sources also claim the camera will be a  "super camera with optical zoom" whatever that means. We know the camera will be much improved, so at this point all that's really new is the 3D recognition and possibly the button on the rear.
Moto X+1 Specs (Rumored)
5.2-inch 1920 x 1080p Full HD Display
2.5 GHz Snapdragon 800 quad-core with 2GB of RAM
16/32GB storage with micro-SD expansion included
Android 4.4.4 KitKat
12 Megapixel rear and 2.1 front cameras
Dual front-facing speakers (aimed at the HTC One M8)
2,900 mAh battery
Tons of customization options
Listed above are what many are expecting to complete the Moto X+1, but those only come from a few leaked screenshots, benchmarks, and rumors, and have yet to be confirmed. All the images we've seen thus far suggest a bigger screen and front facing speakers, so it's only the internals and software features we'll have to wait to be announced.
A few posts to Twitter suggest the camera isn't much better than the 10 megapixel shooter from last year, but again, that could be because it's still a test unit without finalized software.
Again, the new Moto X+1, Moto G2, and Moto 360 will all be announced on September 4th in Chicago, and hopefully released shortly thereafter. Reports and rumors suggest a September 10th global launch, with US carriers like Verizon getting the new Moto X+1 before the end of the month. We've heard September 25th for Verizon, and will have to wait and see what other carriers say once the Moto phones get official on the 4th. Stay tuned.

As an Amazon Associate I earn from qualifying purchases.