Moto X+1 vs Moto X: What to Expect
When it comes to buying a smartphone this fall, there are a lot of different options available today. In early September though, two more will be available as Motorola is set to unveil the new Moto X+1 and the Moto G2.
The past few weeks have been very telling for Motorola. We've learned they have at least two brand new smartphones coming in early September, the Moto 360 smartwatch, an accessory of some type, and possibly a duo of smartphones for the Verizon DROID lineup.
Read: Moto X+1 Release Date and Rumor Breakdown
The original Moto X was rather popular due to a few fancy features and hands-free voice commands, not to mention a slew of customization no other phone has ever offered. With all of that included, it still wasn't able to battle the Galaxy S4 and some of the competition. However, in 2014 a new Moto X+1 (or Moto X2) is coming, and below we'll take a look at both and compare all the details. Below is what buyers can expect from the new Moto smartphone.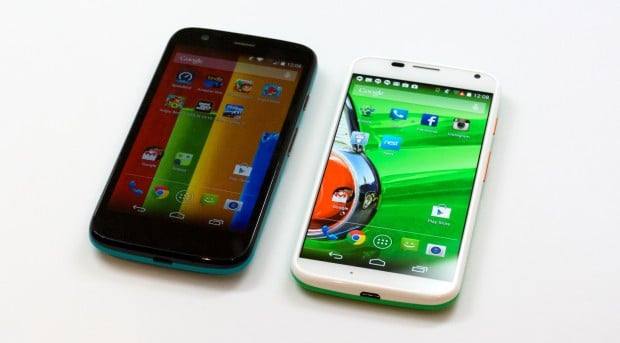 Last year Motorola shocked the mobile world when Google and Motorola took the stage and unveiled the original Moto X in August of 2013. Offering a rather impressive looking smartphone full of customization options unlike any phone before it. The Moto X arrived with a MotoMaker.com website allowing users to choose over 18 different colors for the back, accent colors for the camera and buttons, engravings, and even wood backs such as Bamboo and Walnut.
The phone was awesome all around, but had a smaller display than most other flagships in 2013, wasn't quite as powerful, and started off at the same price point. Eventually the price dropped and more units were sold, but in 2014 Motorola is back with something even better, and that will be the Moto X+1 which is officially going to be announced on September 4th in Chicago.
The current Moto X is still a great phone to buy, especially at the $399 price tag, but below is how it stacks up against it's successor, which we're hearing may be priced roughly the same.
Design
The overall design for the new Moto X+1 hasn't changed too much, that is if the few rumors and leaked images are accurate. That being said, nothing has been confirmed and we've only seen a few very small leaks potentially revealing the smartphone. If the image below is real they'll look very similar, only one is somewhat bigger, has much better specs, and will sport front facing speakers.
We're hearing the new Moto X+1 will have the same overall design cues as the original, but offer front facing speakers, even more customization, and an actionable (click-able) shortcut button made out of the Moto logo on the back. Those few things aside it has the same general shape, hopefully a slightly more durable design, and the same rounded edges if the image above is indeed the real deal.
We don't expect any odd buttons on the back like the LG G3, aside from that Moto button that's still a mystery, and the main focus of the design is for the customization options. Last year we had tons of colors, accent colors, engravings, and the wood backs linked to above. This year we're hearing leather will also be an option for customization on the Moto X+1.
All said and done the design is still largely a mystery, aside from the few photos that have leaked. Last year the original Moto X leaked on video months and months ahead of the reveal, but the company took precautions to prevent the same situation this year, and so far they've succeeded.
Specs & Features
The original Moto X offered a stunning design, tons of customization, and a fast and fluid user interface, but the internal specs weren't what many consider top-tier. It wasn't the best phone on paper when it came to stats, but was still is as good as anything else available. However, Moto doesn't want to risk that losing them sales in 2014, so the new Moto X+1 reportedly will be much improved.
We say reportedly because all we have are some unofficial benchmarks of the device, and no concrete details. Again, Motorola's done an excellent job keeping the new Moto a secret, but here's what we think we know so far.
Moto X+1 Specs
5.2-inch 1920 x 1080p Full HD Display
2.5 GHz Snapdragon 800 quad-core with 2GB of RAM
16/32GB storage with micro-SD expansion included
Android 4.4.4 KitKat
12 Megapixel rear and 2.1 front cameras
Dual front-facing speakers (aimed at the HTC One M8)
2,900 mAh battery
Tons of customization options
Moto X Specs
4.7-inch 1280 x 720p HD Display
1.7 GHz Snapdragon S4 Dual-core processor with 2GB RAM
Motorola X8 computing system (should arrive on X+1 too)
16/32/64GB storage options
Android 4.4 KitKat
10 Megapixel rear and 2.1 front cameras
2,200 mAh battery
Tons of customization options
A quick look at those specs outlined above, if accurate, shows that Motorola is aiming to complete directly with all the flagships of 2014, while likely still offering a device that's priced lower and full of customization choices.
The screen is much bigger and full HD like most other flagships released in 2014. They added a powerful quad-core processor, although it isn't the Snapdragon 801 most of the competition chose this year, but that's all about Motorola keeping the price down. We also see a better 12 megapixel camera, front facing speakers like the HTC One lineup, and a battery that's bigger than both the Galaxy S5 and HTC One M8. The camera could feature optical image stabilization or some neat focus effects like most others this year, too.
The key points here is the new Moto X+1 will be bigger, better, faster, have better audio with front facing speakers, and all the customization of the original with potentially even more options. Add all of that to a device that should launch inside of September, and the Note 4 and iPhone 6 will have some competition. Not to mention the others released earlier this year.
Software
Currently Motorola is busy working with carriers in the United States to deliver the absolute latest Android 4.4.4 KitKat update. The Moto X was one of the first phones to the initial Android 4.4 release, but that was followed by multiple small updates and now we're at Android 4.4.4 KitKat. The new Moto X+1 should launch with the latest software, and potentially a few new surprises we don't even know about yet.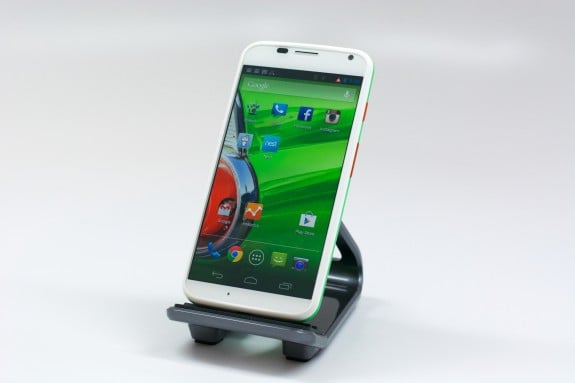 Both phones should have nearly the exact same software, which was one of Motorola's strong points last year. The Moto X had an always-on listening mode for voice commands and hands-free usage unlike most other phones. Something that many have tried to copy, and Google Now is slowly added to its service. Below is a quick ad Motorola aired on TV last year, and we're expecting more of the same in 2014.
https://www.youtube.com/watch?v=2_JQxm53114
This was followed by tons of other funny commercials highlighting the Active display that gave users heads-up notifications without them ever touching their phone, hands-free voice commands, customization options, and a few others.
Motorola will look to stay ahead of the competition with even more voice commands, hands-free usage features, and possibly a shortcut button on back that will add additional functionality. That being said, anything they deliver will likely come to the original Moto X in updates later this fall. We've also seen leaks suggest the Moto X+1 is already running Android L, and it'll likely be among the first phones to receive the update to Google's next release when it arrives later this year.
Release Date
The Moto X is readily available around the globe, from all carriers in the United States, and many pre-paid options. It first launched with a short AT&T exclusive stateside, which may happen again, but we'll have to wait and see. The Moto X+1, G2, and Moto 360 will all be revealed on September 4th by Motorola, and rumors suggest a global launch date on September 10th. Other reports suggest the Verizon Moto X+1 won't arrive until September 25th, which could be the date other carriers receive it too.
Almost the entire month of August we saw deals deliver over $100 in savings on the original Moto X, and currently the $25 wood backs are free, likely in an attempt to move some inventory and make way for the newer model.
Price
If not on sale, the Moto X is currently $399 for the 16GB model, and that includes free customization. It's one of the best price/performance phones available, and has been $299 for the better part of the month. A few rumors point towards the same $399 price point for the new Moto X+1 when it gets released, putting the Moto X at even a lower price if the company still offers it online.
There has been speculation that they'll offer a one-day sale for $199 on the new Moto X+1, but that's unlikely. On top of that we're hearing the new Moto X+1 will replace the original at the same $399 price point from MotoMaker with all the customization colors being free. The wood and leather backs will likely remain a $25 charge.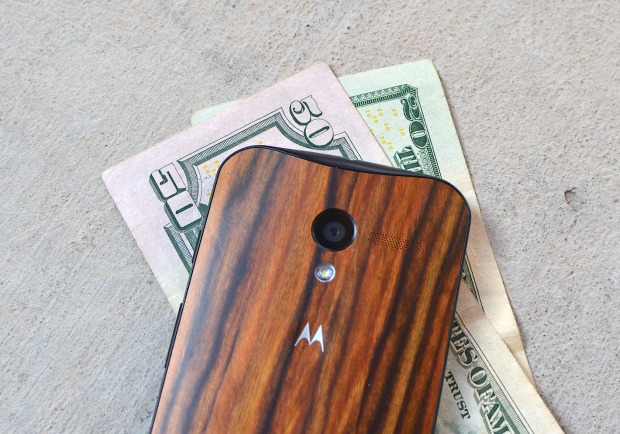 All that being said, most of the details regarding the price are from unreliable sources or random leaks from UK retailers, so we'll have to wait until September 4th to know for sure.
Final Thoughts
For now most of the details above have only arrived through unofficial channels and leaks, so we can't be positive on the details until it all gets revealed live on stage on September 4th. Most likely many of the specs and the design are accurate, but we'll have to wait and see.
September will be a busy month for Motorola with at least two new phones, the new Moto 360 smartwatch, and an accessory all set for the 4th. Rumor has it the Verizon Motorola DROID lineup will also get a refresh in late September, potentially being released in early October. Names like the DROID Turbo and DROID MAXX have been floating around, so things are finally starting to take form for Motorola in 2014.
With the Galaxy S5, HTC One M8, and LG G3 all here and stealing sales, Motorola is a little late in 2014, but hopefully they have a few extra tricks up their sleeve to help the new Moto X+1 be a success.

This article may contain affiliate links. Click here for more details.